5 Big Announcements from Microsoft Ignite 2018
Microsoft Ignite 2018 has come to a close, with some big announcements including the future release of the Surface Hub 2 and Azure Digital Twins, which allows enterprises to model their real-world IoT deployments in the cloud.
Here are some of the top announcements from this year's conference.
1. Office 2019 Release
Office 2019 is the next on-premises version of Word, Excel, PowerPoint, Outlook, Project, Visio, Access, and Publisher.
Office 365 ProPlus, the cloud-connected version of Office, delivers the most productive and most secure Office experience with the lowest total cost of ownership for deployment and management.
Office 2019 provides new features and updates to the on-premises apps, for both users and IT professionals - those not ready to move to the cloud. Like Windows Long Term Servicing Channel (LTSC) releases, Office 2019 provides a set of valuable enhancements for customers who can't be cloud-connected or receive regular updates.
2. Updates to Microsoft Teams
New aesthetic features have been added to Teams including:
Background blur: Teams customers can remove distractions and focus your video on what matters most.
Meeting recording: With meeting recording in Teams, you users who missed the meeting can playback recorded audio, video, and content at any time. Pull up a transcript, powered by Microsoft Stream, and search for keywords so you can optimize your time while getting caught up.
Cloud Video Interop (CVI): Through partner offerings from Polycom, BlueJeans and Pexip, a full portfolio of legacy devices can now be full-fledged audio/video participants in Teams meetings with content sharing. Polycom's CVI offering is available now, with Pexip and BlueJeans generally available by end of October.
Home: A new mobile experience that allows firstline workers to see, at a glance, the most important and relevant info for their day. Firstline workers can clock in and out of shifts/breaks, receive important notes for the day or shift, find out who is working during the shift, and save time by easily reviewing information and schedule.
Shifts: Enables firstline managers to plan schedules in an employee self-service and integrated experience. Managers can create, update, and distribute schedules for teams; as well as broadcast open and unfilled shifts, so that other employees can cover them. Finally, they can review and accept time off requests and swap shifts – all from mobile. Firstline employees can swap/offer shifts and request time off, right from their phones.
Read about the full enhancements made to Teams here.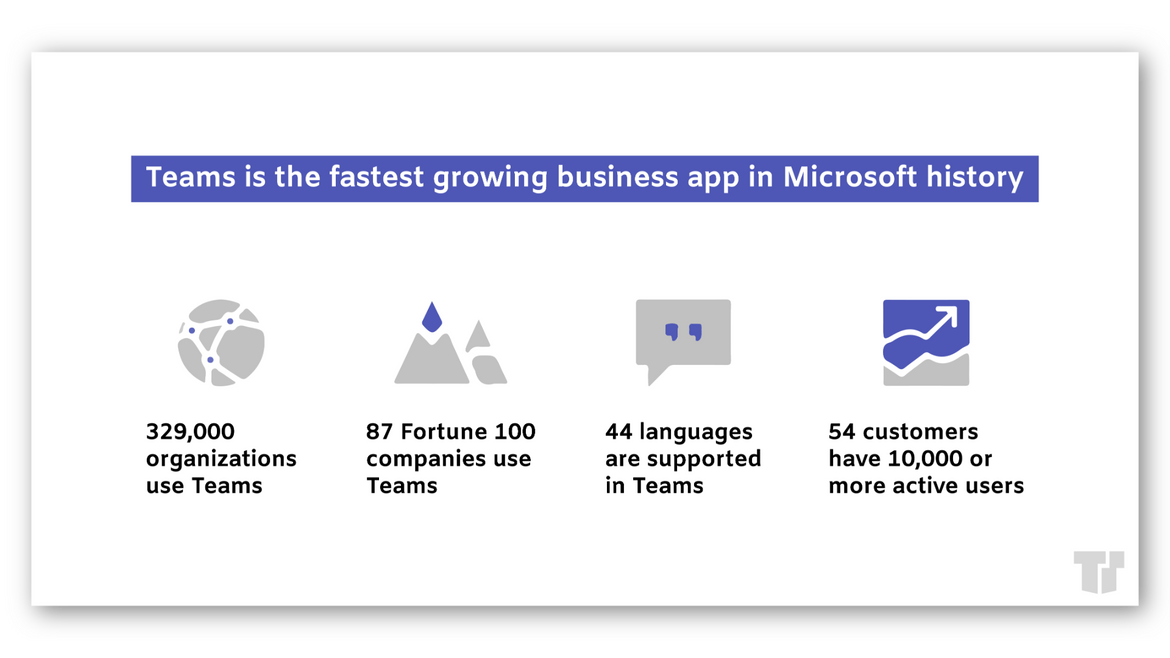 3. Surface Hub 2
Surface Hub 2 integrates intuitive hardware, software, and modes of interaction to help people get in and stay in their flow. With the Microsoft Whiteboard app, features designed for large touch screens make you feel like you're at a real whiteboard; but with the added benefit of intelligent ink, the ability to find people, built-in Bing search, image stacks, and more.
4. Unifying Search
Microsoft will unify search across Windows 10, Office 365, and Bing. The plan is to provide a consistent, unified view of search results that encompasses not just your own documents and emails but also your organization's content and conversations. Microsoft 365 customers will have the best value. When signed into an Office 365 account, search results will include documents in SharePoint or OneDrive, conversations in Teams or Yammer, and contacts from the company directory, even when performing a search from Bing.
5. Windows Server 2019 & SQL
Windows Server will be generally available in October with an updated Windows Admin Center, version 1809. Windows Server 2019 will deliver on four key areas including:
Hybrid: A hybrid approach, that combines on-premises and cloud environments working together, is a core element of a datacenter modernization strategy. Server 2019 makes it easier to connect existing Windows Server deployments to Azure services. With Windows Admin Center and Windows Server 2019, customers can use hybrid features like Azure Backup, Azure File Sync, and disaster recovery to extend their datacenters to Azure.
Security: In Windows Server 2019, we extended support of Shielded VMs to Linux VMs. On the Detect and Respond front, Microsoft enabled Windows Defender Advanced Threat Protection (ATP), which detects attacks and zero-day exploits among other capabilities. Windows Server 2019 also includes Defender Exploit Guard to help you elevate the security posture of your IT environment and combat ransomware attacks.
Application Platform: Microsoft reduced the Server Core base container image to a third of its size, improved app compatibility, support for Service Fabric and Kubernetes, and support for Linux containers on Windows to help modernize your apps. To address the complexity in navigating environments with Linux and Windows deployments, Microsoft extended Windows Subsystem for Linux (WSL) into insider builds for Windows Server, so that customers can run Linux containers side-by-side with Windows containers on a Windows Server.
Hyper-converged Infrastructure (HCI): HCI with cost-effective high-performance software-defined storage and networking allows deployments to scale from small 2-node, all the way up to 100s of servers with Cluster Sets technology, making it affordable regardless of the deployment scale.
Read more about Windows Server 2019 and SQL Capabilities here.
---
Trusted Tech Team is an accredited Microsoft CSP Direct Bill Partner, carrying multiple Solutions Partner designations and the now-legacy Microsoft Gold Partner competency. Based in Irvine, California, we report trends affecting IT pros everywhere.
If your organization uses Microsoft 365 or Azure, you may be eligible to receive a complimentary savings report from a Trusted Tech Team Licensing Engineer. Click here to schedule a consultation with our team now to learn how much you can save today.
Subscribe to the Trusted Tech Team Blog
Get the latest posts delivered right to your inbox