How To Make Your Microsoft Visio Flow
Visio began in 1992 as a standalone product produced by Shapeware Corporation.
A pre-release was distributed free on a floppy disk along with a Windows systems readiness evaluation utility. In 1995, Shapeware Corporation changed its name to Visio Corporation to leverage its market recognition and product equity. Microsoft acquired Visio in 2000, and rebranded it as Microsoft Visio.
Visio software helps you visualize business processes via rich workflow modeling. It includes creative tools that help you organize complex processes into simple, yet visually-rich workflows to optimize your projects. Akin to Microsoft Flow business process automation (BPA), Visio generates dynamic diagrams and links data from Excel, Access, and SharePoint.
If you are an Office Insider or Visio Online Plan 2 subscriber, you may access the beta integration of Visio and Flow.
The integration is also available via the Monthly Channel (Targeted) with Build 11231 and later. You must have a free or premium plan with Flow or a qualifying Office 365 (O365) subscription including Flow. The Visio Flow integration allows you to:
Create flows from scratch

Use built-in Business Process Model and Notation (BPMN) stencils
Click the "Prepare to Export" button in the ribbon
Add all your Flow actions and triggers
Resolve any validation errors and tap "Export"

Build flows from existing Visio diagrams

Convert your diagram elements to BPMN shapes
Mark each with the right flow action or trigger
Follow the above export steps
Let Visio can take care of the rest
Microsoft Flow is the "spiritual successor" to SharePoint Designer – the integration lets you design your site with Visio business processes and execute it thru Flow sans HTML code – just as you would do in Designer.
Integrate Visio and Flow to enhance your creative process, so your IT team can focus on technical strategy.
Create a BPMN diagram in Visio and export to Microsoft Flow to automate workflows between your favorite apps and services. For example, make a workflow to receive a notification upon the completion of a website form, or collect and arrange data regarding a new social media follower. The built-in comment and chat features enable you to effectively collaborate and review your flows to ensure team feedback is fully documented prior to project execution.
BPMN and workflow automation accelerates your project workflow with or without Artificial Intelligence (AI). If you aim to successfully integrate AI into your business processes, create a well-defined automation that will produce transparent data models and machine learning optimizations.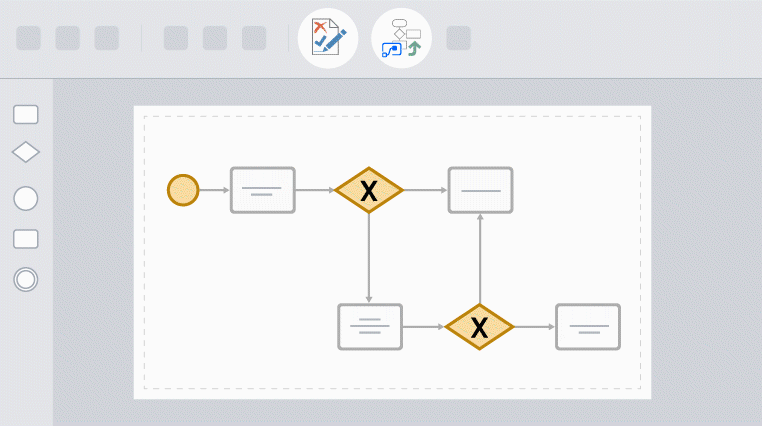 ---
Trusted Tech Team is an accredited Microsoft CSP Direct Bill Partner, carrying multiple Solutions Partner designations and the now-legacy Microsoft Gold Partner competency. Based in Irvine, California, we report trends affecting IT pros everywhere.
If your organization uses Microsoft 365 or Azure, you may be eligible to receive a complimentary savings report from a Trusted Tech Team Licensing Engineer. Click here to schedule a consultation with our team now to learn how much you can save today.
Subscribe to the Trusted Tech Team Blog
Get the latest posts delivered right to your inbox