Everything You Need to Know about Office 2019
The release of Microsoft Office 2019 is rapidly approaching, and we and the Trusted Tech Team community is ready for the big day!
We touched upon the Office 2019 Preview this past April, but now that the full release is closer, what should we expect to see with the latest release; and at what kind of price point? Here's what we know:
Features
Advanced presentation features: Microsoft plans to incorporate more advanced presentation features in Office 2019. These include enhanced "Morph" and "Zoom" capabilities to help create a more sophisticated and dynamic presentation.
More powerful data analysis: Customers can expect more powerful features, like new formulas, funnel charts and 2D maps, the ability to publish from Excel to Power BI, and enhancements for PowerPivot and PowerQuery.
Improved inking features: Office 2019 will introduce all-new inking capabilities across all apps - pressure sensitivity, tilt effects to adjust ink thickness relative to pen angle, and a roaming pencil case that manages your favorite pens, pencils, and highlighters across all devices.
Easier email management: Several new features will eliminate hassles and headaches in email management - updated contact cards, Office 365 Groups, @mentions, a focused inbox, and travel package cards.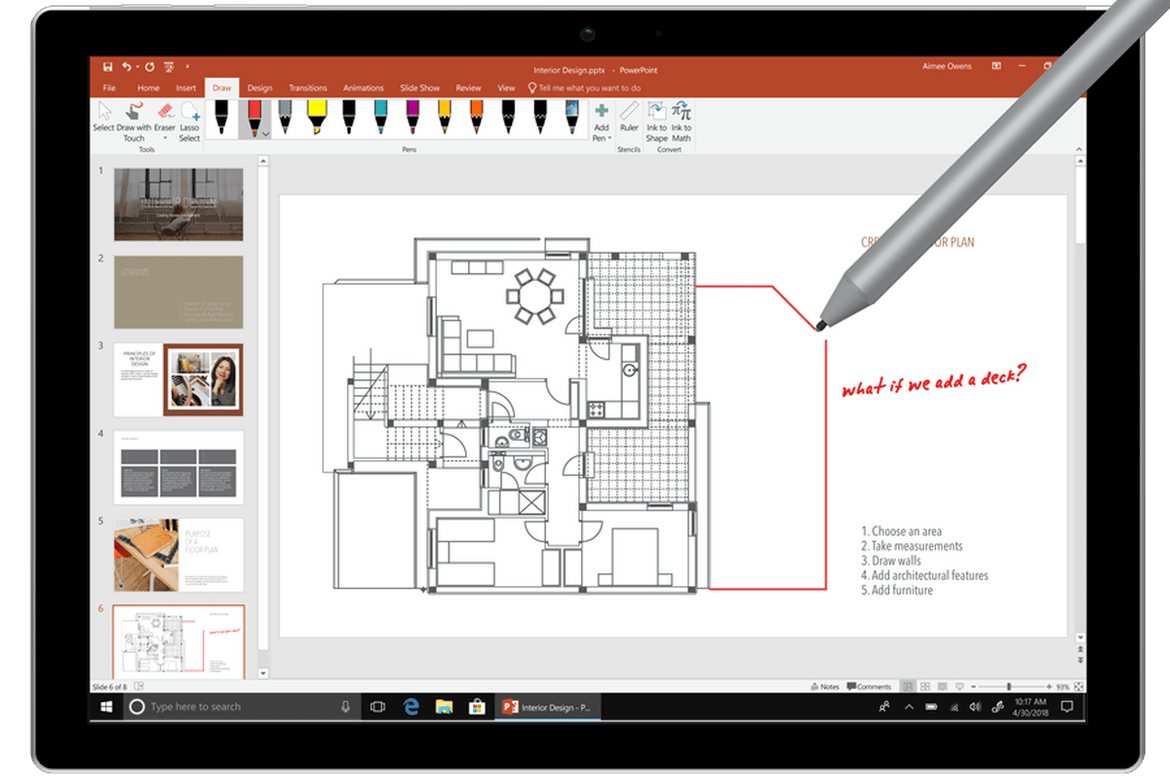 Pricing Changes
Microsoft has announced some pricing changes to Office 2019 and relative productivity server lines like Windows Server 2019, SharePoint Server, Exchange Server, and Project Server. Office 2019 commercial prices will increase by 10% from current on-premises pricing. This increase will include Office client, Enterprise CAL, and Core CAL. Microsoft plans on:
Establishing a single, consistent starting price across all programs aligned to web direct for online services (OLS)
Removing programmatic volume discounts (Level A and Open Level C) in Enterprise Agreement (EA)/EA Subscription, MPSA, Select/ Select Plus, and Open programs (Open, Open Value, Open Value Subscription)
Aligning government pricing for on-premises and online services to the lowest commercial price in EA/EAS, MPSA, Select Plus, and Open Programs
Delivering a new Customer Price Sheet design that better outlines how a customer's price was derived (direct EA/EAS only)
IT Value
Click-to-Run (C2R), introduced in Office 2013, now deploys and updates Office across millions of devices worldwide. For Office 2019, Microsoft is moving the perpetual versions of Office to C2R exclusively, so IT can leverage modern deployment technology, reduce costs, and improve security. C2R will include predictable monthly security updates, up-to-date apps on installation, reduced network consumption through Windows 10 download optimization technology, and a simple upgrade path to Office 365 ProPlus.
Overall, the 2019 edition will be the perpetual equivalent to Office 365, designed for those still reluctant to switch to a cloud-based platform. Customers looking to take advantage of this preview period can learn more through this Computerworld guide or FAQ from Microsoft Support.
---
Trusted Tech Team is an accredited Microsoft CSP Direct Bill Partner, carrying multiple Solutions Partner designations and the now-legacy Microsoft Gold Partner competency. Based in Irvine, California, we report trends affecting IT pros everywhere.
If your organization uses Microsoft 365 or Azure, you may be eligible to receive a complimentary savings report from a Trusted Tech Team Licensing Engineer. Click here to schedule a consultation with our team now to learn how much you can save today.
Subscribe to the Trusted Tech Team Blog
Get the latest posts delivered right to your inbox