Power BI Report Server - Optimizing Your Business Intelligence
Power BI Report Server is an on-premises report server that includes a web portal to display and manage reports and KPIs.
With Report Server, you can build your BI environment on-premises and create reports behind your organization's firewall. It also includes tools to host and distribute Power BI reports (.pbix), paginated reports (.rdl), mobile reports, Excel files (.xlsx), and KPIs. Users can access completed reports via web browser, mobile device, or email.
Unlike Power BI Service, which is a cloud-based analytics platform, Power BI Report Server is installed and configured on a dedicated on-premises server. With features that are essentially a superset of SQL Server Reporting Services (SSRS), it is designed to support Power BI reports. View a full comparison of Power BI Report Server and Power BI service here.

Power BI Premium & Licensing
Power BI Report Server is available through two different licenses: Power BI Premium and SQL Server Enterprise Edition with Software Assurance.
As a component of Premium, a dedicated cloud capacity within Power BI Service, Report Server enables on-premises web and mobile viewing of Power BI reports plus the enterprise reporting capabilities of SSRS. Acquiring Report Server through Premium is ideal for organizations in need of hybrid (cloud and on-premises) BI architecture:
Connect "live" to tabular and multidimensional SQL Server Analysis Services models
Visually explore data and create interactive reports
Use custom visuals in Power BI reports
Save reports to your report server running the preview
View and interact with reports in your web browser
Add and view comments about reports in the web browser
View and interact with reports in Power BI Mobile Apps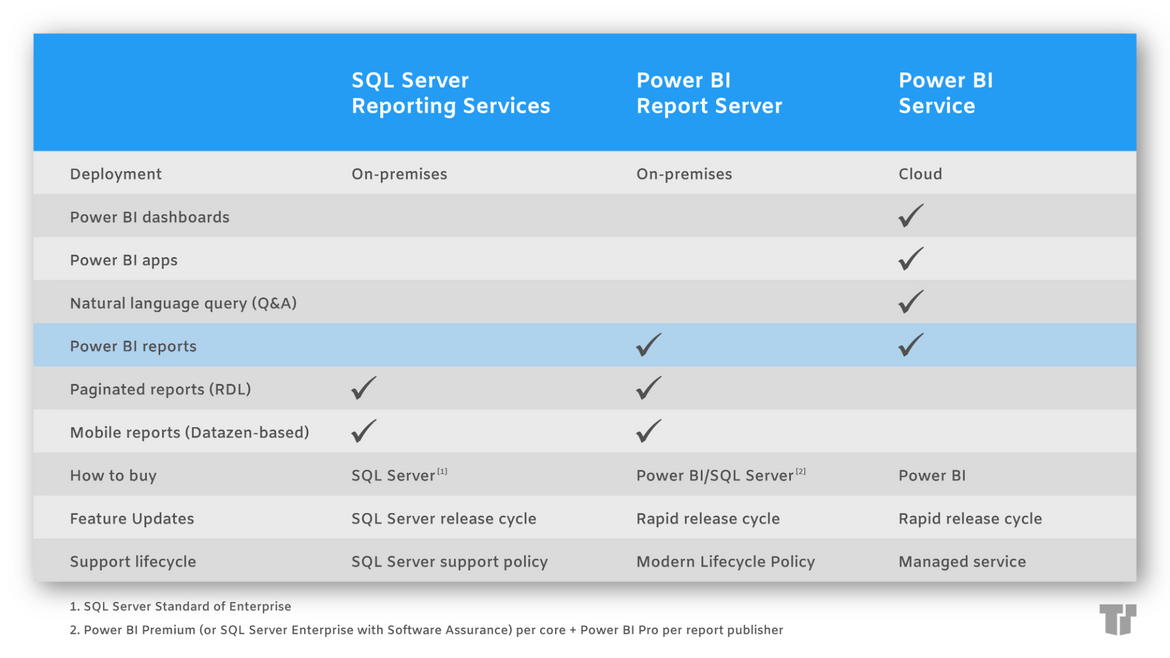 Power BI Reports & Mobile Apps
Only Power BI reports can be deployed to the Power BI Report Server.
A Power BI report provides dataset views from multiple perspectives, with single or pages-length visuals to illustrate findings and insights. Once you have opened your reports, you can easily optimize them on your mobile phone with special icons and layouts, responsive visuals and slicers, and automated filters. The interactive visuals and filters are non-static and customizable, so they update as your dataset changes. DirectQuery and SQL Server Analysis Services are data sources specific to optimizing report development within Report Server.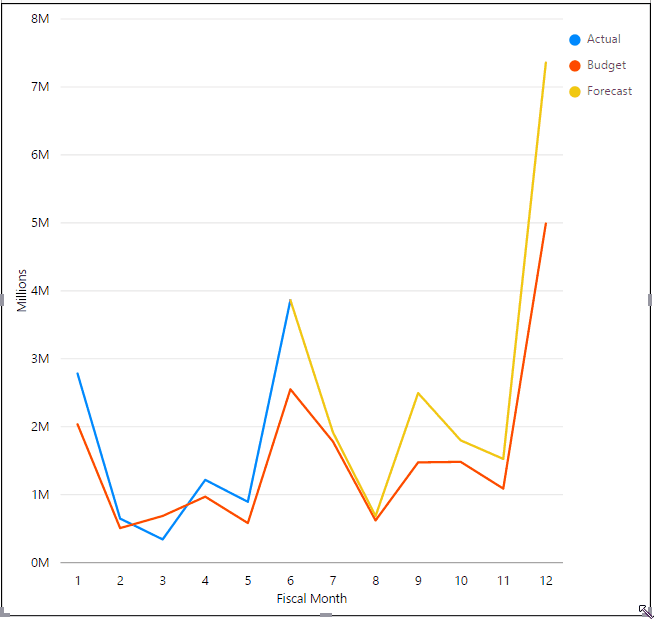 Power BI Report Server-generated reports support the basic functionality of Power BI mobile apps:
Create and optimize reports for mobile phones in Power BI Desktop
Publish reports to Power BI Service or Power BI Report Server
Open and interact with the reports in Power BI mobile apps
Report authors can create data hierarchies and relationships between different pages in the report. In effect, Mobile apps support reports and personal bookmarks as defined in Power BI Service. You can also customize your reports experience by configuring settings:
Interact with report visuals - utilize either single-tap or double-tap interaction
Data refresh method - add a refresh button or a pull-down action to refresh report data
Report footer visibility - add a perpetually visible 'docked footer', or a 'dynamic footer' with activity-responsive visibility
---
Trusted Tech Team is an accredited Microsoft CSP Direct Bill Partner, carrying multiple Solutions Partner designations and the now-legacy Microsoft Gold Partner competency. Based in Irvine, California, we report trends affecting IT pros everywhere.
If your organization uses Microsoft 365 or Azure, you may be eligible to receive a complimentary savings report from a Trusted Tech Team Licensing Engineer. Click here to schedule a consultation with our team now to learn how much you can save today.
Subscribe to the Trusted Tech Team Blog
Get the latest posts delivered right to your inbox