MigrationWiz vs. Exchange Cutover Method: Pros And Cons
When deploying Microsoft Office 365 (O365), Exchange mailbox content can be migrated from a source email system. This cutover migration is suggested when the current on-premises Exchange organization is Exchange Server 2003 or later.
The on-premises Exchange organization includes 2,000 mailboxes or less. However, due to the length of time it takes to create and migrate 2000 users, the recommended migration range is 150 users or less.
Cutover Migration Plan
Trusted Tech Team can assist you through each phase of the Exchange Online (cutover) migration, which includes the following steps: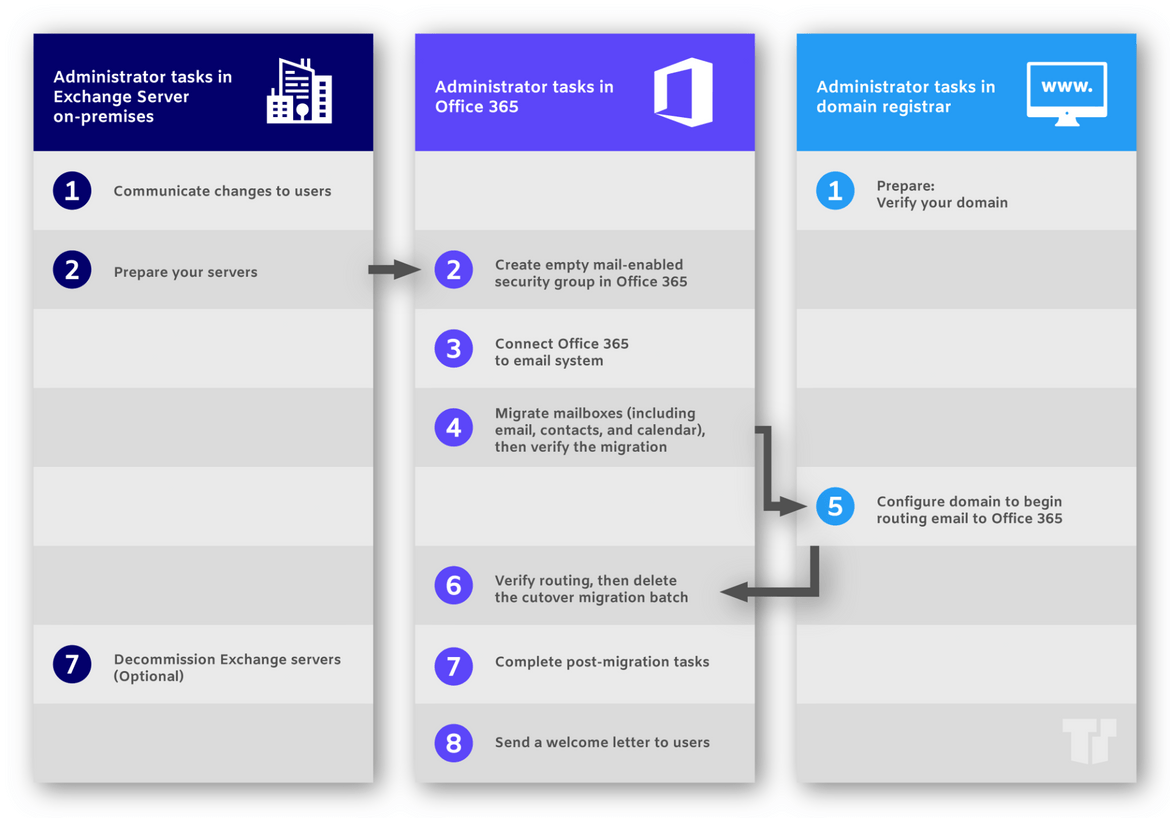 ---
The MigrationWiz Alternative
Alternatively, you can forego the cutover method in favor of using MigrationWiz if you are migrating from Exchange Server 2007 or later. Doing so will entail the following process:
Develop a communication strategy to alleviate migration-related confusion or lost productivity. To boot, MigrationWiz customizes professional migration emails to users.
Scope the size and complexity of the migration to determine proper licensing, scheduling, and resource allocation.

Assess the number of users and amount of data you need to move because the amount and size distribution of data will significantly impact migration speed and complexity

Low - 250mb per hr/per user
Mid - 750mb per hr/per user
High - 1.25gb per hr/per user

Select a migration style ('single pass', 'multi-pass', 'quick-switch')
Contact Trusted Tech Team to learn about and obtain the proper licensing for your migration ('User Migration Bundle', 'Mailbox Migration', 'Public Folder Migration', 'Collaboration Migration').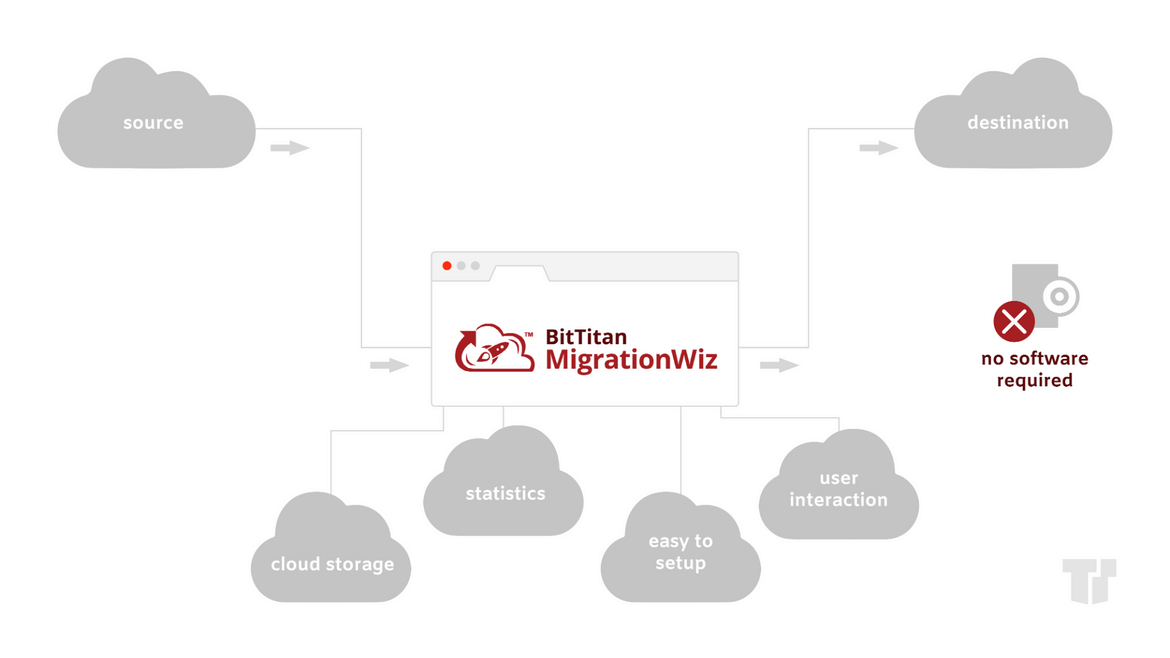 Read more about Migration Planning & Strategy here.
---
MigrationWiz vs. Cutover Method
So what are the pros and cons of either product?
It really depends on the migration at hand and personal preference of the admin. Overall, MigrationWiz smoothens the end user experience and saves time, money, and unwanted headaches. For smaller projects (50 seats or less) the cutover method is more acceptable. Here's a more detailed perspective from our IT department:
MigrationWiz pros:
Migrate at your own pace - MigrationWiz guides are clear and support multiple scenarios.
Nice UX and error handling.
Automatic Profile configuration via DeploymentPro
BitTitan has some great base-level support and extended support options.
MigrationWiz cons:
Costly.
Must learn the platform (plus MSPComplete, DeploymentPro, etc.).
May be "overkill" for small cutover projects - depends on time and budget cost/benefit analysis.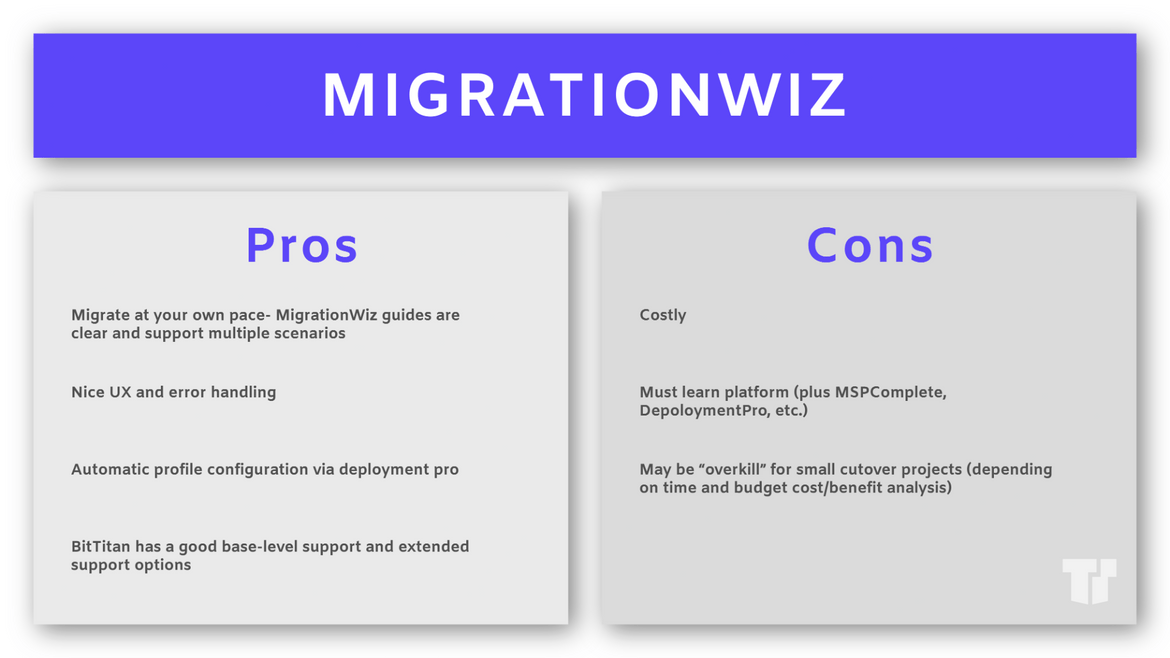 Cutover pros:
Free.
Quick - just "rip the band-aid off".
Relatively straightforward and suitable for small migrations.
No need to learn a new third-party platform or spend time configuring tools.
Cutover cons:
"Black & White" - doing a hard cutover leaves little room for error.
Migration details are not as granular, so admin might need to "dig deeper" if errors occur.
Must manually configure user Outlook profiles post-migration.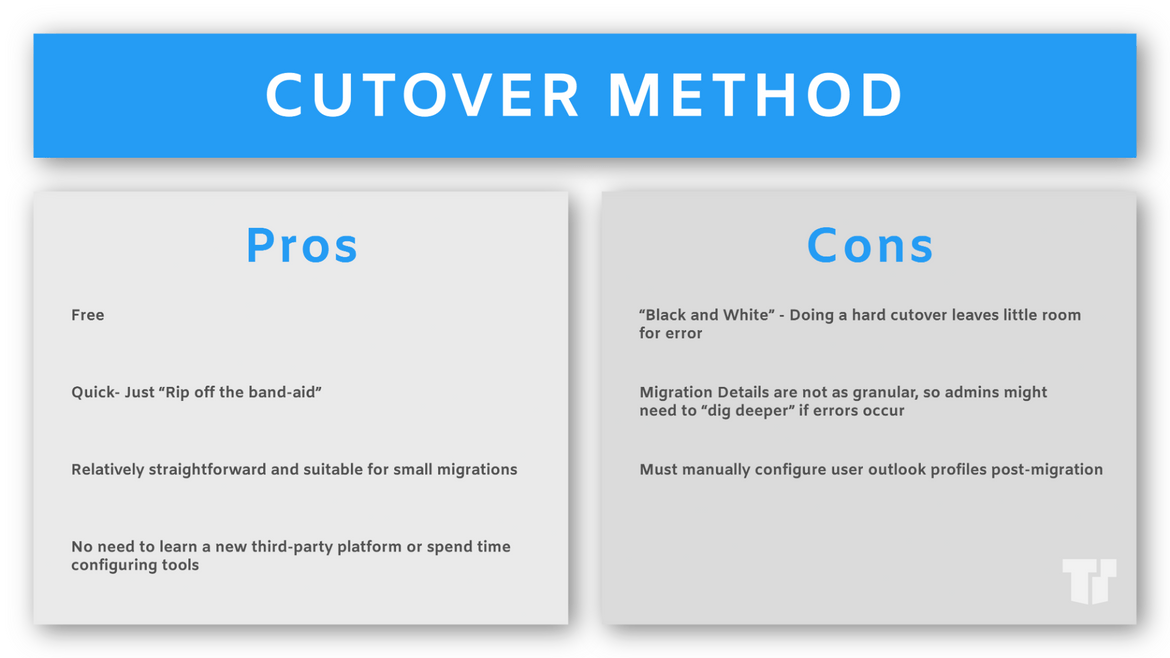 ---
Trusted Tech Team is an accredited Microsoft CSP Direct Bill Partner, carrying multiple Solutions Partner designations and the now-legacy Microsoft Gold Partner competency. Based in Irvine, California, we report trends affecting IT pros everywhere.
If your organization uses Microsoft 365 or Azure, you may be eligible to receive a complimentary savings report from a Trusted Tech Team Licensing Engineer. Click here to schedule a consultation with our team now to learn how much you can save today.
Subscribe to the Trusted Tech Team Blog
Get the latest posts delivered right to your inbox