Sharepoint Server 2010 - End of Support
Sharepoint (SP) Server, like most Microsoft products, has a support lifecycle that lasts 10 years from its initial release.
The end of this lifecycle is known as "End of Support" (EOS) and, as of April 14, 2020, Microsoft has extended SP Server 2010 support from October 13, 2020 to April 13, 2021. EOS gives admins more time to complete their migrations in alignment with the end of support for Office 2010 and* Exchange 2010*.
EOS Implications
No critical extended support updates have been released to date.
No more security updates- protective bug fixes and security patches used to protect users and data will cease, thus increasing the risk of malware and ransomware attacks.
All relative operating systems (OS) are reaching or have reached EOS.
No more time zone updates.
Migration Options
UPGRADE TO SHAREPOINT 2016/2019 (on-premises)
It is preferable to migrate to SP Server 2016 or 2019, since the 2013 version is closer to the end of its 10-year lifecycle. To successfully migrate to either version, you can follow these pathways:
2016 migration - first upgrade to the 2013 version in order to complete the 2016 migration.
2019 migration - first upgrade to the 2013 version, then upgrade to the 2016 version in order to complete the 2019 migration.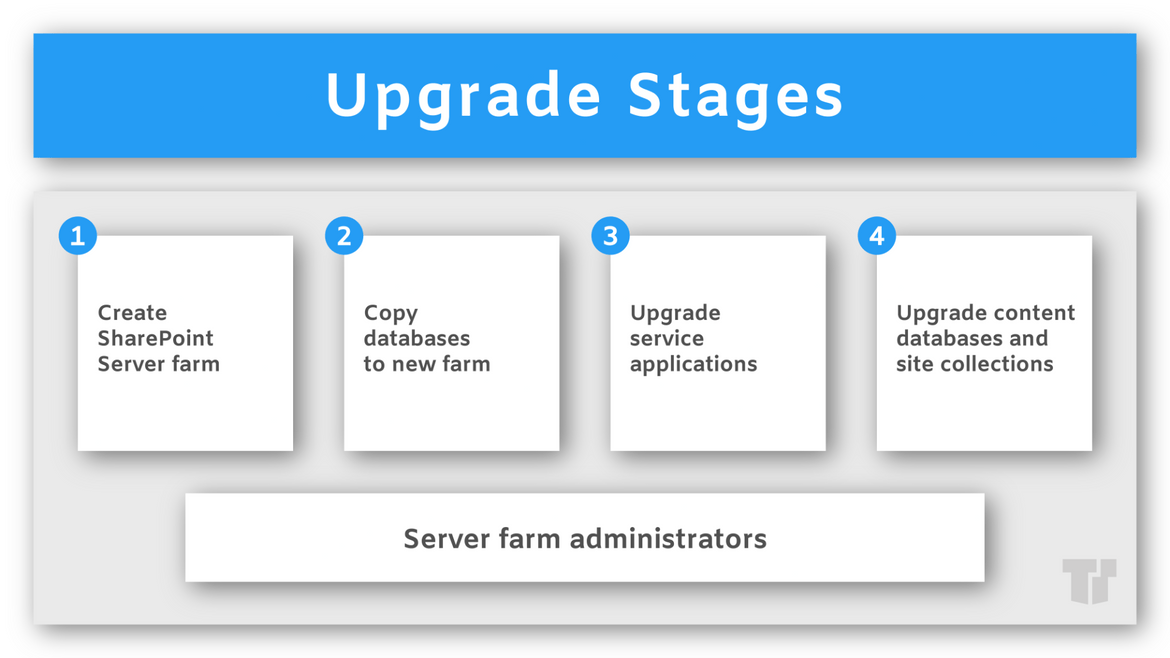 Sharepoint Server 2016/2019 migration resources
NOTE: To fully secure your migration, it is best to add or enhance an intrusion detection system, advanced firewalls, network segmentation, etc. to isolate servers. It is also advisable to obtain a CSA STAR (the Cloud Security Alliance's Security, Trust & Assurance Registry) certification to minimize threats.
---
UPGRADE TO SHAREPOINT 2016/2019 (hybrid)
If you prefer hybrid deployment, on-premises SharePoint Server can integrate with Sharepoint Online (SP Online) to unify functionality and data access.
This hybrid version includes a staged migration path to extend robust workloads into the online version. Furthermore, it enables you to consolidate SP Server and Microsoft 365 (M365) search results, consolidate M365 user profiles, and migrate user storage into the cloud.
Benefits of hybrid migration:
Workforce enhancement - enables regulatory compliance, ensures user adoption, and provides mobile users multi-application usage within Office 365.
Maximal usability - provides users access to Microsoft's weekly releases and go-to-market tools to better collaborating with internal and external users.
Cost savings - minimizes spend with hybrid links, shared search and navigation, and common user identities across multiple platforms
Simplified customization - accesses full trust code solutions and user experiences, custom code workflows that drive external applications, and legacy integrations too expensive to rebuild for the cloud.
---
UPGRADE TO SHAREPOINT ONLINE / OFFICE 365
An upgrade to Office 365 (O365) includes Sharepoint Online (SPO), which does not require on-premises hardware maintenance. O365 receives new features first, so you and your users can immediately experience multiple benefits:
SPO hardware and all hardware administration.
Global administration of your subscription.
Patches, fixes and updates to hardware and software.
Quick resolution of service level incidents.
Ongoing security testing and server performance tuning.
Multi-industrial 0365 compliance.
Restricted Microsoft admin access to your subscription.
Solution providers assistance SPO migration.
Automatic updates of online products.
Administrators can create an O365 subscription, build an SPO site, then migrate essential SP 2010 content over to the new site. The remaining data can be transferred into on-premises archives. The SharePoint Migration Tool (SPMT) is available to migrate from SP 2010 to M365. It also supports migrations from SharePoint Foundation 2010, and will continue support beyond the SP 2010 EOS.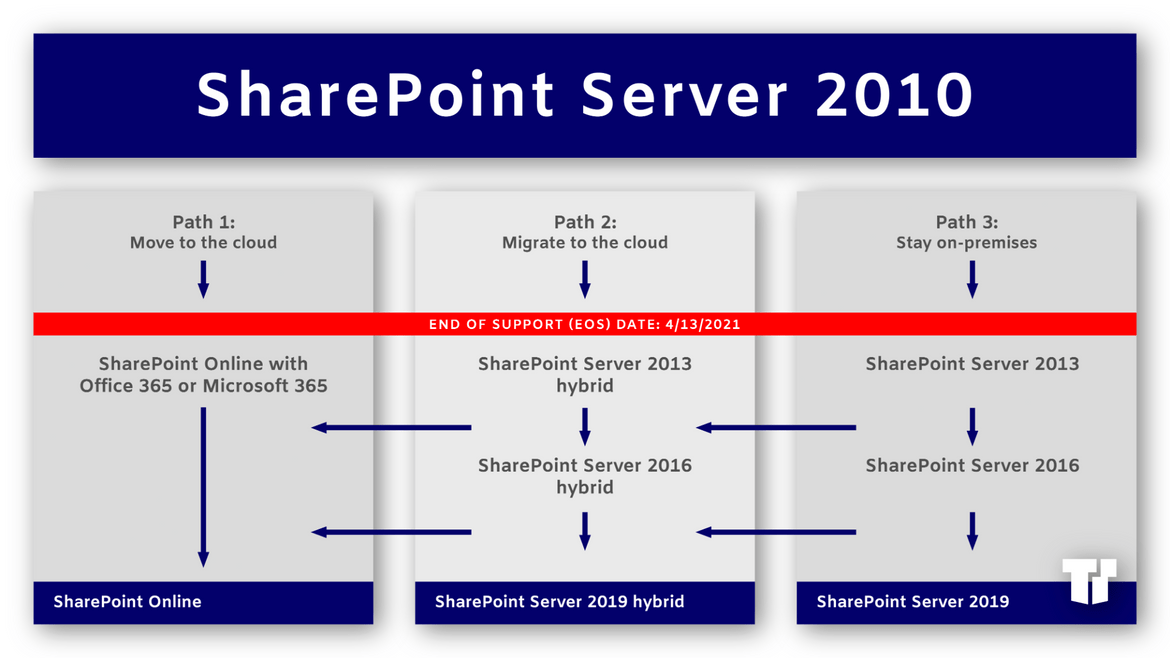 Source
Extended support for SharePoint Server 2010 ends in October 2020
---
Trusted Tech Team is an accredited Microsoft CSP Direct Bill Partner, carrying multiple Solutions Partner designations and the now-legacy Microsoft Gold Partner competency. Based in Irvine, California, we report trends affecting IT pros everywhere.
If your organization uses Microsoft 365 or Azure, you may be eligible to receive a complimentary savings report from a Trusted Tech Team Licensing Engineer. Click here to schedule a consultation with our team now to learn how much you can save today.
Subscribe to the Trusted Tech Team Blog
Get the latest posts delivered right to your inbox