The End Of Exchange 2010: Migration Tips & Alternatives
Exchange Server, like most Microsoft products, has a support lifecycle that lasts 10 years from its initial release.
The end of this lifecycle is known as "End of Support" (EOS) and, as of September 17. 2019, Microsoft has extended Exchange 2010 support from January 14, 2020 to October 13, 2020. EOS gives admins more time to complete their migrations in alignment with the end of support for Office 2010 and Sharepoint Server 2010.
EOS Implications
No more documentation updates - existing articles will remain accessible, but best practices and guidance will no longer be published.
No more security updates - protective bug fixes and security patches used to protect users and data will cease, thus increasing the risk of malware and ransomware attacks.
Compliance issues - running outdated or unsupported products could lead to a loss of compliance or other commercial /legal complications
Migration Options
UPGRADE TO EXCHANGE 2016/2019 (on-premises)
This version includes all the features from previous editions, yet maintains the dynamic of the Exchange Online/Office 365 experience. An Exchange Server 2016/2019 migration eliminates the shortcomings of out-of-date servers, so you can maintain control of data and system activities by customizing configurations and system backup options.
Exchange 2016/2019 migration pathway
Install Exchange 2016 into your existing Exchange 2010 organization
Move services and other infrastructure to Exchange 2016/2019
Move mailboxes and public folders to Exchange 2016/2019
Decommission remaining Exchange 2010 servers
Exchange 2016/2019 migration resources
NOTE: Upgrading from Exchange 2010 to 2019 normally requires double-migration through Exchange 2013 or 2016; however, third party software, like BitTitan MigrationWiz, enables direct migration from 2010 to 2019.
---
UPGRADE TO EXCHANGE 2016/2019 (hybrid)
If you prefer hybrid deployment, your security can be enhanced with on-premises Active Directory/Exchange integration via the structural scalability and flexibility of Exchange Online. The Hybrid Configuration Wizard (HCW) enables complex deployments requiring mult-forests, sharing policies, etc.; whereas the Modern Hybrid Agent (MHA) allows for simple deployments if you only need free/busy and Mailbox Replication Service (MRS) for mailbox migration to Office 365. Simple deployments do not support Hybrid Modern Authentication (HMA) for on-premises functionality, cross-premises team calendaring, and message tracking.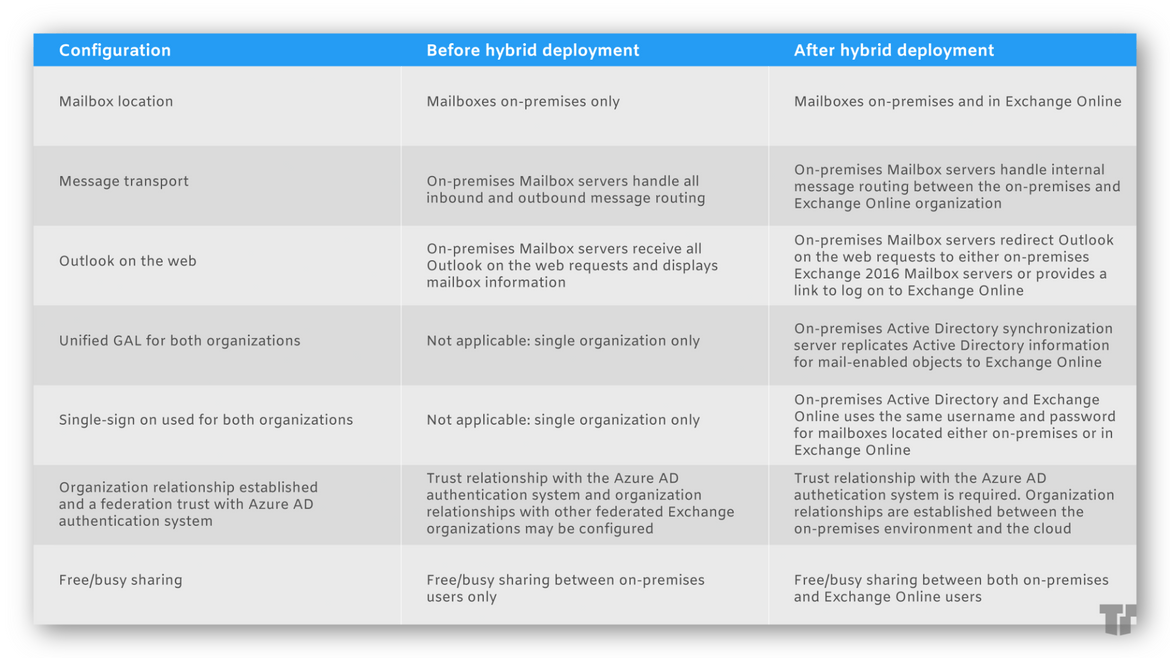 NOTE: MHA is for organizations that don't already have a hybrid configuration. If your system is already configured for 'classic full hybrid' then continue this pathway.
---
UPGRADE TO EXCHANGE ONLINE (EO) / OFFICE 365 (O365)
An upgrade to Office 365 includes a move to Exchange Online, which does not require on-premises hardware maintenance. O365 receives new features first, so you and your users can immediately experience multiple benefits:
Improved email access- access email from any location, and on any platform, with scalable mailbox support.
Real-time collaboration - develop and share documents throughout the O365 ecosystem with enhanced communication.
Automated administration - reduce hands-on mail service management to increase administrative consistency, simplicity, and speed.
Improved regulatory compliance - enhance accountability thru simplified change tracking and litigation holds.
Enhanced security - on-prem, you self-manage security; yet EO includes security and maintenance by Microsoft.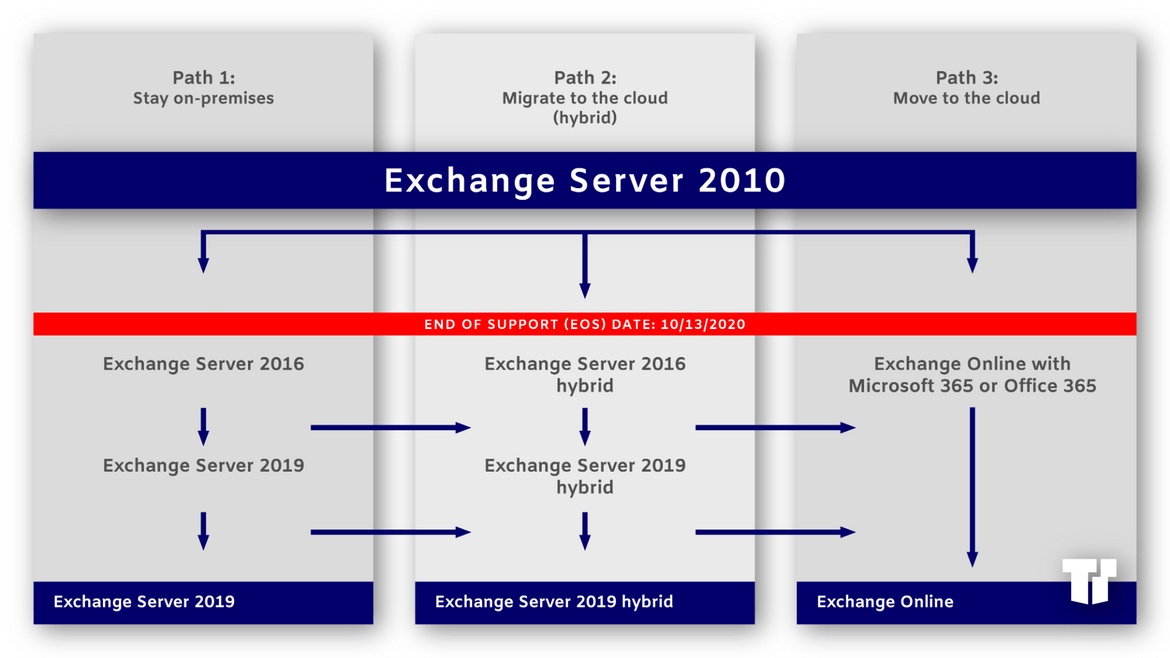 Sources
Exchange On-Premises Best Practices for Migrations from 2010 to 2016
End of Exchange Server 2010 Support: 30 Day Campain-In-A-Box
---
Trusted Tech Team is an accredited Microsoft CSP Direct Bill Partner, carrying multiple Solutions Partner designations and the now-legacy Microsoft Gold Partner competency. Based in Irvine, California, we report trends affecting IT pros everywhere.
If your organization uses Microsoft 365 or Azure, you may be eligible to receive a complimentary savings report from a Trusted Tech Team Licensing Engineer. Click here to schedule a consultation with our team now to learn how much you can save today.
Subscribe to the Trusted Tech Team Blog
Get the latest posts delivered right to your inbox