End of Support (EOS) for Microsoft Office 2010: All That You Need to Know
Microsoft will end support for Office 2010 beginning October 13, 2020. What does this mean for you and what options do you have going forward?
What Is Going To Happen?
Most Microsoft programs, including Office, have what is known as a "support lifecycle". During the lifecycle, Microsoft provides bug and security fixes for its products. Each product has a lifecycle that lasts for a set amount of years following its release. In the case of Office 2010, the support lifecycle has been 10 years.
Once Microsoft ends support for Office 2010 on October 13th, they will no longer provide bugs fixes and technical support for new and existing issues, nor safeguard new security vulnerabilities. Without the latter, users would be subjected to harmful security attacks; and if you plan to use Office 2010 beyond the end of support (EOS), you will need extra virus protection.
What Are Your New Options?
If you have Office 2010 on your home computer, you can continue usage past EOS, but that is not recommended. Instead, you should consider upgrading to a newer edition like Office 365, Office 2019, Office 2016, or Office 2013.
For those using Office 2010 at school or work, contact your IT department to see if they have an upgrade plan in place; as it is recommended that IT administrators in organizations using Office 2010 upgrade to one of the latest versions ASAP.
An Office 365 (O365) subscription is likely the best replacement choice since it provides access to standard Office applications plus cloud services like Skype, Exchange Online, and OneDrive. O365 can be installed on up to five devices, and its features are updated on a regular basis. Office 2019, on the other hand, is a one-time purchase and can only be installed on a single computer. It does not have a regular update schedule and new features have not been added since its 2018 release.
---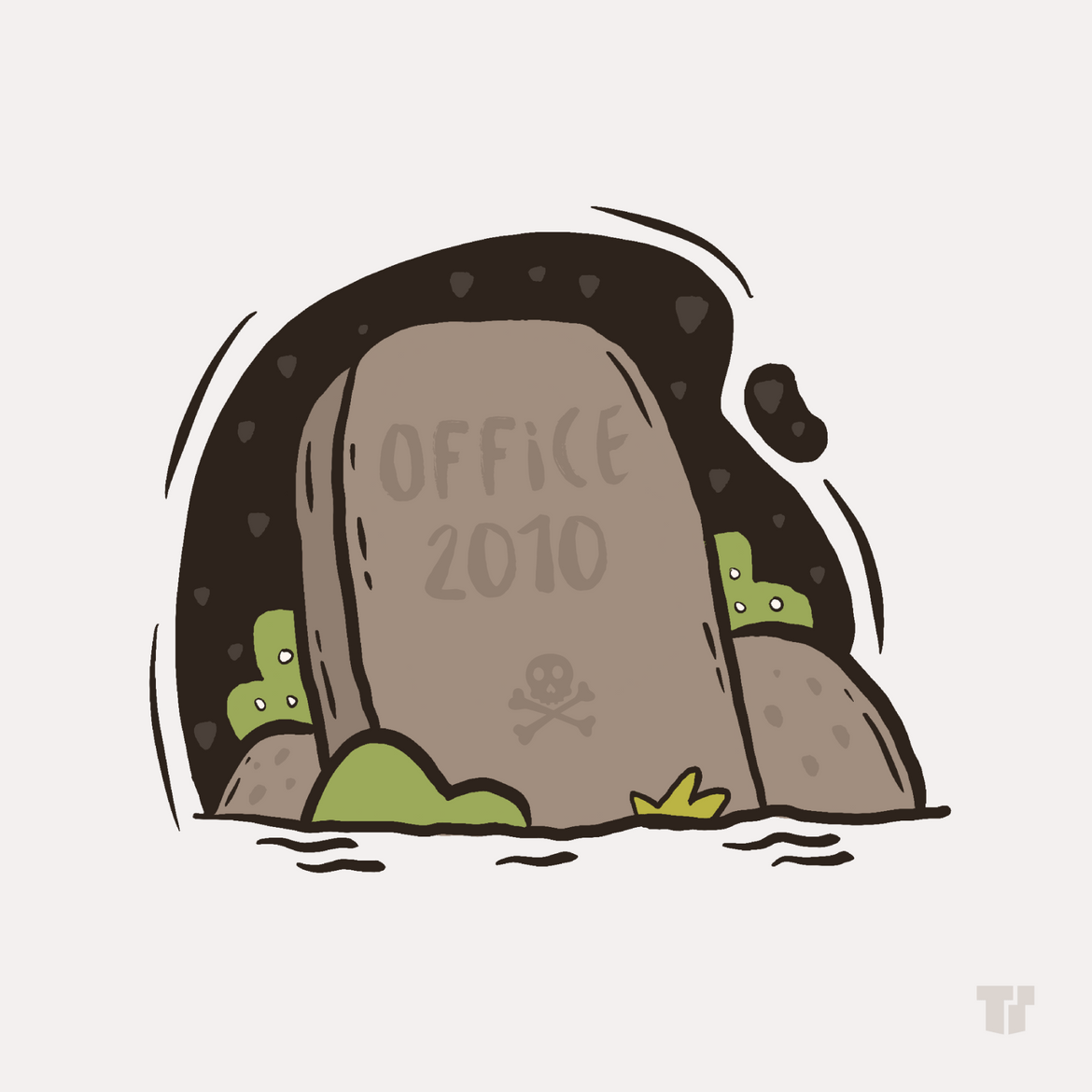 ---
Trusted Tech Team is an accredited Microsoft CSP Direct Bill Partner, carrying multiple Solutions Partner designations and the now-legacy Microsoft Gold Partner competency. Based in Irvine, California, we report trends affecting IT pros everywhere.
If your organization uses Microsoft 365 or Azure, you may be eligible to receive a complimentary savings report from a Trusted Tech Team Licensing Engineer. Click here to schedule a consultation with our team now to learn how much you can save today.
Subscribe to the Trusted Tech Team Blog
Get the latest posts delivered right to your inbox