Microsoft Teams Exploratory License: Complimentary Until 2021
The Microsoft Teams Exploratory license, obtainable within your Office 365 tenant, provides functionality akin to the Office 365 E3 license.
This trial license, which expires January 2021, allows users to self-assign Teams licenses (if they don't already have one); and allows admins to assign users longer-term trial licenses (if they do not already have a license to grant). The Exploratory license also enables an Office 365 E3 trial tenant to provide up to 100 licenses for a longer period.
Who gets access?
Eligible users must have a managed Azure Active Directory (AAD) domain email address and must not have or be assigned a Teams license. For example, if a user has Microsoft 365 Apps for business, which doesn't include Teams, they are eligible to receive the Teams Exploratory license. Users must be enabled to sign up for apps and trials in the Microsoft 365 admin center.
The Exploratory license requires Exchange Online to take advantage of some features, which must be directly assigned to the user by an admin. If the user does not have an Exchange license, and the admin has not assigned the Exchange Online license, the user cannot schedule meetings in Teams and may not have access to other features.
NOTE: If an organization is a Syndication Partner Customer or a GCC, GCC High, DoD, or EDU customer, its users are ineligible for the trial.
What does the license include?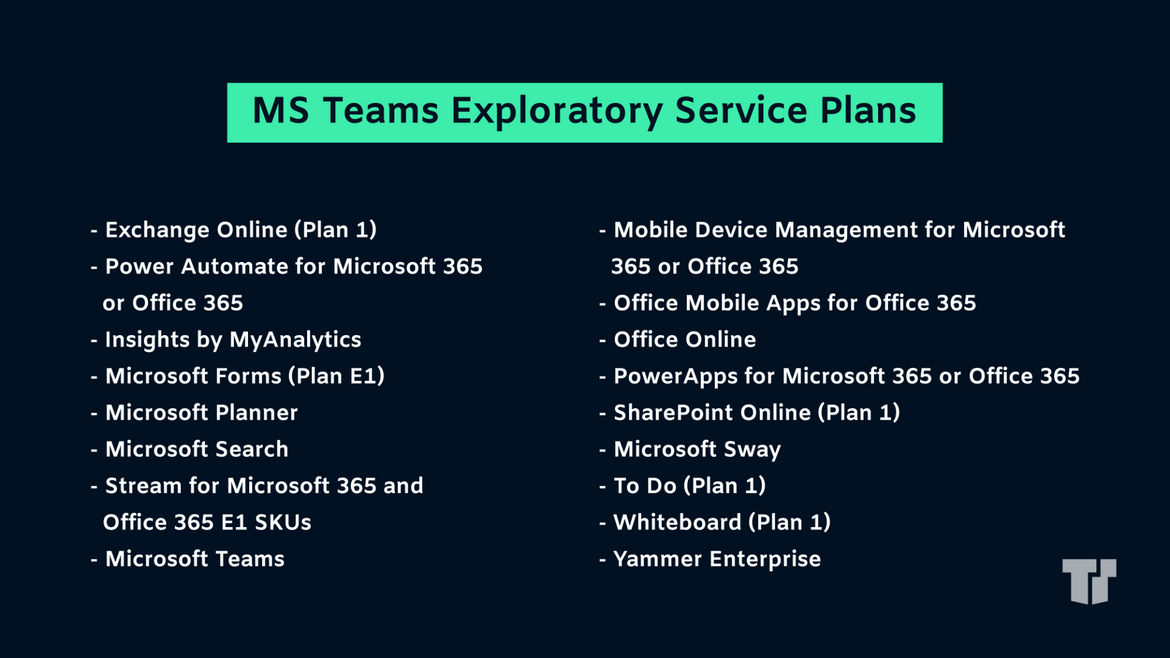 How long does it last?
The Teams Exploratory license experience is available, at no additional cost, until your next agreement anniversary or renewal date on or after January 2021. That's when Exploratory license holders must transition to a paid license that includes Teams:
Purchase a subscription that includes Teams.
Remove the Teams Exploratory subscription from the user.
Assign the newly purchased license.
Any license initiated afterward remains available at no additional cost until the following anniversary or renewal cycle. For agreements without an existing anniversary or renewal date, one year after the first end user's activation date of the Exploratory license will serve as the anniversary or renewal date. Users must then be converted to the paid license by that date each subsequent year. For example, if the first end user activates the license on July 2, 2020, then ALL eligible users in the customer tenant must convert to a paid Teams license by July 2, 2021.
If the Exploratory license ends and a user isn't immediately upgraded to a subscription that includes Teams, the user data is not removed. The user will remain in Azure Active Directory, and all data within Teams will remain as well. Once a new license is assigned to the user to re-enable Teams functionality, all content will be accessible.
NOTE: If you require a longer-term trial-only tenant for your business, consider a 6-month Office 365 E1 trial in response to COVID-19, or existing offers to charities and education customers for free E1 licensing.
Source
---
Trusted Tech Team is an accredited Microsoft CSP Direct Bill Partner, carrying multiple Solutions Partner designations and the now-legacy Microsoft Gold Partner competency. Based in Irvine, California, we report trends affecting IT pros everywhere.
If your organization uses Microsoft 365 or Azure, you may be eligible to receive a complimentary savings report from a Trusted Tech Team Licensing Engineer. Click here to schedule a consultation with our team now to learn how much you can save today.
Subscribe to the Trusted Tech Team Blog
Get the latest posts delivered right to your inbox