Bing Chat Enterprise is Here, Windows Server 2012 is Leaving - and More!
Microsoft is surging ahead in its mission to redefine the future of work with Artificial Intelligence. Last week, Microsoft unveiled a series of new tech that promises to revolutionize our work lives. At the heart of these exciting announcements are the Bing Chat Enterprise, Microsoft 365 Copilot pricing, and enhanced AI capabilities across Microsoft 365. Bing Chat Enterprise is a novel AI-based chat solution crafted to improve efficiency and promote creativity at work. It's designed to ensure the highest level of commercial data protection, with no leaks outside the organization and no data saved.
Bing Chat Enterprise's release comes as organizations increasingly express privacy and security concerns about generative AI tools, which can inadvertently expose sensitive business data. Bing Chat Enterprise promises that chat data will not be saved or used to train AI models, distinguishing it from other AI chatbots, which use shared prompts for training and behavior monitoring.
Bing Chat Enterprise will offer a similar user experience to Bing Chat, including answering with citations and visual representations. Bing Chat Enterprise is launching in preview, included at no additional cost for Microsoft 365 E3, E5, Business Standard, and Business Premium customers, which means over 160 million people already have access. It will also be sold as a standalone subscription for $5 per user per month.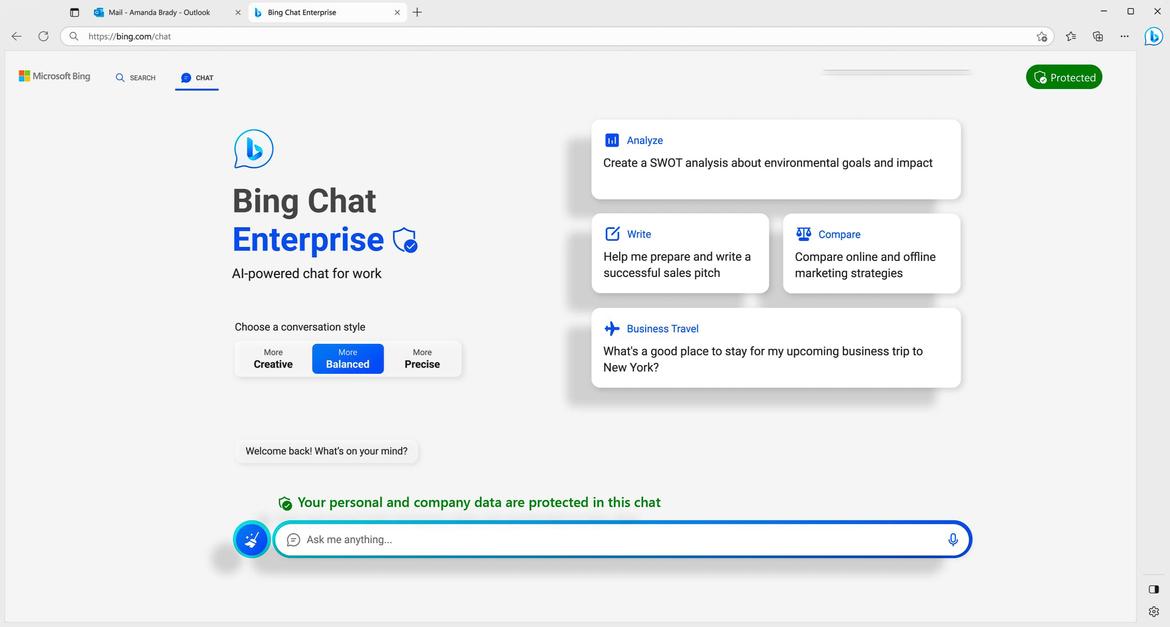 Furthermore, Microsoft has unveiled the pricing details for Microsoft 365 Copilot. It will be available for $30 per user per month for Microsoft 365 E3, E5, Business Standard, and Business Premium customers. For more details, check out last week's blog post.
These developments come with a slew of enhancements across Microsoft 365. The innovative AI-powered capabilities will ensure productivity and engagement regardless of where and how one works. For example, Windows 365 Frontline and Microsoft 365 Backup will help frontline and shift workers access their personalized Windows experience securely, and restore an organization's data quickly after unforeseen data loss.
Moreover, with the positive response since the introduction of Dynamics 365 Copilot and Copilot in Power Platform, Microsoft is excited to announce the new Sales Copilot, which aims to increase productivity for sellers by providing AI-generated opportunity summaries and other features in the applications where sellers work, including Outlook, Teams, and Dynamics 365 Sales.
Microsoft is also adding new features to Dynamics 365 Customer Insights; a customer data platform and customer journey orchestration capabilities in a single solution, enabling organizations to act faster on customer Insights. Plus, the Microsoft AIM (Accelerate, Innovate, and Move) program will offer a bespoke path for customers to transition from on-premises to cloud-first Dynamics 365 business applications.
Copilot in Microsoft Dynamics 365 Customer Service
Lastly, Microsoft is urging users to upgrade their Windows servers as support for Windows Server 2012 and Windows Server 2012 R2 ends on October 10, 2023. Those unable to upgrade can purchase Extended Security Updates (ESUs) or migrate their applications and databases to Azure, which will offer up to three years of free ESUs after the end of support date.
These announcements from Microsoft align with Microsoft's strategy for integrating AI into everyday work activities. By weaving AI's capabilities into its suite of services, Microsoft is definitely staking its claim in shaping how businesses operate in the future. As AI's influence continues to expand in the professional landscape, it's worth keeping an eye on what's next in Microsoft's innovation pipeline.
---
Trusted Tech Team is an accredited Microsoft CSP Direct Bill Partner, carrying multiple Solutions Partner designations and the now-legacy Microsoft Gold Partner competency. Based in Irvine, California, we report trends affecting IT pros everywhere.
If your organization uses Microsoft 365 or Azure, you may be eligible to receive a complimentary savings report from a Trusted Tech Team Licensing Engineer. Click here to schedule a consultation with our team now to learn how much you can save today.
Subscribe to the Trusted Tech Team Blog
Get the latest posts delivered right to your inbox