Copilot Unleashed Recap: Everything From our Latest Webinar in 4 Minutes
If you couldn't join us live for the "Copilot Unleashed" webinar, you're in luck. This blog post offers a succinct four-minute recap of the event that took a deep dive into Microsoft's latest marvel in AI assistance—Microsoft Copilot.
What is Microsoft Copilot?
Microsoft Copilot is an AI-powered digital assistant that provides personalized support to help users perform tasks and activities more quickly and efficiently. Whether you're composing emails, writing code, or summarizing content, Copilot works to help you complete your tasks in a fraction of the typical time by understanding your priorities within their relative contexts across the Microsoft 365 suite.
Microsoft 365 Copilot
Availability and Licensing
To access Copilot today, enterprises on Enterprise Agreements with Microsoft will need to purchase it through "Lead Status," requiring support from a Microsoft Commercial Executive. A minimum of 300 seats is required for purchase. Microsoft hasn't yet provided information on Copilot's availability for commercial users, but it is expected to be available in the first half of 2024.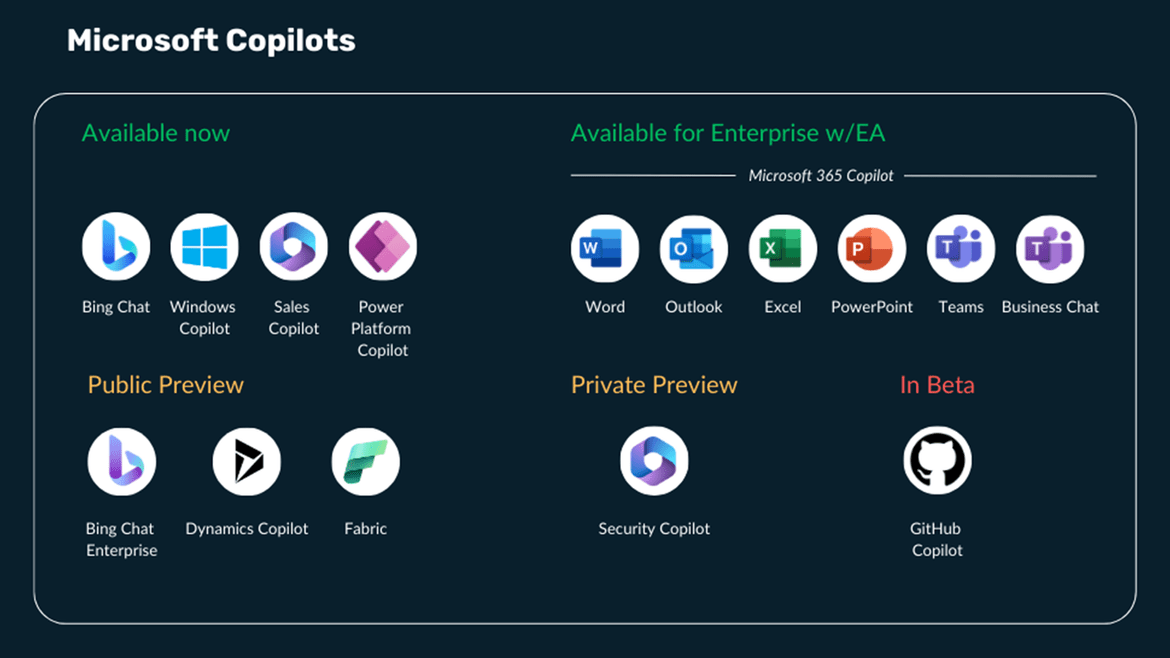 License Requirements
Microsoft 365 E3 or Microsoft 365 E5 license
Microsoft 365 Copilot license
Pricing
For qualified enterprises, pricing is $30 per user per month for Microsoft 365 E3, E5, Business Standard, and Business Premium.
Security and Compliance
Copilot automatically inherits your organization's security, compliance, and privacy policies for Microsoft 365. Data is managed in line with Microsoft's current commitments. Copilot large language models are not trained on your tenant data.
Microsoft 365 Copilot adheres to stringent privacy, security, and compliance standards, including GDPR and EU Data Boundary. It inherits the robust security and privacy policies of Microsoft 365 and does not train its large language models on your tenant data.
Integration with Microsoft Services
Copilot is seamlessly integrated with various Microsoft services, including Dynamics 365, Viva Sales, Power Platform, and Microsoft 365, leveraging their security and compliance frameworks.
Copilot vs. ChatGPT
Copilot and ChatGPT are both artificial intelligence (AI) technologies that were developed with the intent of helping you accomplish tasks and activities faster and more efficiently. While they may seem similar, there are significant differences between the two. ChatGPT is a natural language processing technology that uses machine learning, deep learning, natural language understanding, and natural language generation to answer questions or respond to conversations. ChatGPT works like a chatbot designed to hold a conversation with you. The more details you provide in your prompts, the more precise answers ChatGPT can offer.
Copilot leverages the same underlying technology of ChatGPT's but works differently by connecting LLMs to your business data in a secure, compliant, privacy-preserving way. It has real-time access to both your content and context in Microsoft 365 Graph and Dataverse. Using this, Copilot can help you with a range of tasks and activities, such as composing emails, automations, writing code, and creating business reports and summaries.
| Feature | ChatGPT | Microsoft 365 Copilot |
| --- | --- | --- |
| Technology | Natural Language Processing (NLP) | Large Language Models (LLMs) |
| Purpose | Answer questions or respond to conversations | Provide personalized assistance to users for a range of tasks and activities |
| Availability | Available as a chatbot and as an API that can be integrated into different applications | Available for Enterprise customers and will be available for commercial Microsoft 365 E3, E5, Business Standard, and Business Premium customers in 2024 |
| Data Access | Does not have access to your organization's internal data | Has real-time access to both your content and context in Microsoft 365 Graph and Dataverse |
| Data Usage | Uses your input to train the LLMs. This may include your proprietary information, API keys, and other sensitive data | Prompts, responses, and data accessed through Microsoft Graph aren't used to train foundation LLMs, including those used by Microsoft 365 Copilot |
| Tasks | Composes emails, creates lists, art, writes code, summarizes content, creates images, analyzes data and more | Helps with a range of tasks and activities that are specific to your organization, such as composing emails, creating reports, writing code, summarizing content, creating automations and more |
| Integration | Can be integrated into different applications via an API key | Integrated into Microsoft services like Dynamics 365, Viva Sales, Power Platform, and Microsoft 365 |
| Pricing | ChatGPT 4 costs $20 per month, while ChatGPT 3.5 remains free | $30 per user per month for Microsoft 365 E3, E5, Business Standard, and Business Premium customers when broadly available |
| Availability Date | Launched in November 2022 | Generally available for enterprise customers on November 1, 2023. Expected availability is in mid-2024 for commercial customers |
Microsoft 365 Copilot VS. ChatGPT
Bing Chat Enterprise
Bing Chat Enterprise is a cutting-edge AI chatbot designed to provide businesses with a powerful tool for customer engagement and support. It leverages Microsoft's extensive knowledge graph and advanced natural language processing capabilities to understand and respond to user queries in a conversational manner. With its ability to handle multiple languages, Bing Chat Enterprise can serve a global customer base.
Fun fact: parts of this blog post were written by Bing Chat Enterprise.
Bing Chat Enterprise Walkthrough
M365 Admin Center Overview
The Microsoft 365 Admin Center is a comprehensive management interface that serves as the central hub for all administrative tasks in Microsoft 365. It allows administrators to manage users, assign licenses, reset passwords, and handle everyday tasks. The Admin Center also provides specialist workspaces, such as Security or Device management, for more granular control.
In addition to user and license management, the Admin Center offers features for managing groups, resources, billing, support, settings, and setup. It also provides detailed reports on Microsoft 365 usage and service health. The Microsoft 365 Admin Center is designed to streamline cloud management, making it easier for administrators to manage their organization's Microsoft 365 environment.
M365 Admin Center Walkthrough
Microsoft 365 Chat: The New Experience
Microsoft 365 Chat is the hero experience for Microsoft 365 Copilot. It integrates with your work data and apps to enhance productivity and creativity. Microsoft 365 Chat can synthesize and summarize large amounts of data into simple, easy-to-digest summaries. It can also help you brainstorm ideas and draft new content based on anything from a storyboard or a script to an agenda or an executive summary.
Furthermore, Microsoft 365 Chat acts as your personal search engine, enabling you to ask questions about specific files and messages or find information you know is out there in your shared files but you can't remember where it's stored. It's accessible via desktop and mobile versions of Microsoft Teams, Microsoft Bing, and Microsoft365.com.
Copilot in Power Automate
Copilot in Power Automate is an AI assistant that aids in the creation and modification of cloud flows. It streamlines your workflow by allowing you to create a flow through natural language expressions. Copilot understands your intent, sets up connections, applies necessary parameters based on your prompt, and can even make changes to your flow.
It also answers questions about your flow and the product. For instance, you can ask Copilot questions like, "What does my flow do?" or "How do I access child flows?". Please note that Copilot is optimized for use in English and has limited support with other languages. This capability is powered by Azure OpenAI Service.
Copilot in Power Automate Walkthrough
Stay Informed for a Smooth Copilot Deployment
Keeping up-to-date with Microsoft's newest updates and releases is critical to staying on top of the game and preventing the scramble of playing catch-up. As an IT Pro, you are vital in driving innovation for your team.
Check out our past blog posts that cover the expansive features of Microsoft Copilot. Our team has thoroughly investigated its capabilities, and we're eager to pass on our knowledge to you, complete with detailed examples and proven practices.
Is your schedule too packed to comb through the internet for the latest information daily? Sign up for our TTT newsletter! We've done the legwork for you, compiling the latest and most relevant Microsoft updates and sending them directly to your inbox.
---
Trusted Tech Team is an accredited Microsoft CSP Direct Bill Partner, carrying multiple Solutions Partner designations and the now-legacy Microsoft Gold Partner competency. Based in Irvine, California, we report trends affecting IT pros everywhere.
If your organization uses Microsoft 365 or Azure, you may be eligible to receive a complimentary savings report from a Trusted Tech Team Licensing Engineer. Click here to schedule a consultation with our team now to learn how much you can save today.
Subscribe to the Trusted Tech Team Blog
Get the latest posts delivered right to your inbox