Auto-Generate Workflows with Copilot Power Automate
Microsoft Power Automate is a cloud-based solution that empowers you to streamline and simplify your daily tasks by automating repetitive and time-consuming workflows across a diverse range of applications and services.
Whether you need to create cloud, desktop, or business process flows, you can efficiently manage your workloads and save time with the help of your very own AI companion.
Discover how these versatile workflows, combined with the assistance of Microsoft Copilot, can make your routine tasks more manageable and efficient.
Types of Flows in Power Automate
You can use three types of flows in Power Automate: cloud flows, desktop flows, and business process flows. Whether you need to build an automation trigger whenever your company is mentioned on social media or schedule a daily data upload to SharePoint, Power Automate provides the tools you need to get things done.
Cloud Flows
Create a cloud flow when you want your automation to be triggered either automatically, instantly, or by schedule. 
| Flow Type | Use Case | Automation Target |
| --- | --- | --- |
| Automated Flows | Builds automations that activate in response to a specific event, like the arrival of an email from a designated sender or a mention of your company on social media. | Connectors for cloud or on-premises services connect your accounts and enable them to talk to each other. |
| Instant Flows | With a simple button click, you can automate routine tasks from either your desktop or mobile devices. For instance, send a team reminder with the press of a button on your mobile device. | Wide range of tasks, such as requesting approval, an action in Teams or SharePoint. |
| Scheduled Flows | Schedule an automation such as daily data upload to SharePoint or a database. | Tasks that need to be automated on a schedule. |
Desktop Flows
Desktop Flow is the Robotic Process Automation (RPA) solution within Power Automate that offers automation capabilities for Windows Desktop applications and services. 
Whether you're at home, a small business, an enterprise, or a larger company, you can use desktop flows to automate tasks on the web or the desktop. Some tasks you can automate are:
Organize documents using dedicated files and folder actions
Accurately extract data from websites and store them in Excel files using web and Excel automation
Apply desktop automation capabilities to autopilot your work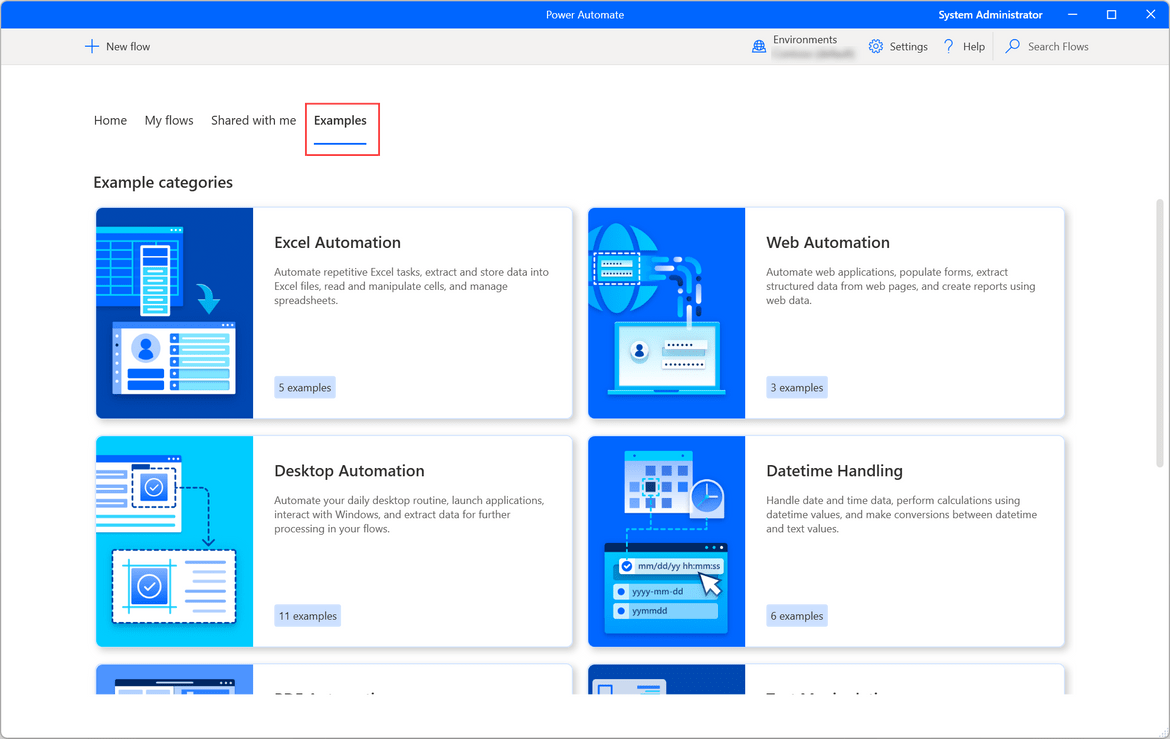 Business Process Flows
Business Process Flows serve as a roadmap for individuals to complete their tasks effectively. They offer a simplified user interface that directs users through predefined organizational processes, ensuring that interactions progress toward a successful resolution. This user experience can be customized to align with individuals' specific responsibilities and security roles, ensuring their workflow best matches their work.
Copilot for Power Automate
With the addition of Copilot in Power Automate, you can do more than just outline a flow to be created; you can also enhance and refine your flows with the help of an AI assistant. It's like having a conversation with a team member and working through a project together. As you're creating workflows, Copilot can answer your questions and help you further refine your flows, even if you don't know a lot about how Power Automate works. 

Copilot in cloud flows helps you create a starting flow, change, or even complete existing flows. 
The AI Builder is a new Power Platform capability that enables you to optimize your business process using AI models. With AI Builder, you won't need to worry about coding or data science skills. Instead, you can use everyday language in the chat for various scenarios such as text summarization, draft responses, classify text, and more.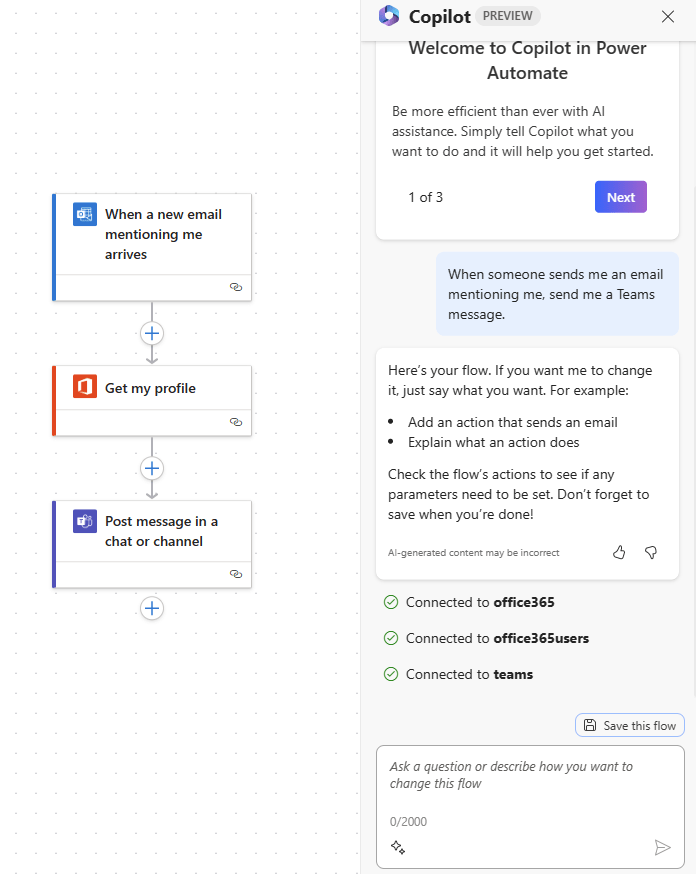 Here are some additional capabilities that Cloud Flows copilot can perform:
Interpret Your Intent: Copilot understands your intentions and creates a flow based on the scenario or instructions you provide.
Automated Setup: Automatically establish connections for you, getting your automation up and running as quickly as possible.
Parameter Configuration: Applies the necessary parameters within your flow based on the information you provide.
Flow Modifications: Responds to your requests to make changes to your flow. You can ask it to update actions or replace actions as needed.
Answer Queries: Provide answers to questions about your flow, such as explaining what your flow does. Additionally, it can address product-related questions, such as how to access child flows or manage licenses.
Ready to start creating flows with Copilot? If your organization has Microsoft 365 or Dynamics 365, you may already have access to Power Automate. If you're interested in purchasing Microsoft 365 for your organization, contact one of our specialists to check if you're eligible for our cost-saving analysis.
Copilot is a new cutting-edge technology that Microsoft is still developing. If you'd like to receive the latest updates as new features are introduced, make sure to subscribe to our newsletter below or follow us on  LinkedIn, Twitter, or Instagram. 
---
Trusted Tech Team is an accredited Microsoft CSP Direct Bill Partner, carrying multiple Solutions Partner designations and the now-legacy Microsoft Gold Partner competency. Based in Irvine, California, we report trends affecting IT pros everywhere.
If your organization uses Microsoft 365 or Azure, you may be eligible to receive a complimentary savings report from a Trusted Tech Team Licensing Engineer. Click here to schedule a consultation with our team now to learn how much you can save today.
Subscribe to the Trusted Tech Team Blog
Get the latest posts delivered right to your inbox