Protect Your Business Data with Bing Chat Enterprise
The demand for AI-powered productivity tools has many companies concerned about data security and privacy risks. According to Microsoft, 92% of technical professionals and business decision-makers say they have used an AI tool or service. However, did you know that public chat services are putting corporate data at risk?
Some large corporations have actually discouraged employees from using AI tools because of risk factors such as sensitive data leakage and saved confidential chat information. This can happen if a user utilizes an AI tool, for example, to summarize an internal report. 
To give enterprises a trustworthy AI companion, Microsoft launched Bing Chat Enterprise, currently available in preview for eligible customers.
What is Bing Chat Enterprise?
Bing Chat Enterprise is a version of Bing Chat designed for commercial data protection. Customers licensed for Microsoft 365 E3 or E5, A3 or A5 (for faculty), Business Standard, or Business Premium are eligible for Bing Chat Enterprise at no additional cost. 
You can access Bing Chat Enterprise in three ways:
Bing.com
The Microsoft Edge sidebar
Windows Copilot
Bing Chat Enterprise does not save any chat data, does not allow Microsoft to access your data, and is not used to train large language models (LLM). By using Microsoft Entra ID (also known as Azure Active Directory), Bing Chat Enterprise only allows authenticated users to access the chat through their work account.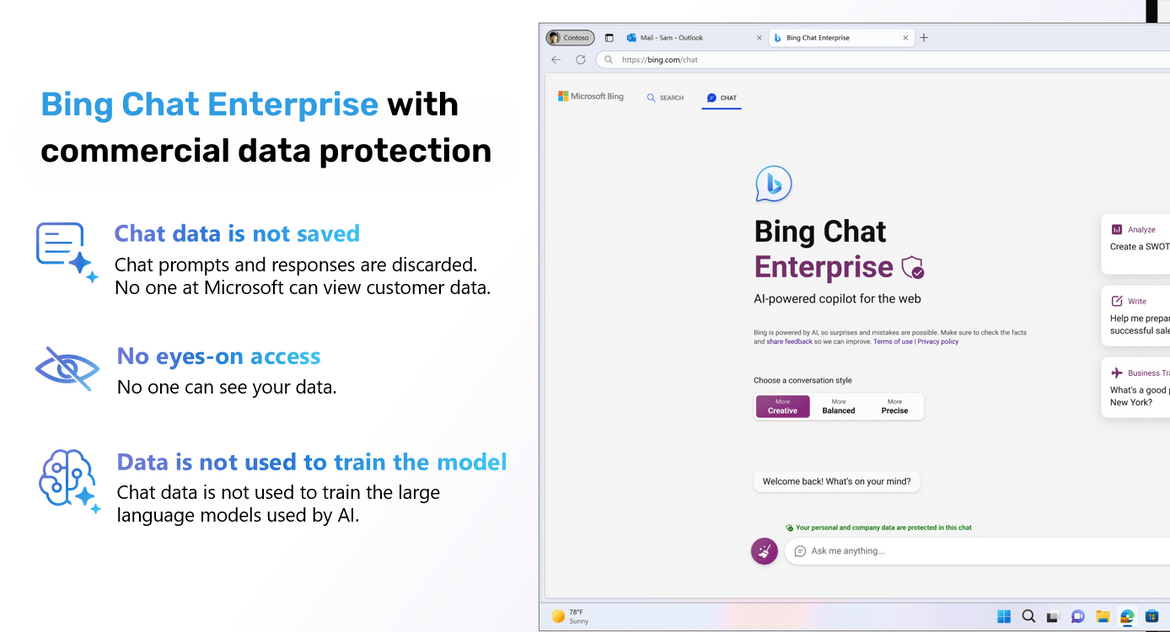 Bing Chat Enterprise Privacy and Protections
At the start of a chat session, tenant and user identity information is removed from chat data. Information is only used for sign-on purposes to ensure users are eligible to access the chat. After the chat is closed, the chat will reset, and Microsoft will discard all prompts and responses.
Chat data transmitted to and from Bing Chat Enterprise is encrypted both during transit and while at rest during active chat sessions. Microsoft ensures that there is no direct access to this data during its exchange.
As a result of Microsoft's policy of not retaining conversation prompts and responses, these interactions cannot be utilized for training the underlying expansive language model.
These data security measures also extend to chats within the Edge sidebar and Windows when Bing Chat Enterprise is enabled.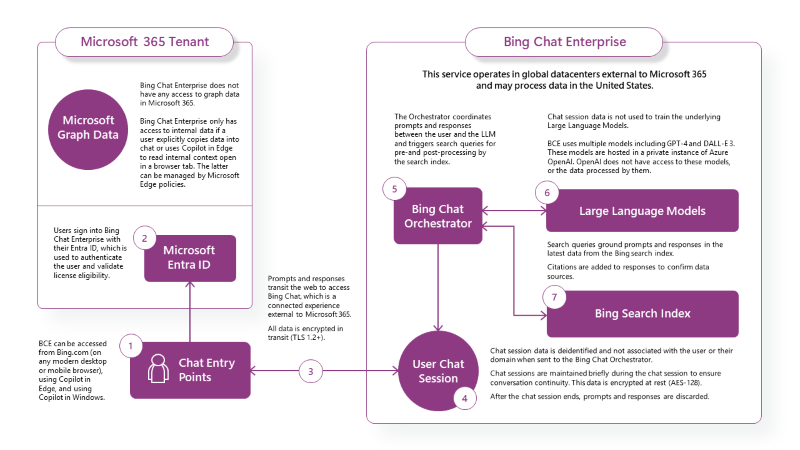 Bing Chat Enterprise does not support the chat history feature found in the Bing Chat experience. Furthermore, Bing Chat Enterprise does not provide organizations with any usage reporting or auditing features. However, users may still be subject to monitoring by IT admins within their organization through alternative methods such as internal logging, device logging, or network logs on company networks and devices.
Additionally, 3rd-party plugins/actions are not currently supported to prevent commercial data from being sent to external providers. 
If you have concerns that users may search for internal documents for sensitive information, you can be confident that Bing Chat Enterprise doesn't have access to resources or content stored within Microsoft 365. This includes various data types such as OneDrive, emails, or other related information. 
Bing Chat Enterprise only has access to organizational content that users provide within the chat. This can occur through two primary methods:
Users explicitly input or paste this information directly into the chat.
Users enter a prompt within the Edge sidebar after activating the 'Allow access to any webpage or PDF' setting, and the document or intranet page is displayed in the browser. In this scenario, Bing Chat Enterprise may utilize this content to assist with answering queries.
Bing Chat Enterprise does not retain any of this data once the chat session concludes.
Admin Controls for Bing Chat Enterprise
As a Microsoft 365 admin, there are a few controls you can configure for anyone in your tenant. 
At the user or group level, you can use the licensing controls to turn the Bing Chat Enterprise service on or off.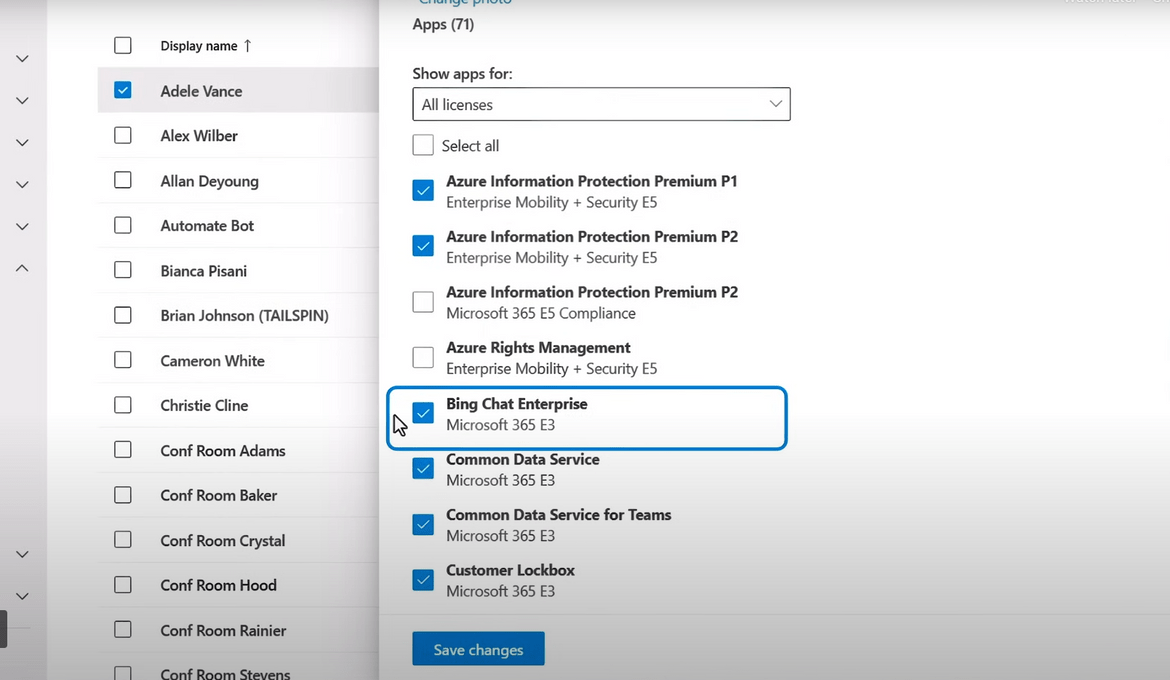 For the Edge sidebar, there are controls to enable or disable whether Edge can use browser context. If your policy permits, you can control this feature in your Edge browser settings under the app and notification settings in Bing Chat. You can choose to allow Bing access to any webpage or PDF to personalize your experience with summaries and highlights. 
For administrators, the settings are also available in the group policy or the Intune settings catalog under Microsoft Edge settings.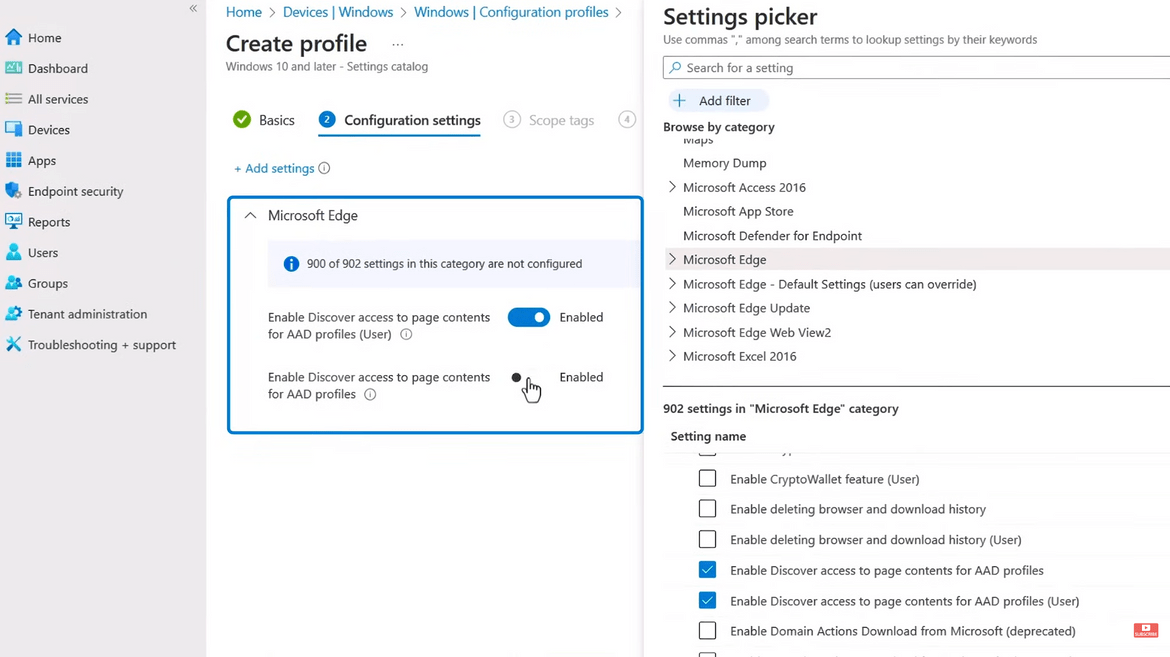 Additional Bing Chat Enterprise offerings will be announced in the coming months. Make sure you stay on top of Microsoft Copilot updates and be notified of general availability dates by following our newsletter below or connecting with us on LinkedIn, Twitter, or Instagram.
---
Trusted Tech Team is an accredited Microsoft CSP Direct Bill Partner, carrying multiple Solutions Partner designations and the now-legacy Microsoft Gold Partner competency. Based in Irvine, California, we report trends affecting IT pros everywhere.
If your organization uses Microsoft 365 or Azure, you may be eligible to receive a complimentary savings report from a Trusted Tech Team Licensing Engineer. Click here to schedule a consultation with our team now to learn how much you can save today.
Subscribe to the Trusted Tech Team Blog
Get the latest posts delivered right to your inbox