Open License, CALs and Core Licensing Differences
Windows Server and SQL Server licensing are notoriously confusing and complex. It's likely that you have thrown your hands up in frustration when trying to wrap your head around the differences between Open Licenses, client access licenses (CALs), and core model licensing. Luckily, the experts at Trusted Tech Team are here to demystify these terms so you can make the right decision for your business — and avoid a panic-inducing Software Asset Management (SAM) audit.
Open License (Open Value)
An Open License is a cost-effective way to purchase Windows Server software. It is purchased through Microsoft's Volume Licensing Center (VLC), so it is typically used for larger companies that operate on hundreds of machines. It requires a five-license minimum purchase and is the only licensing that will pass a SAM audit. Open License ensures that the user is always operating with the most recent software and features downgrade rights for up to two previous Server versions. Open License Server and Open License Server SQL are both managed through the Volume License Center and come with optional Software Assurance.
Client Access License (CAL) Model
Client Access Licenses (CALs) are additional licenses (not software) that are purchased separately from a SQL Server or Windows Server software purchase. The CAL licensing model is broken down into User CALs and Device CALs. User CALs are more popular because the CALs are assigned to a single user who can access the server across multiple devices. A Device CAL is a more economical choice, best when workers share computers. If a user or a device needs to access the server from a remote environment, Remote Desktop Service (RDS) CALs are needed in addition to User CALs and Device CALs. The CAL licensing model is often the best choice for small-to-medium-sized businesses.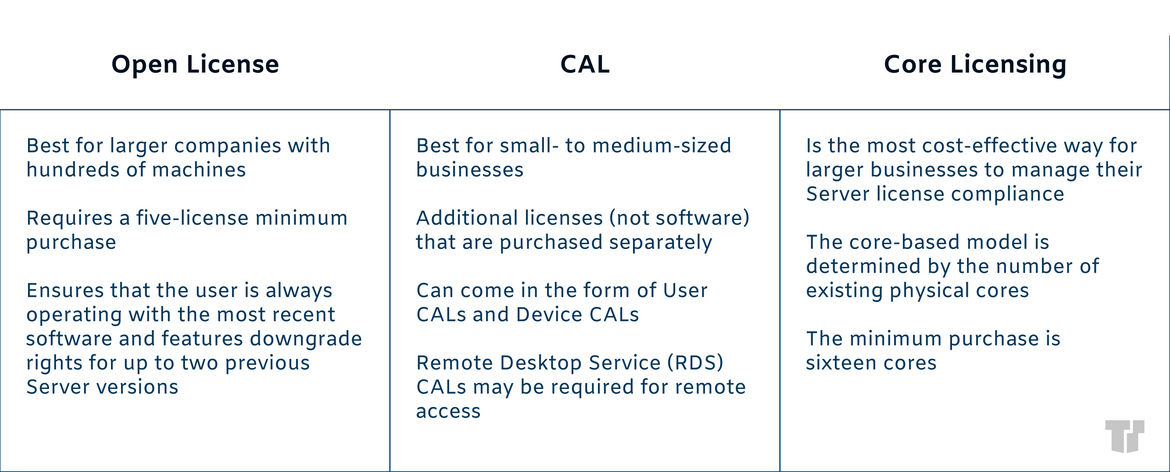 Core Model Licensing
Because the CAL model can be difficult to manage, core model licensing is the most cost-effective way for larger businesses to manage their Server license compliance. The core-based model is determined by the number of physical cores inside your processors. This model works best for businesses that have hundreds of database users, making User CALs or Device CALs unnecessary. The minimum purchase is sixteen cores, even if you have fewer in your server.
---
Trusted Tech Team is an accredited Microsoft CSP Direct Bill Partner, carrying multiple Solutions Partner designations and the now-legacy Microsoft Gold Partner competency. Based in Irvine, California, we report trends affecting IT pros everywhere.
If your organization uses Microsoft 365 or Azure, you may be eligible to receive a complimentary savings report from a Trusted Tech Team Licensing Engineer. Click here to schedule a consultation with our team now to learn how much you can save today.
Subscribe to the Trusted Tech Team Blog
Get the latest posts delivered right to your inbox