How Remote Desktop Services Can Benefit Your Business
You've probably heard the term "Remote Desktop Services," thrown around quite a bit since 2012. Formerly known as "terminal services," Remote Desktop Services (RDS) has been enhanced over the years, giving businesses a leg-up when it comes to managing remote employees or clients.
*How does it work? Is RDS the best solution for your company's needs? Let's go through the basics, shall we?*
What's the Deal with RDS?
RDS, in its simplest form, allows desktop and application deployments to be run on any device. This creates huge opportunities for businesses like improving remote worker efficiency, keeping critical intellectual property secure, and simplifying regulatory compliance.
RDS enables virtual desktop infrastructure (VDI), session-based desktops, and applications; thus allowing users to work anywhere.
With a network connection and access to the cloud, users can access RemoteApp, which enables remote delivery of applications; or Remote Desktop, which allows a user to connect to a different desktop from their current device. Both options can greatly benefit businesses looking to provide consistent services and apps for employees and clients.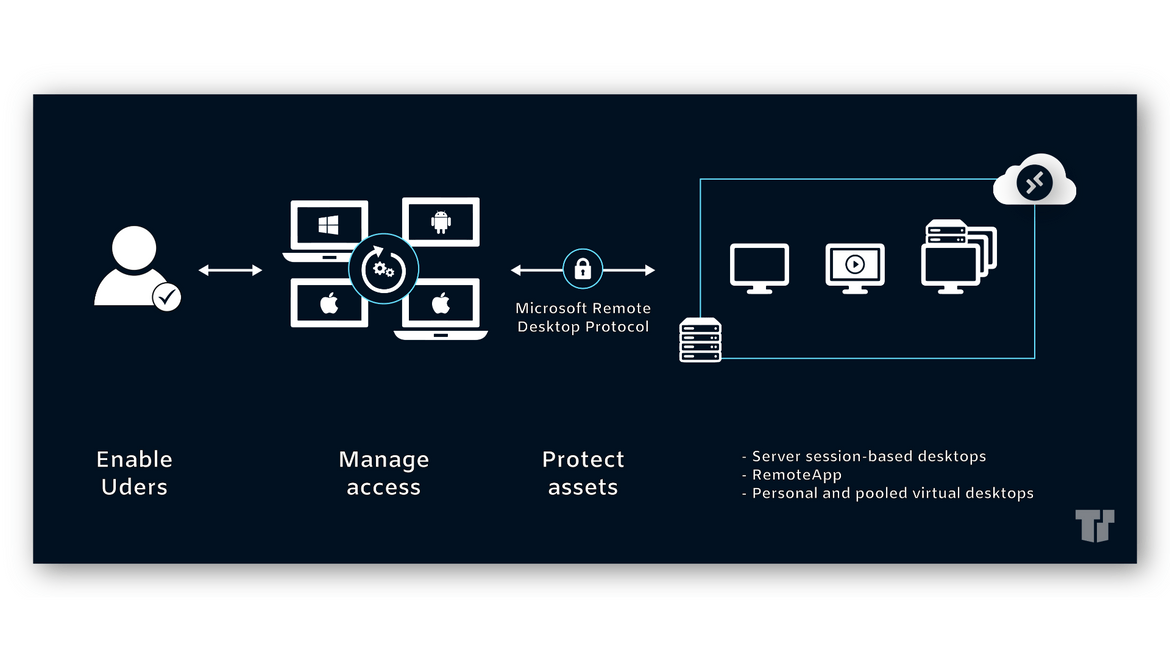 More to Love
With RDS 2012, users were provided with some basic features that make a huge difference to their business management including:
Unified administration experience – Allows an administrator to manage virtual desktop collections, configure RemoteApp programs, manage virtual desktops, and add servers to the deployment from one centralized console.
User personalization – User profile disks allow user personalization settings across session collections and pooled virtual desktop collections.
Less expensive storage – Pooled virtual desktops can use local storage live migration between host computers. Personal virtual desktops can use storage located on network shares.
Automated pooled virtual desktop management – Deploy and manage pooled virtual desktops centrally by using a virtual desktop template. Any changes, such as application installation or security updates, are installed on the virtual desktop template, and the pooled virtual desktops are then recreated from the virtual desktop template.
Shiny New Upgrades
RDS 2012 provided incredible features for those running older systems, but what is new in the RDS world?
The Microsoft blog provides a comprehensive description of the newest RDS 2016 features, In summary, Windows Server 2016 keeps all of the handy features from the older models, and adds some new options such as:
Windows 10-like experience – Works and feels like Windows 10, for a streamlined user experience.
New GPU acceleration capabilities – RemoteFX improvements and Discrete Device Assignment feature.
Personal Session Desktops – VDI, based on Windows Server 2016 inside the guest.
New traffic protocol – RDP v10.
Remote Credential Guard – protects credentials from being stolen during the logon process into RDS.
New RDS clients for Windows, MacOS, iOS and Android.
Optimized Connection Broker – handles many more requests and can store its DB in Azure SQL Database.
Simplified deployment of RDS in Azure.
Windows Server 2016 provides some much-needed upgrades to older versions, drastically improving the user experience; but how do you decide which version is best suited for the needs of your business?
Check our Windows Server CAL Guide for more information on choosing the license that is best for you.
---
Trusted Tech Team is an accredited Microsoft CSP Direct Bill Partner, carrying multiple Solutions Partner designations and the now-legacy Microsoft Gold Partner competency. Based in Irvine, California, we report trends affecting IT pros everywhere.
If your organization uses Microsoft 365 or Azure, you may be eligible to receive a complimentary savings report from a Trusted Tech Team Licensing Engineer. Click here to schedule a consultation with our team now to learn how much you can save today.
Subscribe to the Trusted Tech Team Blog
Get the latest posts delivered right to your inbox