Server 2022 Datacenter: Azure Edition - All You Need to Know
Microsoft Server 2022 Datacenter: Azure Edition
Microsoft Server 2022's release was announced late last year. This version implemented upgrades to its operating system, including better performance, cloud upgrades, and increased security features. In addition to its Essential, Standard and Datacenter editions, Microsoft introduced Server 2022 Datacenter: Azure Edition, which includes unique and enterprise-grade improvements. Before you invest in this version, read this guide to learn if the features it offers match your business needs.
What is Server 2022 Datacenter: Azure Edition?
Server 2022 Datacenter: Azure Edition is built to run as a VM on an Azure Stack HCI cluster or as an Azure IaaS VM within Azure. Unlike the other versions of Server 2022, you will be unable to install Azure Edition on bare hardware. Furthermore, it can't run on third-party hypervisors, within third-party clouds, or under client or Windows Server Hyper-V. It is most distinct from other versions because of three new features: hotpatching, SMB over QUIC, and access to Azure Extended Network.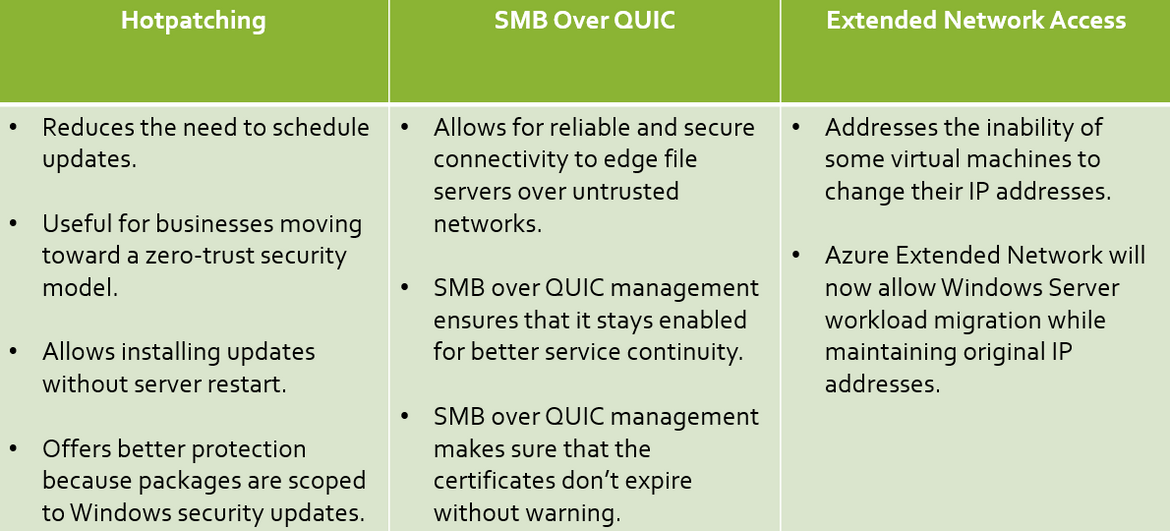 Hotpatching
One of the most notable benefits of Server 2022: Azure Edition is hotpatching - a feature that establishes a baseline with the Windows Update Latest Cumulative Update, reducing the need to schedule updates. This is particularly useful for businesses moving toward a zero-trust security model. Hotpatching allows you to install updates without restarting your server, maintaining continuity. Its smaller update packages will install faster, creating easier patch orchestration within Azure Update Manager. Hotpatching also offers better protection because these packages are scoped to Windows security updates. According to Microsoft, you'll only need to "bounce a server to install cumulative updates that are released every quarter." Note that this is not the case for unplanned updates designed to resolve critical vulnerabilities.
SMB Over QUIC
SMB over QUIC is a Server 2022: Azure Edition feature that addresses challenges related to accessing remote file servers without a VPN on mobile devices and untrusted networks. This is done through the use of an SMB VPN. As an alternative to TCP, SMB over QUIC allows for reliable and secure connectivity to edge file servers over untrusted networks. SMB over QUIC management ensures that it stays enabled for better service continuity. Through the use of encrypted QUIC certificates, SMB over QUIC management makes sure that the certificates don't expire without warning.
Extended Network Access
The most notable feature of Microsoft Server 2022 Datacenter: Azure Edition is the Extended Network for Azure, which addresses the inability of some virtual machines to change their IP addresses. Azure Extended Network will now allow Windows Server workload migration while maintaining original IP addresses.
---
Trusted Tech Team is an accredited Microsoft CSP Direct Bill Partner, carrying multiple Solutions Partner designations and the now-legacy Microsoft Gold Partner competency. Based in Irvine, California, we report trends affecting IT pros everywhere.
If your organization uses Microsoft 365 or Azure, you may be eligible to receive a complimentary savings report from a Trusted Tech Team Licensing Engineer. Click here to schedule a consultation with our team now to learn how much you can save today.
Subscribe to the Trusted Tech Team Blog
Get the latest posts delivered right to your inbox