Volume Licensing & Software Assurance
Volume Licensing and Software Assurance policies can seem distorted due to non-standardization. However, with a little guidance from our in-house licensing experts and Spiceworks colleagues, Microsoft aficionados recently learned how to swiftly traverse the licensing pathway.
Our most recent Video Meetup (VMU), "Microsoft Licensing 101: Volume Licensing and Software Assurance", clarified perennial factors determining Volume Licensing capacity, including:
Eligibility requirements based on organizational volume
Immediate or scheduled payment structures
Permanent or temporary product use
Software Assurance benefits
Furthermore, the categorical structures and relative variations of the Volume Licensing matrix were outlined in regard to:
TRANSACTIONAL vs. COMMITTED licenses
SMALL (5-249 desktops) vs. LARGE (250+ desktops) licenses
Open Business vs. Open Value (Non company wide) options
Select Plus vs. MPSA (Microsoft Products & Services Agreement)
Open Value (Company Wide) vs. Open Value Subscription
Enterprise Agreement vs. Enterprise Subscription Agreement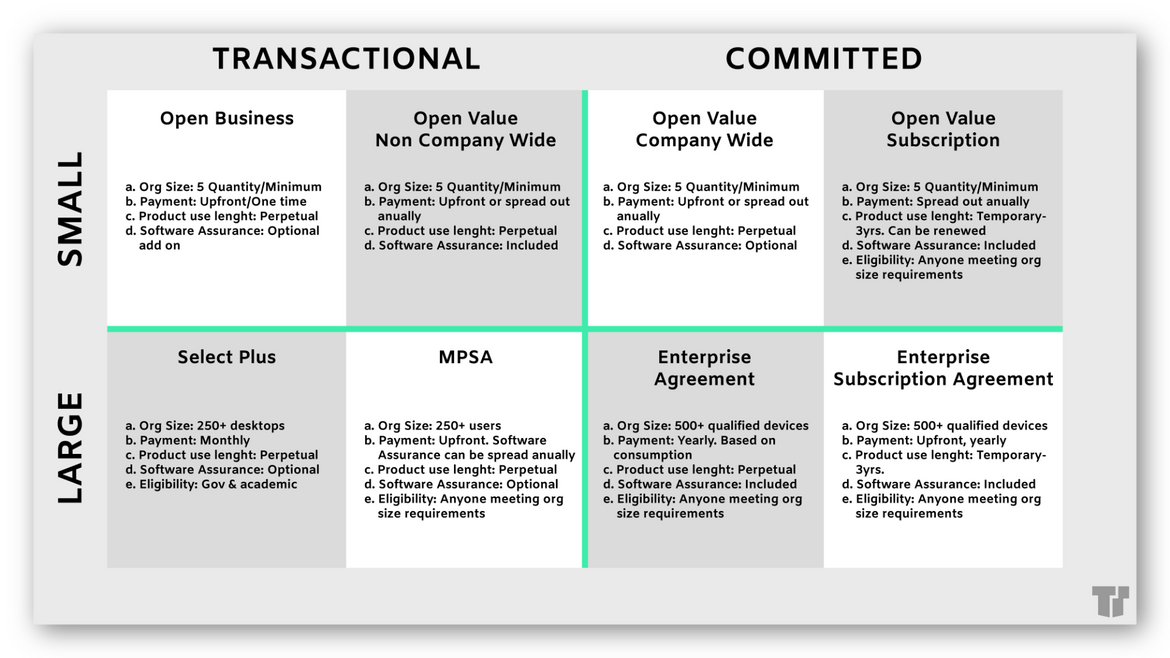 Trusted Tech Team (TTT) licensing experts defined Software Assurance as: "a range of benefits which provide technology, services, and support to manage the software lifecycle." More specifically, it was discussed as a product enhancement add-on for training, support, and usage rights. Ultimately, software assurance maximizes your product type or product-specific benefits.
A major takeaway from "Microsoft Licensing 101" was clarifying the fact that software assurance is an oft-discarded licensing option that ultimately saves you time and money. Bonus topics covered in the VMU included:
How to weigh the total cost of operations (TCO) of a licensing program
How to determine when different Open Licensing options are applicable
How Software Assurance can ease the difficulty of End of Life (EOL) issues
How Trusted Tech Team helps IT pros fully benefit from licensing programs
---
Trusted Tech Team is an accredited Microsoft CSP Direct Bill Partner, carrying multiple Solutions Partner designations and the now-legacy Microsoft Gold Partner competency. Based in Irvine, California, we report trends affecting IT pros everywhere.
If your organization uses Microsoft 365 or Azure, you may be eligible to receive a complimentary savings report from a Trusted Tech Team Licensing Engineer. Click here to schedule a consultation with our team now to learn how much you can save today.
Subscribe to the Trusted Tech Team Blog
Get the latest posts delivered right to your inbox