Windows Server vs Ubuntu Linux: What's Best for Your Website?
Windows Server vs Ubuntu Linux
Unsure about the similarities and the differences between Windows Server and Ubuntu Linux? You're not alone. Deciding which platform will suit your business' needs is not a straightforward decision. Factors like software compatibility, your organization's IT expertise, bandwidth needs, and price constraints are all important. Scalability for future growth is also essential. In this post, we'll highlight some of the differences and the similarities between Windows Server versus Ubuntu Linux.
Free Versus Paid-For Services
One of the biggest differences between Windows Server and Ubuntu Linux is that Linux is a free, open-source web-hosting choice. Because it can be implemented and installed without the help of IT professionals or upfront costs, many beginners opt for Linux. Technical support is available for a charge through multiple vendors and prices for this service will vary, however. If help is needed, it likely won't be free. Help also may not be as prompt or as on-demand as Microsoft's 24/7 customer support.
Linux Pros
Linux is known for its stability and its lean configuration. It requires fewer updates and less upkeep. Because of its fewer updates and slower Linux driver modifications, often which can be done "on the fly," Linux doesn't require as many reboots as Microsoft Server (Linux needs to reboot only when there is a kernel update). This can be an important factor for mission-critical businesses and those that depend on always-on server access. Linux is also often thought to be a more secure option. Because businesses around the world depend on Microsoft Server, it is considered to be a higher-value target for viruses and malware attacks.
Linux Cons
A Linux drawback lies within any customization that may be unique to your business needs. This is an issue particularly when remote desktop access is warranted. With Linux, this option requires an intuitive interface, which will require some additional command-line programming — something that will need to be performed by someone who has the expertise to do so.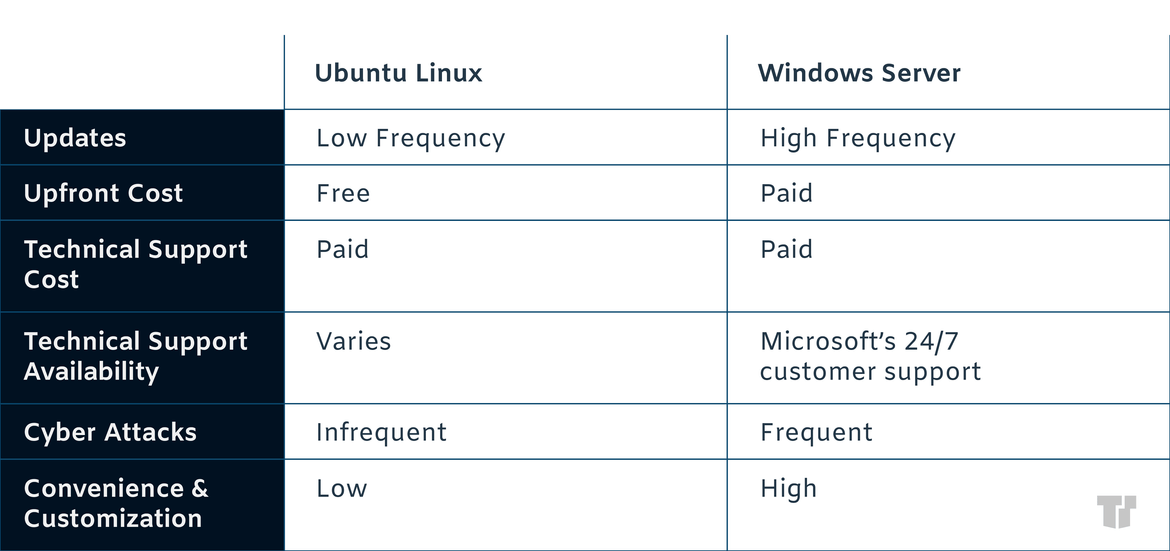 Windows Server Benefits
Microsoft Server is a tried-and-true option for millions of businesses around the world. Although it is a paid-for service, this cost may be more comfortable for businesses — there are no cost surprises for additional technical support or command-line programming and its prices are quite clear-cut. Microsoft is a database platform that can be scaled for small, medium, and large businesses and is available in both CAL and Core formats. Trusted Tech Team can help you determine which option is right for you with our online resources, such as our Microsoft SQL Server Guide, as well as our knowledgable U.S.-based support.
Quick and Easy Setup
Setup is quick and easy with Microsoft SQL Server, and it can be easily purchased and downloaded online. If customization or intuitive remote access is needed, this can be implemented without the use of command-line programming and without the use of an emulator. Microsoft offers an easy-to-use graphical interface that is available right out of the box that doesn't require additional configurations. Microsoft also releases regular MS Server updates.
On-Demand Support
Perhaps one of the most important differences between Linux and MS Server is the technical, Microsoft-backed customer support that is available with this paid service. This can provide peace of mind for many businesses: help is there when you need it. Because it is included within the cost of the service, there's no need to pay for vendor support and there are no surprise costs involved.
Familiarity
Familiar with Microsoft products, such as Exchange, MS Office, or Outlook? The familiarity with Microsoft products is a plus for many businesses. Companies have often maintained and utilized Microsoft products for years. Microsoft SQL Server is a native platform, which means that integration is simple.
---
Trusted Tech Team is an accredited Microsoft CSP Direct Bill Partner, carrying multiple Solutions Partner designations and the now-legacy Microsoft Gold Partner competency. Based in Irvine, California, we report trends affecting IT pros everywhere.
If your organization uses Microsoft 365 or Azure, you may be eligible to receive a complimentary savings report from a Trusted Tech Team Licensing Engineer. Click here to schedule a consultation with our team now to learn how much you can save today.
Subscribe to the Trusted Tech Team Blog
Get the latest posts delivered right to your inbox