Resolved: Top 5 VMware Issues in 2021
Better Agility in Data Management and Operations
As programs, servers and businesses have grown, so have the capabilities and efficiency needed to implement and perform these programs. As demands grew, new applications and solutions that provided better agility solutions were needed.
VMware
Virtual machines to the rescue! These revolutionary hypervisor products have allowed businesses to reduce their footprints and increase their portability capabilities. At the same time, virtual machines provided IT efficiency and better data security, all while lowering hardware costs. The California-based company, VMware, was one of the pioneers of the IT virtualization movement, making its mark with private data centers, cloud management, virtualized storage, and networking as well as desktop software. It is known for products like VMware Hypervisor, vSphere (including ESXi), VMware vCloud and VMware Hyper-Converged Infrastructure (HCI).
Top Five VMware Issues
VMware is inarguably the leader in virtualization and cloud computing, providing businesses with technology that's ready for the future. With every tech company and with every program, however, there are challenges. VMware has not been without its performance issues, enough so to send its users running to the internet for support and for answers. The most notable five VMware issues have included slow operating system boots, poor application performance within the virtual machines, long launch times, unresponsive applications, and long transaction times.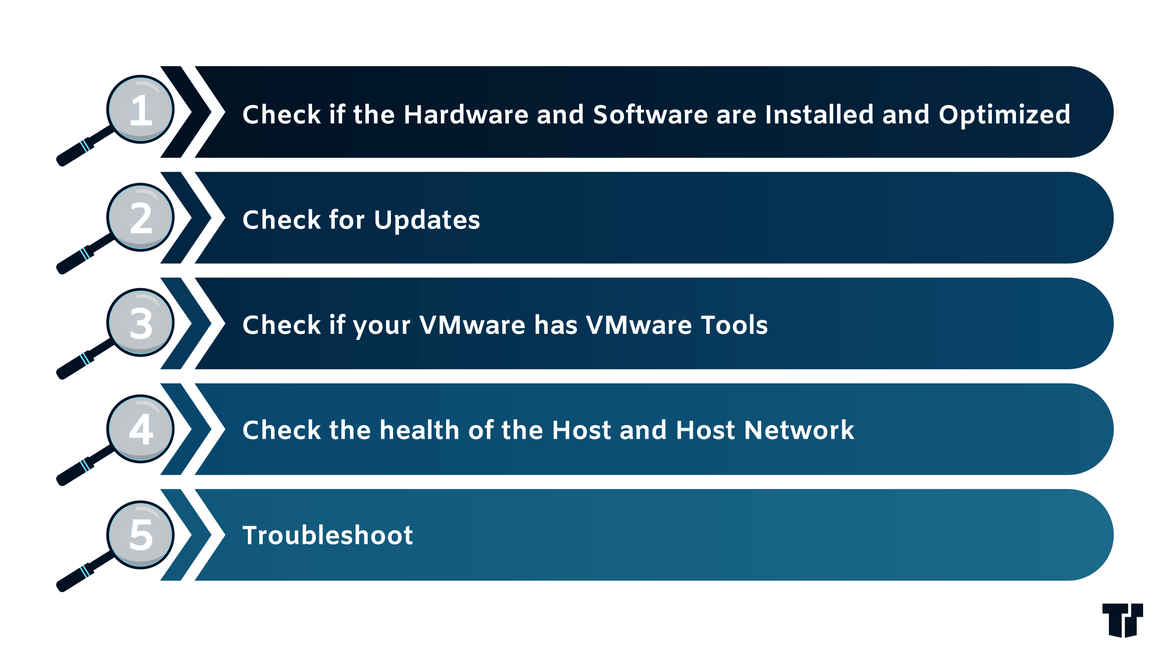 When (and When Not) to Troubleshoot
Although some of these issues are performance-related within the VMware programs, containers, and machines, some reduced performance is common due to the workload, according to VMware.com. Troubleshooting may be necessary if you're seeking the best possible performance to optimize your virtual machines. It also may be necessary if the VM's performance recently declined after a previously acceptable run or if the VM's performance is significantly slower than a setup on a physical computer.
Are the Hardware and Software Installed and Optimized?
Before troubleshooting any performance issue within your VMware product, your operation's "nuts and bolts" should be verified. This includes verifying that the product is operating with the most recent product update. It is also necessary to verify that VMware Tools are installed. VMware Tools are utilities that are installed within the guest operating system and that improve the VM management. VMware Tools will improve missing sound, low video resolution, incorrect network speed displays, inadequate color depth, and other functional issues. It is also essential to determine if enough CPU, memory, and other resources are available to run the virtual machine. The VMware Download Center will allow you to verify that you're running an updated version. Hint: The VMware Download Center is also a terrific resource for training, trials, and more information on individual programs.
Is the Host and Host Network Healthy?
Learn how to verify the health of your operating system to ensure that it is working properly, as well as to verify that the host networking speed is sufficient to run your VMware programs. Does the host network have the resources (including CPUs and RAM) to run a virtual machine properly? If it does not, your VM may not be able to power on, resume, suspend or perform a snapshot operation. The host's storage substation should also be checked and configured. The overview of this process is available in Troubleshooting hosted disk I/O performance problems.
---
Trusted Tech Team is an accredited Microsoft CSP Direct Bill Partner, carrying multiple Solutions Partner designations and the now-legacy Microsoft Gold Partner competency. Based in Irvine, California, we report trends affecting IT pros everywhere.
If your organization uses Microsoft 365 or Azure, you may be eligible to receive a complimentary savings report from a Trusted Tech Team Licensing Engineer. Click here to schedule a consultation with our team now to learn how much you can save today.
Subscribe to the Trusted Tech Team Blog
Get the latest posts delivered right to your inbox