Microsoft 365 Vs. Google Workspace: Which is Best for You?
Productivity software and programs have become synonymous with well-run businesses. In the beginning, productivity systems were analog: typewriters and word processors were the norm for document creation. Gridded paper and lined sheets were used to put pencil to paper to create (gasp!) written spreadsheets. And telephones and in-person meetings were used to collaborate and communicate between co-workers.
Google Workspace and Microsoft 365: Productivity Giants
With the advent of the internet and the rise of the tech giants, productivity has catapulted into the realm of what businesses 50 years ago would consider science fiction. And with the competition between Google and Microsoft in the battle for the best productivity software, the features of both Google Workspace and Microsoft 365 are likely to quickly improve. According to Statista, Google's G Suite has a market share of 59.41%; Microsoft 365 has 40.39 as of October 2020. In terms of businesses, Google's paid business accounts increased from approximately 2 million users in 2015 to 5 million just four years later in 2019. Microsoft, which has been in the productivity game longer, reported 200 million active monthly users in 2019; it has added approximately 3 million a month ever since.
Similar Programs
On paper, Google Workspace and Microsoft 365 seem very similar. They both offer word processing software (Google Docs and Microsoft Word), spreadsheets (Google Sheets and Microsoft Excel), and presentation software (Google Slides and Microsoft PowerPoint). Both platforms include email as well (Google's Gmail and Microsoft's Outlook) and real-time collaboration tools (Google Meet and Microsoft Teams).
Comparable Features
The features of both Microsoft 365 and Google Workspace are comparable. According to some users, the collaborative and remote tools are better with Google because of its fundamental cloud-based execution. However, the offline work capabilities of Microsoft 365 are better, particularly if a business' internet connection is not stable. One difference is cloud storage: Google Workspace offers from 30 GB to unlimited cloud storage in its varying plans. On the other hand, Microsoft 365 comes with 1 TB of storage available within all plans; however, no Microsoft plan offers unlimited storage options, yet. In addition, Microsoft 365 provides an additional 50 GB per mailbox user.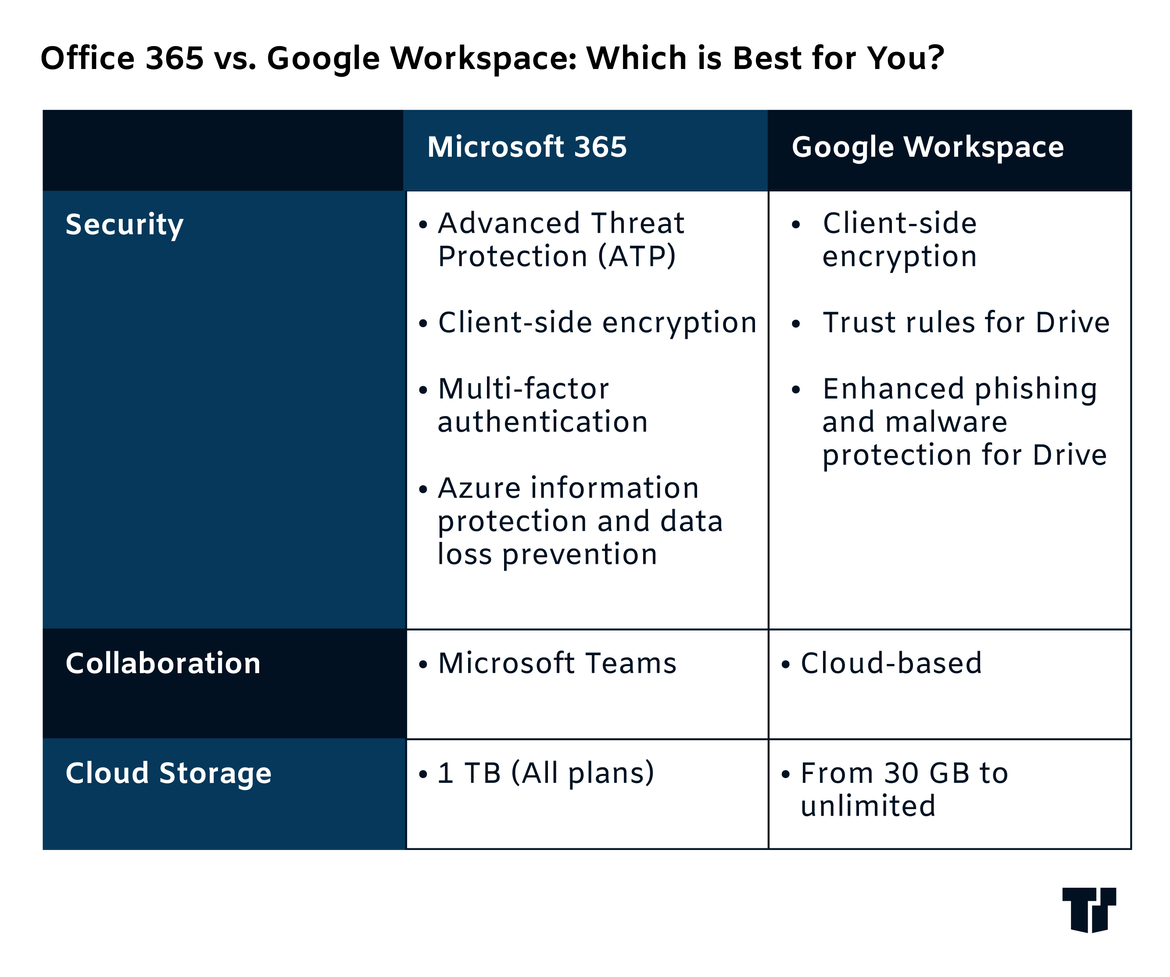 Ease of Use
Many of the software preferences have to do with program comfort and its ease of use. Because Microsoft has been around longer, most users have likely worked within its programs before. Each Microsoft application is also easily integrated into the other. Google Workspace is highly intuitive and is very easy to navigate; some may say that it is minimalist, providing a streamlined appearance and functionality. This makes Google Workspace easy for beginners to start with.
Security and Privacy
Many of the differences between these two options revolve around security. Each have their own advantages - Google has a history of good data and enhanced security features; the company is also known for its cutting-edge security strategies. Microsoft's track record, however, has inarguably been longer. Because it has been in the productivity game for longer, it has had time to implement strategies, advanced tools, and security measures. The Microsoft 365 Business Premium package includes Microsoft Advanced Threat Protection (ATP), as well as a Multi-Factor Authentication option. However, both platforms' security features are dynamic and efficient. In terms of data privacy and compliance, Microsoft offers tools like Azure Information Protection and Data Loss Prevention, as well as over 800 more controls to keep your data under wraps.
Who is the Winner?
Although both Google Workspace and Microsoft 365 will provide your business with the tools it needs to collaborate, create and present, the offline capabilities are reported to be better with Microsoft 365. Because it has been around longer, many businesses and users may be more familiar with Microsoft products. In addition, Microsoft has an upper hand on data privacy and compliance. Questions about these products? Trusted Tech Team is here to help. Contact our U.S.-based support team to learn more about any Microsoft products and which plan works best for you and your team.
---
Trusted Tech Team is an accredited Microsoft CSP Direct Bill Partner, carrying multiple Solutions Partner designations and the now-legacy Microsoft Gold Partner competency. Based in Irvine, California, we report trends affecting IT pros everywhere.
If your organization uses Microsoft 365 or Azure, you may be eligible to receive a complimentary savings report from a Trusted Tech Team Licensing Engineer. Click here to schedule a consultation with our team now to learn how much you can save today.
Subscribe to the Trusted Tech Team Blog
Get the latest posts delivered right to your inbox