Microsoft Project vs Jira: Pros & Cons
Off-site and remote work for small and medium enterprises are increasing trends. For this reason, it's been even more important that project managers and workers communicate, collaborate, and stay on task. Companies are regularly looking for the best ways to provide communication so that project quality isn't compromised. Two giants within the collaboration and project management industry have been Microsoft Project and Atlassian Jira. Both programs are viable options for task and product management. However, the differences between the two can be confusing. In this post, we'll take a look at what both of these programs are, their similarities, and their differences.
What is Microsoft Project?
As part of the Microsoft Office Professional or Standard software suites, Microsoft Project is the company's answer to workplace task management. It allows users to manage resources, create reports and assign tasks, as well as provide visual tools (Kanban boards and Gantt charts), to manage both workflow and timelines.
What is Jira?
Jira is a software application used to track and manage projects. It was released by Atlassian, an Australian software company, in 2002. Jira also provides project and product management and Kanban-style development. It uses a SCRUM-method focus for fast-paced scenarios.
Advantages and Disadvantages of Microsoft Project
Quite possibly the biggest pro of Microsoft Project is that if a company is currently using the Microsoft suite of Office products, it will likely already have access to this program. Its familiar interface and its ease of use within a company's current setup allow seamless integration between different Microsoft applications, such as Word, PowerPoint, and Outlook. Microsoft has a history of reliability, support, and trust. A disadvantage of Microsoft Project includes its desktop application, which some users believe to be clunky. It can also be difficult to learn and to use.
Advantages and Disadvantages of Jira
A giant in customizable project tracking and management, Jira is a tested and trusted product that can be used by developers, engineers, project managers, and more. Its agile, single-view story access can generate reports, organize tickets into both sprints and releases as well as can monitor workloads and assignment tasks. Jira integrates with third-party software, such as Slack, making it simple to respond to any concerns or issues at hand. A benefit of Jira is that there is a huge range of extended features, as well — over 3,000 within the Atlassian Marketplace.
The disadvantages? As with Microsoft Project, Jira is more of a desktop entity; some users say that its mobile app leaves something to be desired. Users have also reported complex integration and migration from other lifecycle management systems, especially Microsoft Teams to Jira, which involves manually migrating each artifact. This can become quite time-consuming. There is a limited file size upload, as well, and its interface is considered to be a bit cluttered for some users.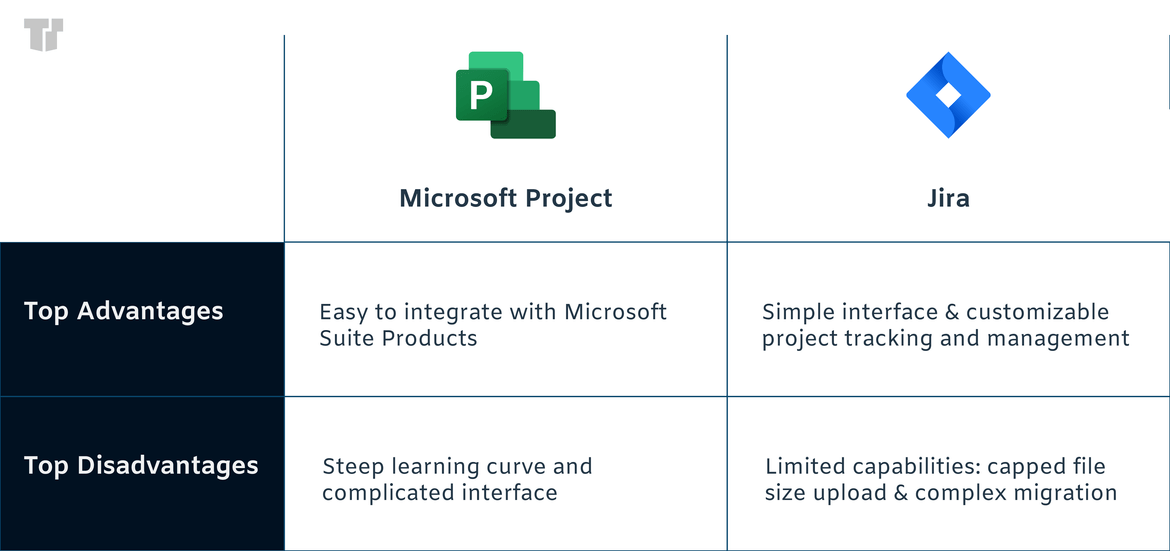 What's Best for Small to Medium Enterprises?
In terms of project management for small- and medium-sized businesses, Microsoft Project and Jira are both high-quality products. Each has its pros and cons, which will affect the user in different ways. Availability and familiarity are important factors: Microsoft is a familiar and trusted company for project management. Many users will appreciate the already-available software availability of MS Project. Further, many small- to medium-sized businesses already have access to the Microsoft suite of products.
---
Trusted Tech Team is an accredited Microsoft CSP Direct Bill Partner, carrying multiple Solutions Partner designations and the now-legacy Microsoft Gold Partner competency. Based in Irvine, California, we report trends affecting IT pros everywhere.
If your organization uses Microsoft 365 or Azure, you may be eligible to receive a complimentary savings report from a Trusted Tech Team Licensing Engineer. Click here to schedule a consultation with our team now to learn how much you can save today.
Subscribe to the Trusted Tech Team Blog
Get the latest posts delivered right to your inbox