Killer Microsoft Project Features You Should Be Using
Microsoft Project Management
Even before the rise of remote workplaces, companies have always been on the lookout for quality project management applications. They have also been seeking software to help streamline rollouts of complicated processes, simplify managing budgets, keep timelines in check, and ensure milestones remain on schedule.
MS Project
Clear, concise, and collaborative project software has become increasingly important today to ensure all the facets involved with your project are well-equipped to access information. As technology becomes even more intricate and detailed, the Microsoft Project software lineup is a must-have in your project management toolkit. Are you taking advantage of everything that Microsoft Project has to offer? You may be surprised that MS Project provides cutting edge features you didn't know about. Read on to learn more about these features, and the benefits and advantages they bring to your projects.
Project Timelines
Project timelines are vital planning and management tools. Therefore, it is essential that they are clear and concise. Microsoft Project uses proven Gantt bar charts to layout views of dates, deadlines, and times that are critical within your project. To make the most out of this feature, be sure to utilize the following:
Use the "Bar Label" button that is located on the format ribbon of the timeline.
Adjust the timeline's timescale by clicking your "Start" or "Finish" date, then select "Date Range."
Use "Add Timeline Bar" to create multiple timelines.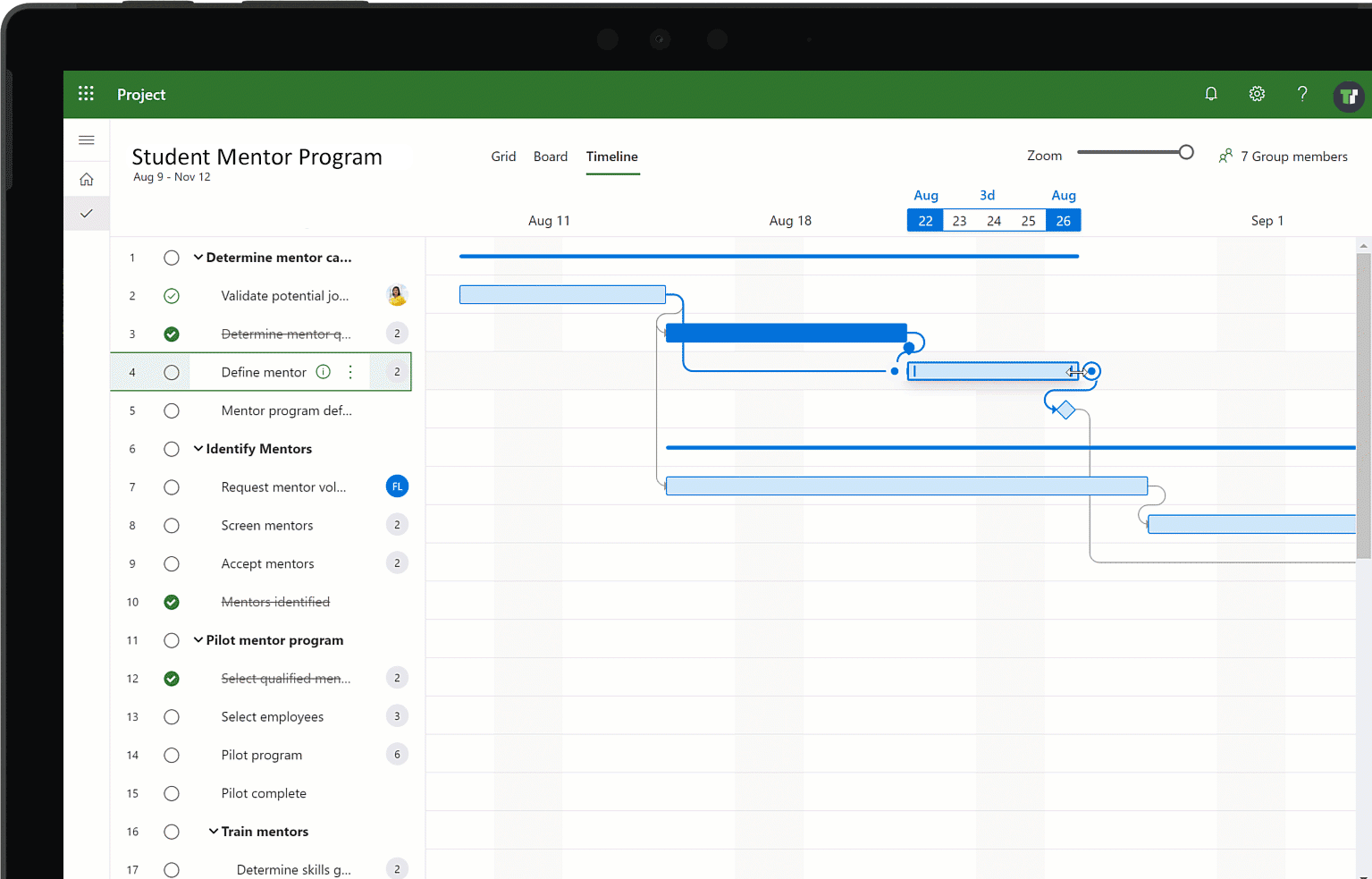 Collaboration
Microsoft Project makes it easy for your team members to collaborate on a project. Whether you are updating a project, doling out task assignments through integrating Microsoft Planner, or checking on the status of a project or a task, MS Project collaboration options allow you to do so, without switching between apps. Connecting to your co-workers and members of the project through the Microsoft Teams dashboard keeps all files, communication, and management in one place, which is much more efficient than going back and forth between different communication modes.
Reporting
Keep your internal team and clients in the loop when reporting about a project's progress. Microsoft Project reporting capabilities can be modified to use data and structure to communicate what you need with the help of reports, i.e., provide an overview of the project, add burndown reports, provide cost overviews, layout pending tasks, provide target lists for goals and report on the use of available resources.
Resource Management
Whether you are managing work, cost, or materials, Microsoft Project can help you optimize and organize resource management. Some experts say that when adding equipment or external vendors, it is better to add these items as a fixed-cost approach (or as a cost resource) to avoid adding hours to a project when the resource is used. It is also important to take skill counts and previously completed tasks and projects into account. That way, you can build upon experience to manage your current project more effectively and accurately.
---
Trusted Tech Team is an accredited Microsoft CSP Direct Bill Partner, carrying multiple Solutions Partner designations and the now-legacy Microsoft Gold Partner competency. Based in Irvine, California, we report trends affecting IT pros everywhere.
If your organization uses Microsoft 365 or Azure, you may be eligible to receive a complimentary savings report from a Trusted Tech Team Licensing Engineer. Click here to schedule a consultation with our team now to learn how much you can save today.
Subscribe to the Trusted Tech Team Blog
Get the latest posts delivered right to your inbox