Remote Desktop Licenses Demystified
Windows Server
Microsoft's Windows Server is an enterprise-level operating system (not to be confused with Windows 7 or 10) that requires special licenses to access. Windows Server is the way that businesses manage data, host resources, and publish resources. Remote Desktop Licenses, add-on licenses to Windows Server, allow you to expand your server beyond your local area network. These licenses allow employees to work using modern cloud capabilities.
Microsoft RDS Licensing
Operating with the correct Microsoft Remote Desktop Services (RDS) licensing when connecting a user or device to a Remote Desktop Session Host is essential to comply with Microsoft. Non-compliance, even if it's just a misunderstanding, can result in contact from Microsoft's Software Asset Management Team, a situation that no one wants to be in. (Trusted Tech Team offers audit support to customers to deal with such situations.)
Unfortunately, licenses, particularly RDS Client Access Licenses (CALs), can be confusing. This is because two forms of RDS CALs exist: device CALs and user CALs. Confusion often occurs when determining whether you need a device CAL or a user CAL. We'll briefly discuss Microsoft RDS licenses and take the mystery out of these sometimes confusing products.
Windows Servers and CALs Versions Matter
When purchasing CALs, it's important that the CALs must correspond with the Windows Server version on which you're operating. For example, Windows Server 2012 cannot be used to host licenses for Windows Server 2016. However, Windows Server 2016 can be used to host all previous versions of Windows Server, including Windows Server 2012. Windows Server 2019, the most recent edition, can be used to host all previous versions. (If you purchase Windows Server 2019 CAL, you won't have to be concerned with the question of corresponding software).
Remote Desktop User CAL
Remote Desktop User CAL licenses are tied to the people that they are assigned to. When you purchase a user CAL, this license will follow an individual, no matter what type of remote device is used to access the host. The user could access the server from their home's desktop computer, on a personal laptop, or a tablet.
Remote Desktop Device CAL
Remote Desktop Device CALs, on the other hand, are purchased per endpoint device. The device itself is authorized to access the Window Server host. Take a desktop computer at a call center that accommodates three individuals for three shifts, for example. Providing a device CAL for this computer will allow anyone to access the Windows Server.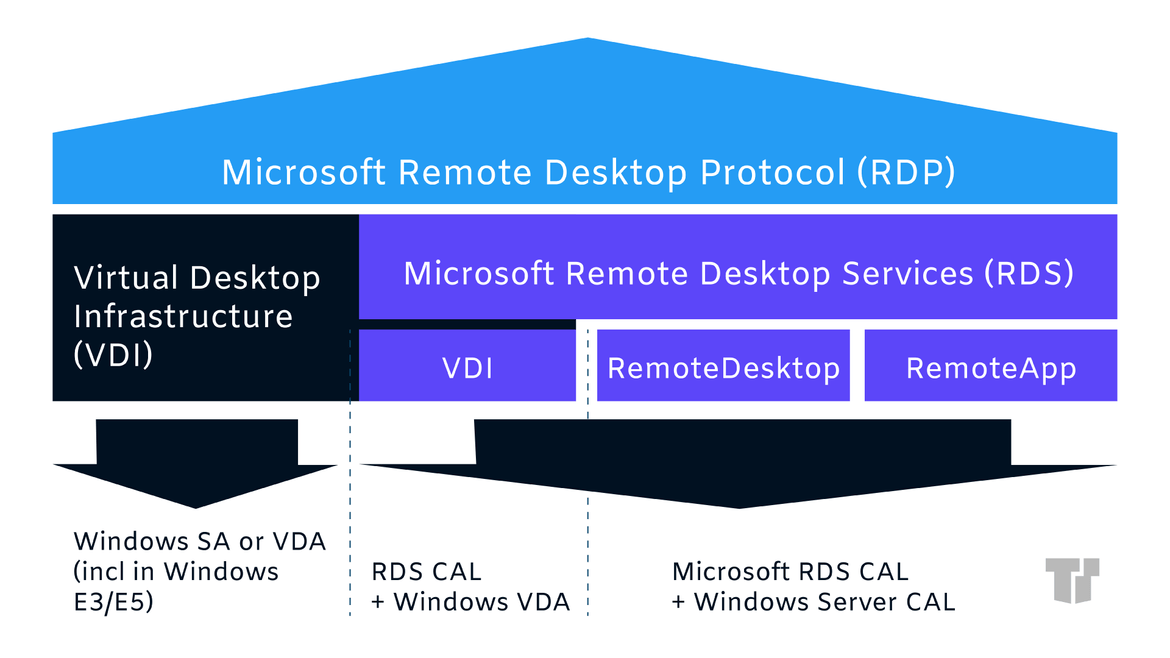 How Many RDS CALs Do I Need?
This RDS CAL system may seem confusing, but it is a way that you can purchase only the licenses you need. In the long run, this can benefit your company and save money. For example, if you have an employee who accesses several computers, including their work computer, their home computer, a laptop and, a tablet, a user CAL would be the cheaper route (instead of purchasing device CALs for all the devices that they would use to access the Windows Server host). However, if you manage a call center with 85 computers that are used by 255 employees over several shifts throughout the day or night, device CALs would be a wiser choice (instead of purchasing individual user CALs for all 255 employees).
---
Trusted Tech Team is an accredited Microsoft CSP Direct Bill Partner, carrying multiple Solutions Partner designations and the now-legacy Microsoft Gold Partner competency. Based in Irvine, California, we report trends affecting IT pros everywhere.
If your organization uses Microsoft 365 or Azure, you may be eligible to receive a complimentary savings report from a Trusted Tech Team Licensing Engineer. Click here to schedule a consultation with our team now to learn how much you can save today.
Subscribe to the Trusted Tech Team Blog
Get the latest posts delivered right to your inbox