A Different Kind of Snapshot: VMware Snapshot
To say there are constant technology updates is an understatement. Changes have been fast and furious over the past 10 years, particularly when it comes to reducing costs and increasing efficiency within server operations. Many companies have often dedicated a physical server to only one specific application. The result? Multiple servers that do not operate at their full capacity. This can frequently lead to increased operating costs and inefficient use of capacity.
Virtualization Software
Server Virtualization software, such as VMware, was created to address this problem of inefficiency and increase agility. This software-based process creates "virtual machines," tightly isolated, self-contained, independent software containers. These are virtual representations of servers, storage, networks, and virtual applications. As a result, one physical machine can operate multiple operating systems.
VMware vSphere 7
VMware vSphere 7 was released in the spring of 2020; it further built upon infrastructure modernization. The vSphere 7 upgrade improves productivity by powering the VMware Cloud Foundation. According to VMware's blogs, its improved capabilities include:
Simplified lifecycle management.
Intrinsic security and control.
Performance and resilience for application acceleration.

What are VM Snapshots Intended For
As part of vSphere 7, snapshots are glimpses into the state (suspended, powered on, or powered off) and the data of a virtual machine (all the files, memory, disks, virtual interface cards, etc.). Snapshots provide a virtual disk log and are used to restore virtual machines to a point in time when a system error or a failure occurs. Administrators can take multiple vSphere snapshots to create restore points. Although VMware supports up to 32 snapshots in a chain, it is recommended that chains are limited to three snapshots. Snapshots require some overhead space. VMware recommends deleting snapshots within 24 hours. A single snapshot should not be kept for over 72 hours.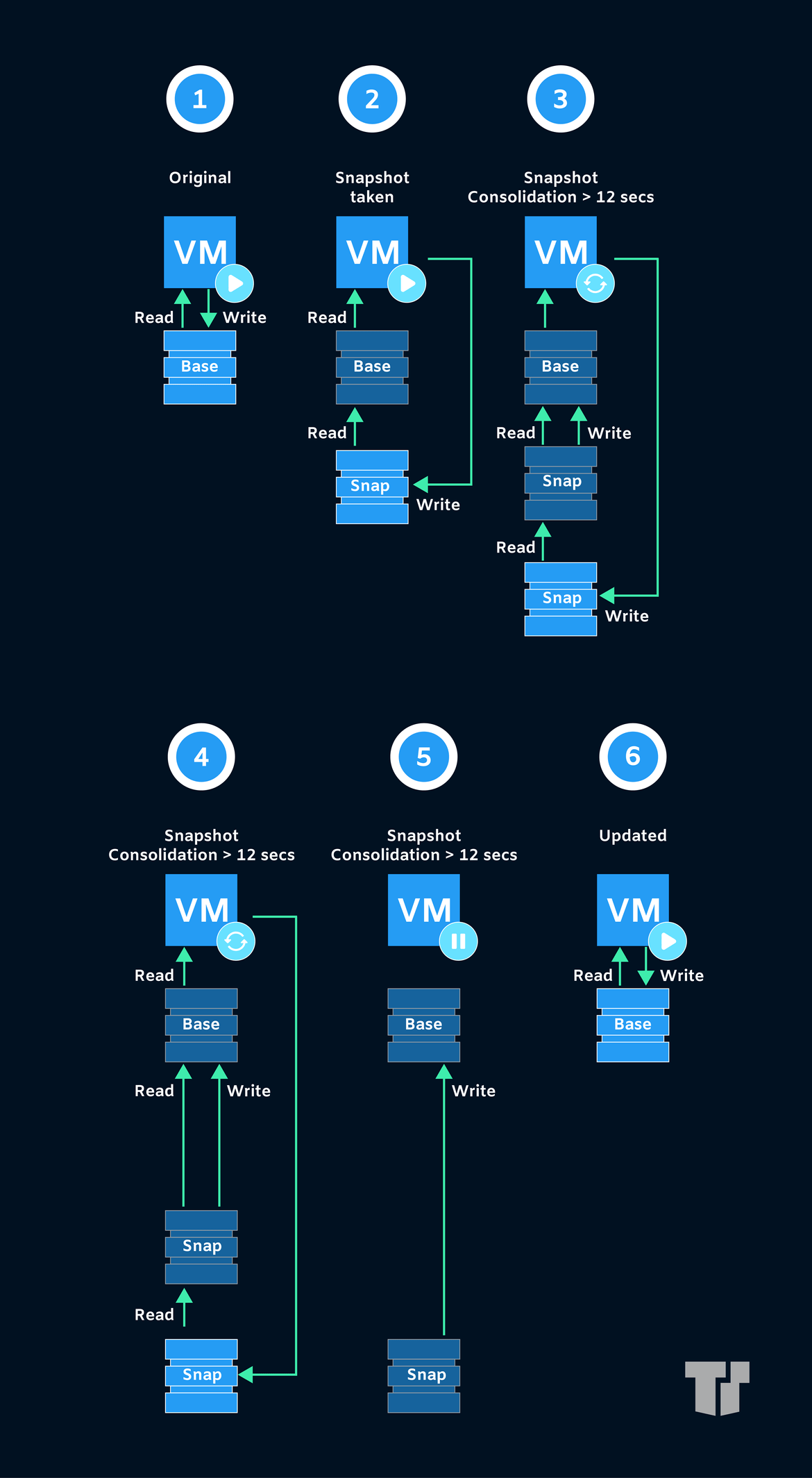 VMware Snapshot Limitations
The vSphere snapshot feature is a useful tool. There are, however, VMware snapshot limitations. First and foremost, VMware snapshots should not be used as backups. They are simply a short-term solution for capturing VM states — not long-term backup methods. Snapshots of raw device mapping physical mode disks, raw disks, and guest operating systems that use an iSCSI initiator are not supported by VMware. It is not possible to take a snapshot of a suspended VM or a powered-on VM with independent disks. There are several more VMware snapshot limitations, including:
Snapshots can cause performance degradation if the snapshot (or snapshot tree) is in place for too long, including during power-on delays.
Snapshots can take longer to finish if your VM has virtual hard disks larger than 2TBs.
Large quantities of snapshots are difficult to manage. They are also not protected in the case of hardware failure.
PCI vSphere Direct Path I/O devices do not support snapshots.
VM snapshots that are configured for bus sharing are not supported by VMware.
---
Trusted Tech Team is an accredited Microsoft CSP Direct Bill Partner, carrying multiple Solutions Partner designations and the now-legacy Microsoft Gold Partner competency. Based in Irvine, California, we report trends affecting IT pros everywhere.
If your organization uses Microsoft 365 or Azure, you may be eligible to receive a complimentary savings report from a Trusted Tech Team Licensing Engineer. Click here to schedule a consultation with our team now to learn how much you can save today.
Subscribe to the Trusted Tech Team Blog
Get the latest posts delivered right to your inbox