Microsoft Open License: Changes for the Public Sector
Ending the Open License Program
Implications for Enterprise
In September of 2020, Microsoft announced that it will end its 20-year-old Open License program for commercial customers. This change is part of the ongoing migration of traditional licensing into the cloud. Licensing renewals and online services will continue to operate through December 31, 2021. Starting January 1, 2022, all new license purchases will occur via the Cloud Solution Provider (CSP) program.
Implications for the Public Sector
Although the September 2020 announcement affected only enterprise customers, a more recent announcement broadened this change. The discontinuation of the Open License program will now impact the public sector (government, education, nonprofits). Will public sector customers still be able to purchase licenses after the program ends? Let's dive in and find out…
Software Assurance Changes
With a target date of July 2021, all partners who are enrolled in the CSP program will be able to sell perpetual software licenses to government, education, and nonprofit organizations for on-premises deployment. The biggest change is that the licenses will no longer include Software Assurance — a maintenance program that offers "free upgrades" to newer software versions, access to exclusive software products, plus additional training and support.
Currently, the CSP platform provides limited support for public sector customers - including online services for government community cloud plus "online services offers" for nonprofit and education customers. With the full implementation of CSP, public sector customers will be able to buy software licenses tailored to the specific needs of their organizations.
Open License Program Discontinuation
After January 1, 2022, public sector organizations will NOT be able to renew their software licenses via the Open License program. They will, however, be able to purchase new licenses through CSP program partners. As previously mentioned, new software licenses, Software Assurance, and online services will continue for the Open License program until December 31, 2021.
Open Value Program Options
Beginning March 2021, Microsoft will add software license and Software Assurance offers to the Open Value program for eligible nonprofit and education customers (Open Value is already an option for government customers). Though the Open Value Subscription program doesn't offer perpetual software licenses, it does offer a lower-cost subscription that allows public sector customers to use the software for the duration of the licensing agreement. There are currently no planned changes within the Open Value or Open Value Subscription programs.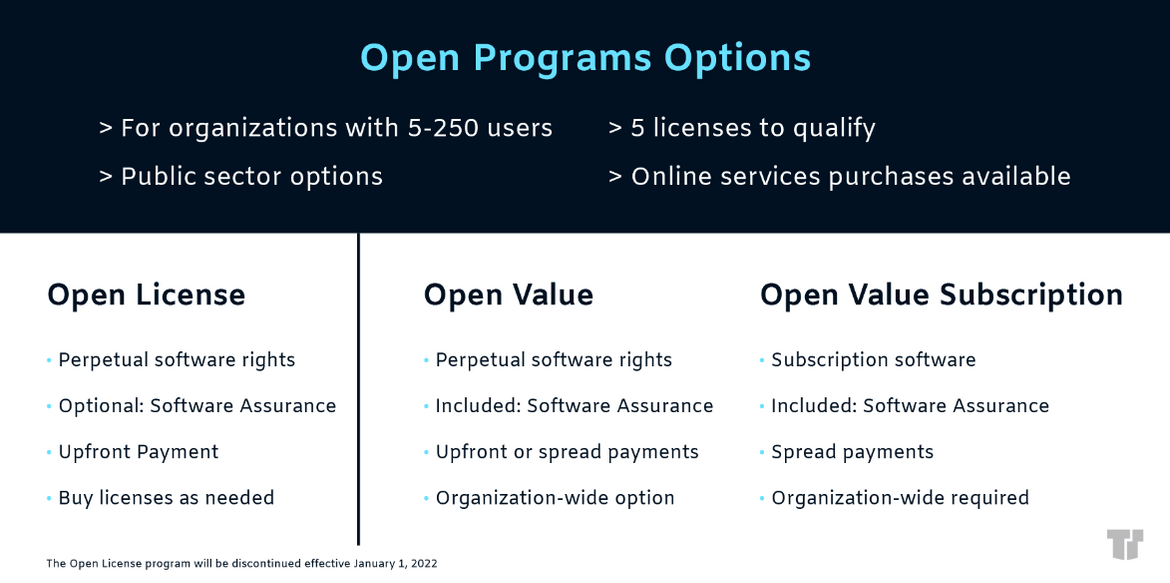 Learn more about Microsoft's Open programs here.
---
Trusted Tech Team is an accredited Microsoft CSP Direct Bill Partner, carrying multiple Solutions Partner designations and the now-legacy Microsoft Gold Partner competency. Based in Irvine, California, we report trends affecting IT pros everywhere.
If your organization uses Microsoft 365 or Azure, you may be eligible to receive a complimentary savings report from a Trusted Tech Team Licensing Engineer. Click here to schedule a consultation with our team now to learn how much you can save today.
Subscribe to the Trusted Tech Team Blog
Get the latest posts delivered right to your inbox