The United Nations & Microsoft – A Humanitarian Partnership
"We have an untapped opportunity to use the power of technology to collect data, analyse that data, and equip the United Nations to advance human rights around the world."

- Brad Smith, Microsoft President
Microsoft Corporation, in partnership with the United Nations (UN), is committed to universal sustainability to ensure that all global citizens have equal access to technology. Together, both organizations embrace technology as a means to achieve positive economic impact and philanthropic progress.
Microsoft's commitment to fulfilling the UN's 17 global Sustainable Development Goals (SDGs) by 2030 is driven by its mission to "empower every person and every organization on the planet to achieve more." Specifically, the company is committed to "driving education, digital skills, work, and livelihood opportunities for refugee or displaced youth, ensuring gender and accessibility inclusion, as well as leading environmental initiatives."
---
Currently in the third year of a five-year, $5M partnership agreement, UN Human Rights and Microsoft work together to "better predict, analyze and respond to growing critical and complex human rights situations across the world" with respect to their joint:
Commitment to ensure that technology is pivotal in the promotion and protection of universal human rights.
Recognition that the private sector contribute more to the advancement of global human rights initiatives.
Microsoft-enabled artificial intelligence (AI) and big data analytics assist in verifying alleged human rights abuses by cross-checking data sets and uncovering clues. The technology allows the UN to sort through robust human rights information to identify important data and illuminate digital evidence. These methods complement traditional human rights methods like processing reports from the media, NGOs, and UN agencies.
"(The overall aim is to) provide a clear human rights perspective on potential, emerging or ongoing crises, and to get the appropriate responses to them by engaging other parts of the UN and the international community more broadly…(The technology) is a single, go-to source for country-specific information, which will ensure that staff hit the ground running."

- Andrew Palmer, UN Human Rights Office
---
Earlier this year, Microsoft hosted a UN General Assembly event, in New York, called "Leading Social Impact through Innovation and Partnership". The event theme was: How can we harness the power of technology to empower a sustainable future and enable the achievement of the SDGs?
Two interrelated concepts were identified as being important to UNDP's overall digital strategy:
Digitization - the process of converting physical information into digital formats.
Digitalization - the use of digital technologies to change an organization's business model.
In addition, the event highlighted SDG Impact Accelerator (SDGia) - a global funding accelerator focused on empowering impactful "systems entrepreneurs" and innovators. Its mission is to boost access to basic services and clean water via mentoring, networking, field visits, impact capital, equity-free cash, and strategic partnerships.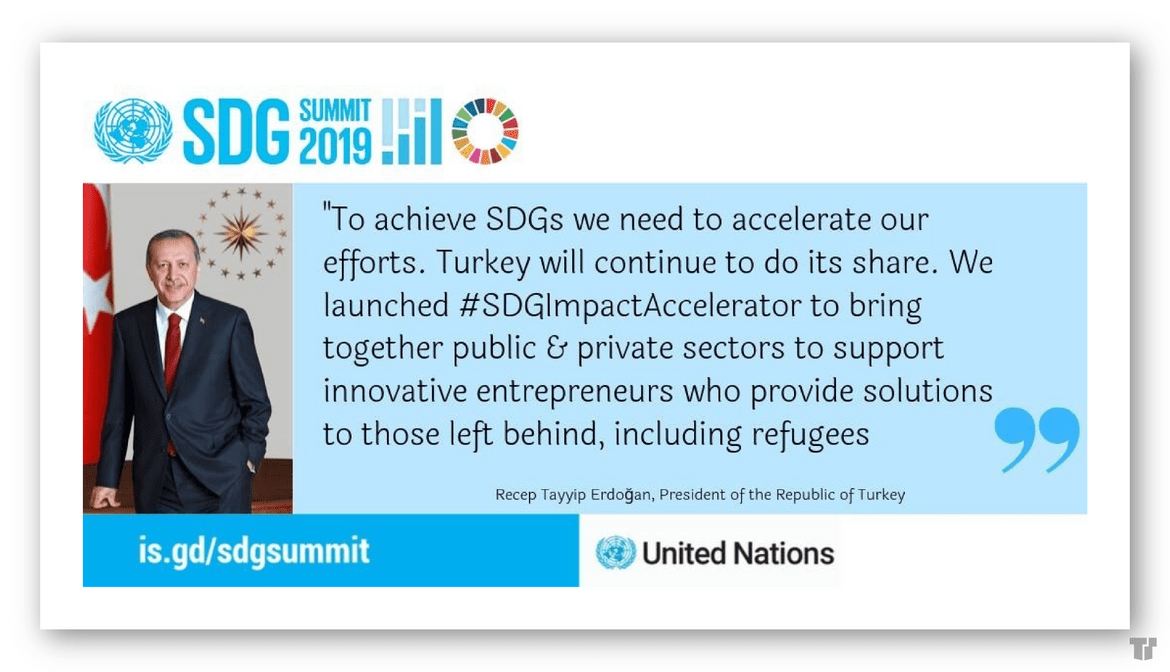 ---
Trusted Tech Team is an accredited Microsoft CSP Direct Bill Partner, carrying multiple Solutions Partner designations and the now-legacy Microsoft Gold Partner competency. Based in Irvine, California, we report trends affecting IT pros everywhere.
If your organization uses Microsoft 365 or Azure, you may be eligible to receive a complimentary savings report from a Trusted Tech Team Licensing Engineer. Click here to schedule a consultation with our team now to learn how much you can save today.
Subscribe to the Trusted Tech Team Blog
Get the latest posts delivered right to your inbox