Everything You Need to Know about VMware vSphere 6.7
If you are a VMware user, you know how challenging it can be to surf through the pages of guides and product descriptions to figure out how to use or upgrade your product.
A Comprehensive vSphere 6.7 Guide
With the release of vSphere 6.7 in mid-April, a slew of new literature is available throughout the VMware website. However, we've created this one-stop guide to help answer any questions you may have about upgrading to vSphere 6.7.
The newest upgrade for vSphere is designed to help ease the explosive growth in the quantity and variety of applications that are being demanded from IT departments today. The growth in hybrid-cloud environments and use cases, as well as the need for security of infrastructure, all inspire the improved performance, usability, and consistency of vSphere 6.7.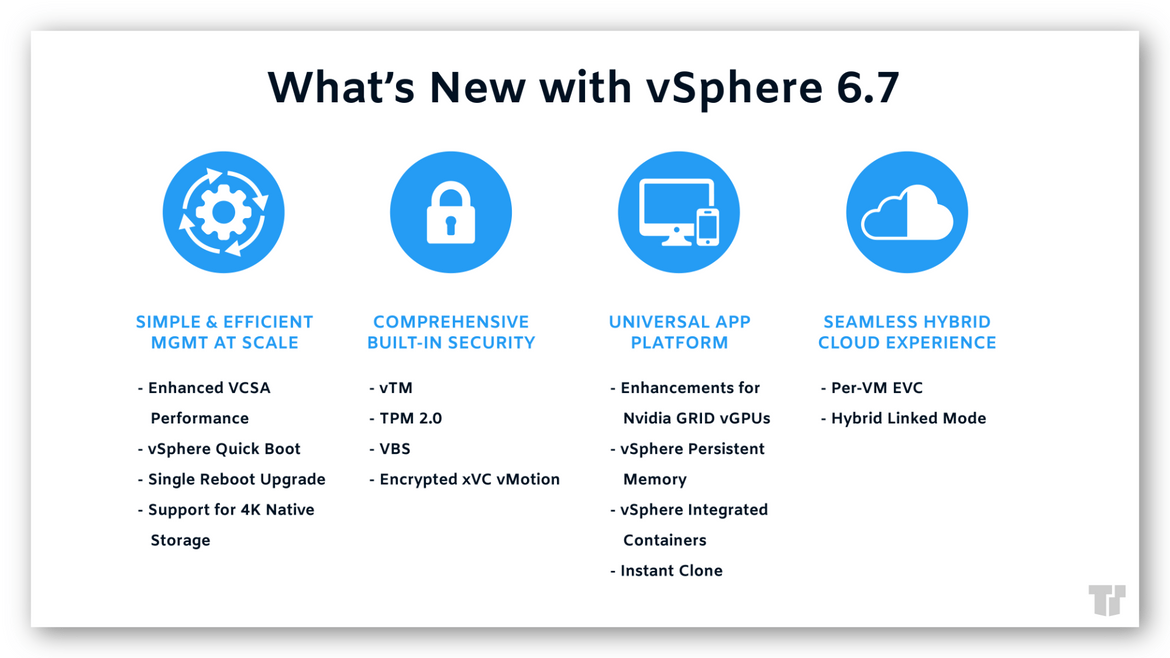 vSphere 6.7 at a Glance
2X faster performance in vCenter operations per second. (compared to 6.5).
3X reduction in memory usage. (compared to 6.5).
3X faster DRS-related operations (e.g. power-on virtual machine compared to 6.5).
Updates included are for vSphere (6.7), its hypervisor (ESXi 6.7), and management console (vCenter Server 6.7).
Enhanced vCenter Server Appliance (vCSA).
vCenter with embedded platform services controller in enhanced-linked mode.
The HTML5-based vSphere Client provides a modern user interface experience that is both responsive and easy to use.
A Little More Depth
vSphere 6.7 simplifies workflows for VM Encryption and is designed to protect data at rest and in motion while also increasing the security posture of encrypting the VM and giving the user greater control to protect against unauthorized data access.
vSphere 6.7 enhances protection for data in motion by enabling encrypted vMotion across different vCenter instances, as well as versions, making it easy to securely conduct data center migrations, move data across a hybrid cloud environment between on-premises and public cloud, or across geographically distributed data centers.
vSphere 6.7 introduces support for the entire range of Microsoft's Virtualization Based Security technologies. This is a result of close collaboration between VMware and Microsoft to ensure Windows VMs on vSphere support in-guest security features while continuing to run performant and secure on the vSphere platform.
vSphere 6.7 delivers comprehensive, built-in security and is the heart of a secure SDDC. It has deep integration and works seamlessly with other VMware products such as vSAN, NSX, and vRealize Suite to provide a complete security model for the data center.
Specs & Considerations
vSphere Considerations:
Since vSphere is the foundation for the SDDC, it is very important to review its interoperability with the current version(s) installed in your datacenters.
An upgrade from vSphere 5.5 to vSphere 6.7 GA directly is currently not supported.
vSphere 6.0 will be the minimum version that can be upgraded to vSphere 6.7.
vSphere 6.7 is the final release that requires customers to specify SSO sites.
In vSphere 6.7, only TLS 1.2 is enabled by default. TLS 1.0 and TLS 1.1 are disabled by default.
Due to the changes done in VMFS6 metadata structures to make it 4K aligned, you cannot upgrade a VMFS5 datastore inline or offline to VMFS6, this stands true for vSphere 6.5 & vSphere 6.7.
vCenter Server Considerations:
The vSphere 6.7 release is the final release of vCenter Server for Windows. After this release, vCenter Server for Windows will not be available.
vCenter Server 6.7 does not support host profiles with a version less than 6.0.
vCenter Server 6.7 supports Enhanced Linked Mode with an Embedded PSC (Greenfield deployments only).
If vCenter High Availability (VCHA) is in use within your vSphere 6.5 deployment, you must remove the VCHA configuration before attempting an upgrade.
The following products are incompatible with vSphere 6.7 GA at this time:
VMware Horizon
VMware NSX
VMware Integrated OpenStack (VIO)
VMware vSphere Integrated Containers (VIC)
Hardware specifications:
vSphere 6.7 no longer supports certain CPUs from AMD & Intel
These CPUs are currently supported in the vSphere 6.7 release, but they may not be supported in future vSphere releases;
Intel Xeon E3-1200 (SNB-DT)
Intel Xeon E7-2800/4800/8800 (WSM-EX)
Virtual machines that are compatible with ESX 3.x and later (hardware version 4) are supported with ESXi 6.7
Virtual machines that are compatible with ESX 2.x and later (hardware version 3) are not supported
Resources
If you enjoy reading VMware documentation, here are some additional resources to peruse:
---
Trusted Tech Team is an accredited Microsoft CSP Direct Bill Partner, carrying multiple Solutions Partner designations and the now-legacy Microsoft Gold Partner competency. Based in Irvine, California, we report trends affecting IT pros everywhere.
If your organization uses Microsoft 365 or Azure, you may be eligible to receive a complimentary savings report from a Trusted Tech Team Licensing Engineer. Click here to schedule a consultation with our team now to learn how much you can save today.
Subscribe to the Trusted Tech Team Blog
Get the latest posts delivered right to your inbox