Microsoft Begins Rolling Out Copilot
On September 26, Microsoft will unveil the first part of its AI innovation: Microsoft Copilot in Windows. The Copilot features will be rolled out through an upcoming Windows 11 update that is packed with over 150 enhancements. Notably, apps like Paint, Photos, and Clipchamp will now harness the power of Copilot, offering users an enriched experience.
Next on the release roster is Microsoft 365 Copilot, set for release in early November. After spending months collaborating and gathering insights from major clients, including Visa, General Motors, KPMG, and Lumen Technologies, Microsoft is ready to make Copilot for M365 officially accessible to enterprise clients starting November 1, 2023.
"We have been building AI-powered copilots into our most used and loved products – making coding more efficient with GitHub, transforming productivity at work with Microsoft 365, redefining search with Bing and Edge, and delivering contextual value that works across your apps and PC with Windows. Today, we take the next step to unify these capabilities into a single experience we call Microsoft Copilot, your everyday AI companion," Yusuf Mehdi - Corporate Vice President & Consumer Chief Marketing Officer.
Microsoft Copilot in Windows: What to Expect 
Below is a breakdown of the new features that Copilot will bring into each Windows application.
| App/System | Copilot Features |
| --- | --- |
| Windows | Empowers you to create faster, complete tasks with ease, and lessen your cognitive load—making once-complicated tasks simple. Accessing the power of Copilot is seamless as it's always right there for you on the taskbar or with the Win+C keyboard shortcut, providing assistance alongside all your apps. It features the new Copilot icon, Bing Chat, and is available for free to commercial customers. |
| Paint | Paint has been enhanced with AI for drawing and digital creation with the addition of background removal and layers as well as a preview of Cocreator that brings the power of generative AI to the Paint app. |
| Photos | Photos has also been enhanced with AI, including new features to make editing your photos a breeze. With Background Blur. you can make the subject of your photo stand out quickly and easily. The Photos app automatically finds the background in the photo, and with a single click, instantly highlights your subject and blurs out the background. We've improved search, with photos stored in OneDrive (home or personal) accounts, you can now quickly find the photo you're looking for based on the content of the photo. You can also now find photos based on the location where they were taken. |
| Snipping Tool | Snipping Tool now offers more ways to capture content on your screen – with this update, you can now extract specific text content from an image to paste into another application, or you can easily protect your sensitive information with text redaction by using text actions on the post-capture screen. And, with the addition of sound capturing using audio and mic support, it's easier to create compelling videos and content from your screen. |
| Clipchamp | Clipchamp, now with auto compose, helps you with scenes suggestions, edits, and narratives based on your images and footage automatically so you can create and edit videos to share with family, friends, and social media like a pro. |
| Notepad | Notepad will start automatically saving your session state, allowing you to close Notepad without any interrupting dialogs and then pick up where you left off when you return. Notepad will automatically restore previously open tabs as well as unsaved content and edits across those open tabs. |
| Outlook for Windows | With the new Outlook for Windows, you can connect and coordinate your various accounts (including Gmail, Yahoo, iCloud, and more) in one app. Intelligent tools help you write clear, concise emails and seamlessly attach important documents and photos from OneDrive. |
| Modernized File Explorer | A modernized File Explorer home, address bar, and search box all designed to help you more easily access important and relevant content, stay up to date with file activity, and collaborate without even opening a file. Also coming to File Explorer is a new Gallery feature designed to make it easy to access your photo collection. |
| Narrator | New text authoring experiences to voice access and new natural voices in Narrator, continuing our ongoing commitment to making Windows 11 the most accessible version of Windows yet. |
| Windows Backup | Windows Backup makes moving to a new Windows 11 PC easier than ever. With Windows Backup, transitioning most files, apps, and settings from one PC to another, is seamless, so everything is right where you left it, exactly how you like it. |
The Game Changer: Microsoft 365 Copilot
On November 1, 2023, the release of Microsoft 365 Copilot will offer a plethora of AI-driven features across its suite:
Microsoft 365 Chat: Formerly known as Business Chat, this feature has undergone rapid development. It acts as a virtual assistant, familiar with your work context. Whether you're drafting a report, scheduling a trip, or managing emails, Microsoft 365 Chat is there to assist. Preview customers can access it today via Microsoft365.com, Teams, or Bing when logged in with their work account. On November 1, it will be universally accessible through the Copilot icon.
Enterprise clients can access Microsoft 365 Copilot and the innovative AI Copilot, Microsoft 365 Chat across products like Outlook, Word, Excel, Loop, OneNote, and OneDrive. Below is a full breakdown of the enhancements that Copilot will bring into each Microsoft 365 application.
| App/System | Copilot Features |
| --- | --- |
| Microsoft 365 Copilot | An AI assistant at work that integrates with various Microsoft 365 Apps. It has enterprise-grade security, privacy, and responsible AI. Provides a broad data search across emails, meetings, chats, documents, and more. General availability on November 1 for $30 per user per month. |
| Bing Chat Enterprise | Offers commercial data protection. Ensures data privacy and adds features to the Microsoft Edge mobile app. Supports multimodal visual search and Image Creator. Part of Microsoft 365 E3, E5, Business Standard, and Business Premium. |
| Outlook | Helps you stay on top of your inbox and create impactful communication quickly. Features: summarize email threads, "Sound like me" for email drafting, follow Teams meetings directly from Outlook. |
| Word | Transforms the writing process. Features: document summarization, paragraph rewrites with adjustable tone, prompt refinement, and automatic table generation from copy. |
| Excel | Aids in data analysis and visualization. Features: assistance with analyzing, formatting, and editing data, adding formula columns, data highlighting, filtering and sorting, advanced analytics, visualizations, forecasts, and Python integration. |
| Loop | Facilitates shared thinking and team co-creation. Features: collaborative iteration, quick table generation, summaries, open-ended questions, recaps, Copilot-suggested code blocks. |
| OneNote | Organizes and prepares content for action. Features: deep insights on notes, summaries, paragraph/list/section generation, and writing edits. |
| Stream | Extracts insights from videos. Features: video summaries with transcripts, open-ended questions, point identification in videos, and suggested follow-ups or actions. |
| OneDrive | Enables file content understanding without opening. Features: open-ended questions and content summarization. |
| Copilot Lab | Helps users work iteratively with AI and maximizes Microsoft 365 Copilot usage. Teaches users to create better prompts and share them with coworkers. |
Novel Bing and Edge Experience
Bing Chat Enterprise: Enhances Microsoft Copilot by incorporating commercial data security features, ensuring your business information remains confidential and isn't exposed beyond your company. With this version, chat records aren't stored, Microsoft doesn't have direct access, and the data isn't employed to improve the big language models (LLM). You can obtain Bing Chat Enterprise individually at a rate of $5 per user each month, or it comes as part of Microsoft 365 E3 and Microsoft 365 E5 packages.
Personalized Responses: Now, your chat history can guide your results. For instance, if you've searched on Bing about historical landmarks in Europe, the next time you're planning a European vacation, it can proactively recommend must-visit historical sites in your target destination. If you'd like search outcomes that don't reference your chat history, you have the option to disable this feature in Bing settings.
Copilot in Microsoft Shopping: Whether you're on Bing or Edge, your online shopping experience is about to get a boost. If you inquire about a product, Bing will further probe to grasp your needs, offering more precise suggestions. Rest assured, you're getting the most bang for your buck—over the past year, shoppers on Microsoft Edge have seen potential savings exceeding $4 billion. In the near future, you'll also have the option to kickstart your shopping using an image.
Bing Image Creator: Now leverages OpenAI's DALL.E 3, which takes a significant stride in producing more exquisite designs and detailed renderings, especially for intricate parts like eyes and fingers. Its comprehension of user requests has been enhanced, yielding more precise imagery. Plus, Microsoft is integrating Microsoft Designer directly into Bing for an easier editing experience.
Content Credentials: As part of its commitment to a conscientious use of generative AI, Microsoft is introducing Content Credentials. This feature uses cryptography to embed a hidden digital watermark on all AI-generated images in Bing, which includes its creation timestamp. Additionally, Paint and Microsoft Designer will soon support Content Credentials.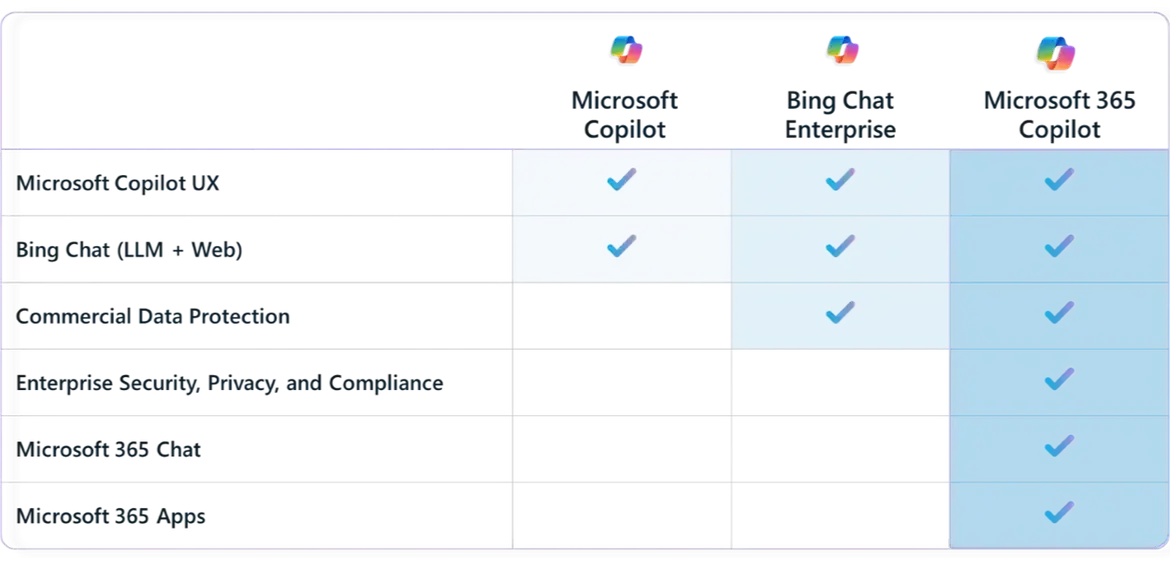 The Perfect Hardware Pairing
To complement these software advancements, Microsoft is also launching new Surface devices. These devices, ranging from the powerful Surface Laptop Studio 2 to the portable Surface Go 4, are designed to optimize the AI experiences offered by Copilot.
Microsoft 365 Copilot is not just an update; it's a portal into the future of productivity. To stay at the forefront of this innovation, be sure to check out Microsoft's Copilot training material here, and subscribe to our newsletter.
If your organization uses Microsoft 365 or Azure, you may be eligible to receive a complimentary savings report from a Trusted Tech Team Licensing Engineer. Click here to schedule a consultation with our team now to learn how much you can save on Microsoft 365 today.
---
Trusted Tech Team is an accredited Microsoft CSP Direct Bill Partner, carrying multiple Solutions Partner designations and the now-legacy Microsoft Gold Partner competency. Based in Irvine, California, we report trends affecting IT pros everywhere.
Subscribe to the Trusted Tech Team Blog
Get the latest posts delivered right to your inbox