Transforming the Sales Pipeline with Microsoft Sales Copilot
Calling all sales professionals!
Do you often spend less time selling and more time manually searching for information, composing emails, updating CRM systems, and many other administrative tasks? According to LinkedIn's Global State of Sales Report 2022, 30% of sales professionals spend less time selling, with 76% of top performers researching before reaching out to prospects. Depending on the tools and systems you have in place, it can cause a hindrance to sales processes, capabilities, and performance.
With the introduction of AI into the workforce, many professionals are finding quicker and more efficient ways to leverage AI tools to improve productivity and personalize every customer interaction to help close more deals. 
With AI, you can gain valuable business data and drive actionable insights without putting in the extra time and effort. To drive new capabilities for sales professionals, Microsoft introduced Sales Copilot and Dynamics 365 Customer Insights to transform sales processes and customer relationships.
Close More Deals with Microsoft Sales Copilot
Microsoft Sales Copilot is a seller-centric application that uses Microsoft 365 and Teams to easily integrate data within any customer relationship management (CRM) system. Sales Copilot allows you to eliminate manual data entry, enhance your data repository with customer engagement information, and equips you with invaluable sales insights through the power of AI.
Whether you're working in Outlook, Teams, or even Salesforce, you can access Sales Copilot to assist you with task automation, auto-generated email summaries, and more! Check out some of these new Sales Copilot capabilities:
Obtain auto-generated summaries within Dynamics 365 Sales, including status, progress, and highlights of key changes.
Craft content-aware emails within Dynamics 365 Sales that use customer CRM data to pull in product, customer, and opportunity information.
Prepare for a meeting with a summarized overview featuring account details, recent notes, noteworthy issues or concerns, customer updates, and more (accessible within Outlook, Teams, and Dynamics 365 Sales).
Stay well-prepared during the Teams meetings with real-time suggestions and prompt answers in response to competitor or brand mentions by customers to address objections swiftly and effectively (currently in private preview).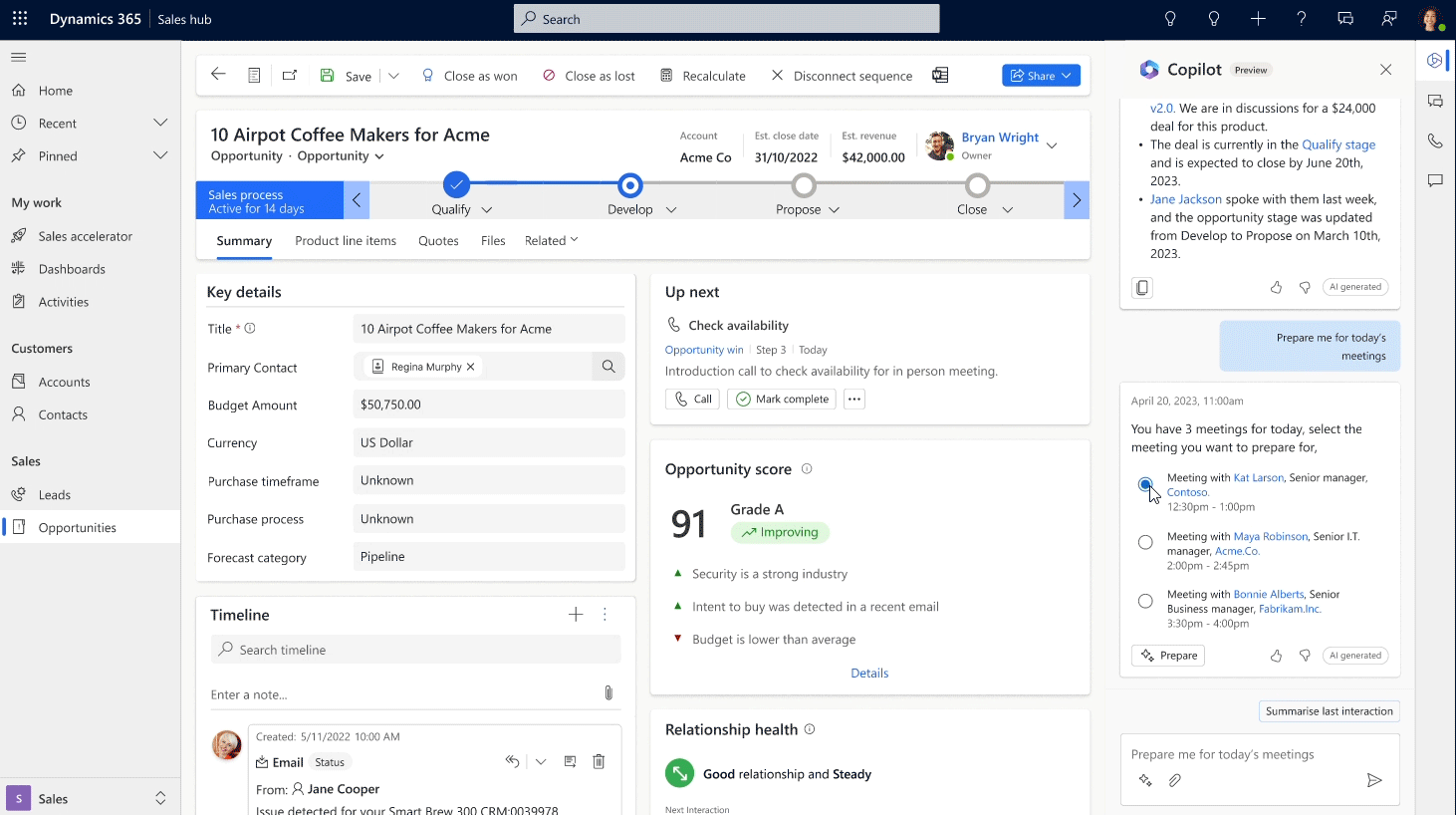 Contextual email follow-up in Dynamics 365 Sales by Microsoft
Sales Copilot is generally available as both a standalone subscription and as part of Dynamics 365 Sales Enterprise and Premium licenses at no additional cost. For help inquiries, please reach out to a Trusted Tech Team engineer.
AI-powered Customer Insights with Dynamics 365 
Get a comprehensive understanding of your customers, anticipate needs, and discover growth opportunities with Customer Insights. The customer data platform provides personalized, on-the-spot customer engagements through real-time marketing and analyzing journeys. 
Emails, forms, and event registration pages can be tailored to align with your organization's brand guidelines, ensuring a uniform brand narrative and customer experience.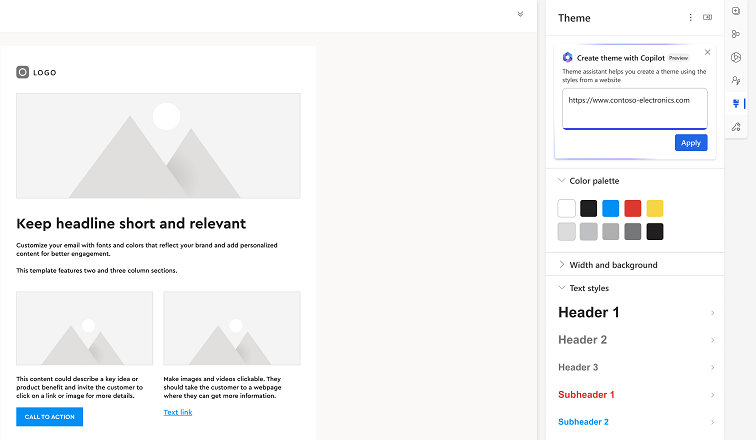 Use natural language to create effective customer journeys across marketing, sales, and service. Doing so helps you respond quickly and appropriately to customer actions, generating leads and customer satisfaction.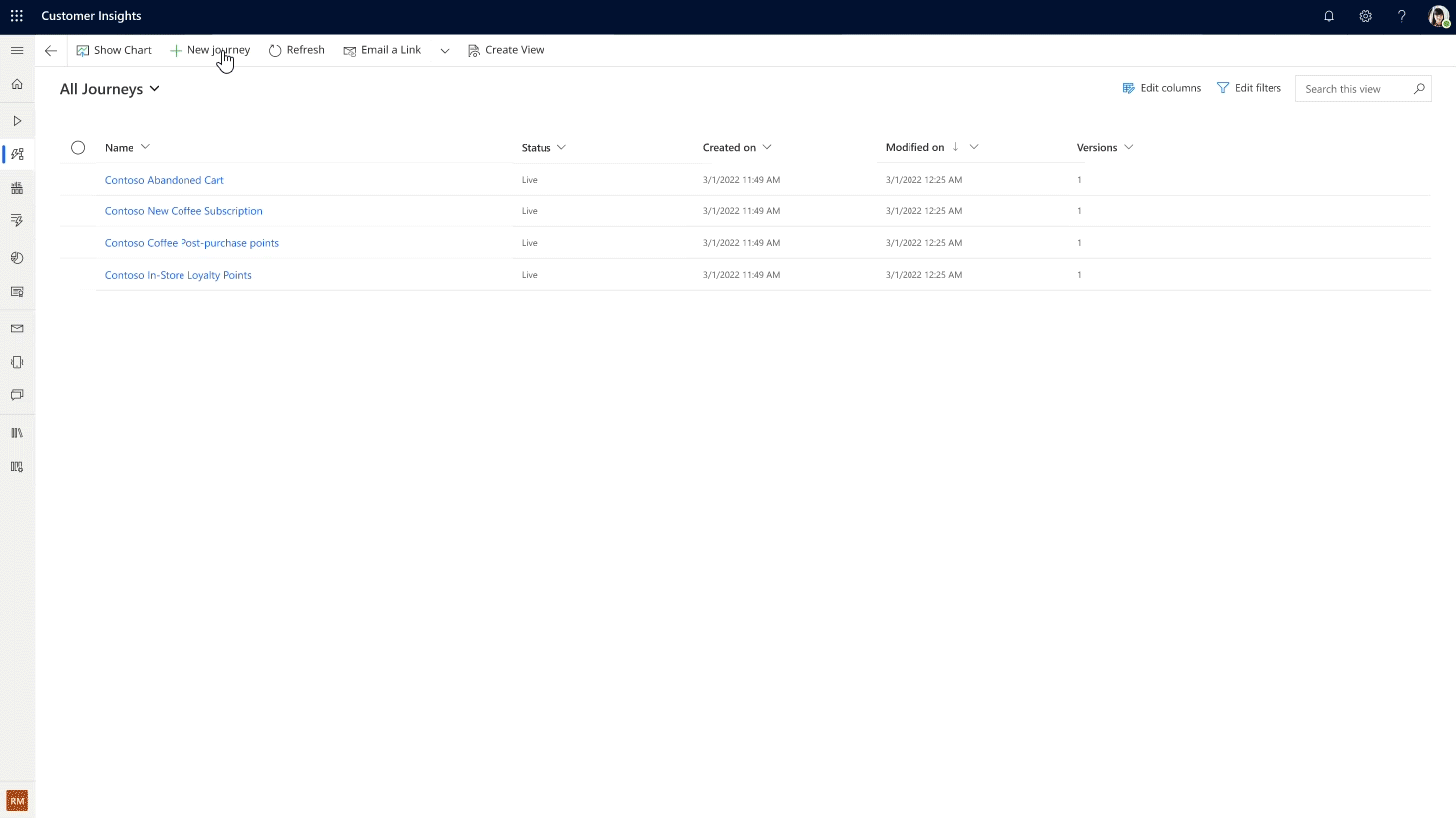 Creating a journey with Copilot
Use everyday language to build, summarize, and simplify targeted segments so you can spend more time building customer relationships and less time figuring out how to build groups. 
Ask questions about your customers and get answers fast. You can review information from your original question, which provides further insights and suggestions to help you discover new insights about your customers.
Need help with content creation? Provide a short list of ideas and tailor the tone to match your brand. You can use the suggestions and build on them to repurpose them into emails, social posts, and more.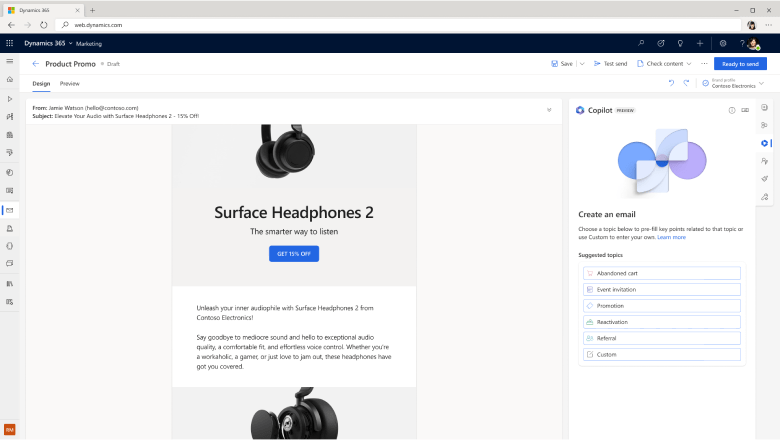 If you are a Dynamics 365 Sales, Marketing, or Customer Insights user, you can use the new capabilities in preview. For more information, visit Microsoft's FAQ page. To submit a help inquiry, please contact our Professional Services Team. 
---
Trusted Tech Team is an accredited Microsoft CSP Direct Bill Partner, carrying multiple Solutions Partner designations and the now-legacy Microsoft Gold Partner competency. Based in Irvine, California, we report trends affecting IT pros everywhere.
If your organization uses Microsoft 365 or Azure, you may be eligible to receive a complimentary savings report from a Trusted Tech Team Licensing Engineer. Click here to schedule a consultation with our team now to learn how much you can save today.
Subscribe to the Trusted Tech Team Blog
Get the latest posts delivered right to your inbox