Top New Microsoft Teams Features in 2022
Microsoft Teams was released in 2016 and quickly became a key part of the Office 365 suite. Several years later, effective workplace collaboration and communication took on a new importance, thanks to the pandemic. As a result, Teams' usage skyrocketed — from 20 million users in November 2019 to 75 million in April 2020. More than 270 million users are now on MS Teams, which has made it the top communication platform, surpassing Slack and Zoom.
Microsoft announced new features and improvements in Microsoft Teams earlier this year. Each improvement is designed to enhance Teams' performance and make its collaboration tools even better. In this blog, we'll go over some of those updates and discuss how they can work for you.
Chat and Collaboration Improvements
Chat and collaboration are inarguably the backbones of Microsoft Teams. Multiple improvements have been implemented by Microsoft in 2022, including additional language support for Suggested Replies on mobile. Mandatory Comments for Approvals App has also been tweaked: When an approver responds to a request, Teams admins can now select corresponding settings to enable mandatory comments through the MS Teams Admin Center under Managed Apps. Additionally, Teams' meetings participants can now choose their own statuses, such as busy, free or OOO. Files can also be uploaded to approval requests through the Power automate portal.
Improved Management
The 2022 MS Teams enhanced management tools will help administrators track all application-use through an updated version of the Teams usage report, which now supports Live of Business applications. You can now view Batch Policy assignments and policy operations in the MS Teams activity log. New columns were also added for better policy operations, including policy type, policy name, submitted by, group name, and overall status. Additional management options include user request flows for blocked apps and access to the Microsoft Teams device store in the admin center."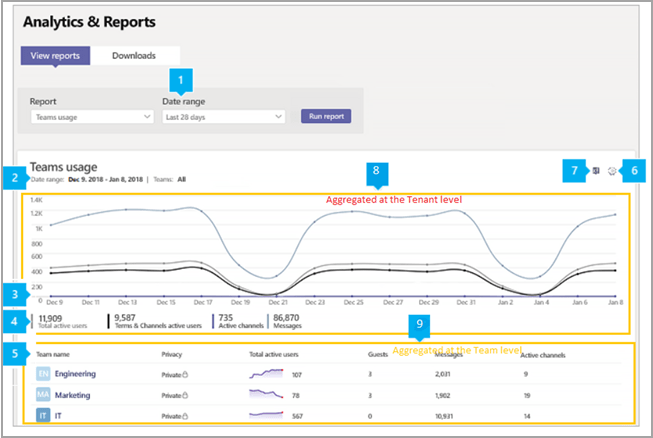 Overall Performance Updates
Meeting administrators can now start in Together mode for all of a meeting's participants, providing a shared virtual space that gives attendees a unified environment. Users can also now adjust soft-focus video features and adjust brightness. New performance updates also include additional options that offer better support for virtual desktop infrastructure (VDI). MS Teams' updates now include multi-window support for Teams for VDI for Azure Virtual Desktop, VMware, and Windows 365, which enables workflow streamlining through a "pop out" option for calls, meetings, and more. Other VDI improvements in MS Teams include Dynamic Emergency Calling, background blur effects for fewer distractions, as well as a Give and Take Control, which gives meeting participants better control of a presenter's shared content when screen sharing. 
Additional Device Certifications 
The May 2022 Teams update has welcomed additional certified devices for use in Teams' rooms for improved audio and visual performance. These devices now include the Huddly L1 camera, Yamaha ADECIA Tabletop solution, and Shure's Intellimix room audio software digital signal processor (when it is installed on the Lenovo ThinkSmart Core). Microsoft has also certified Logitech Zone True Wireless Bluetooth earbuds for an exceptional noise-blocking audio experience, particularly in noisy environments.
---
Have additional questions about the improved Microsoft Teams app? Trusted Tech Team can help. We're a Microsoft Gold Partner and can answer any questions you may have to determine the best ways to implement these improvements to facilitate an improved Teams environment in your workplace.
Subscribe to the Trusted Tech Team Blog
Get the latest posts delivered right to your inbox