Server Licensing Tips for a Hybrid Remote Workforce
Just a few years ago, not many people had the option to work from home. Before the pandemic reared its ugly head, a mere 30 percent of workers worked remotely, according to Gartner. Today, it's much more common for individuals to work remotely or in a hybrid environment: 70 percent of businesses have given their employees the ability to bring work equipment home and 58 percent have given their employees new hardware for remote work.
Client Access Licensing and Hybrid Remote Workforces
An overlooked complication that affects many hybrid work environments is Server Client Access Licensing (CAL) logistics. Staying in compliance with Microsoft Server licensing needs to be a top priority for IT professionals, administrators, and managers — no one wants to be slapped with a Software Asset Management review request.
If you are caught off guard by an audit request, Trusted Tech Team can help by corresponding with the SAM team on your behalf. We will perform an independent licensing check on your system, and provide a licensing package that will get your ducks in a row at a cost that's comfortable for you.
Remote Desktop CALs
Both Server Standard and Server Database provide support for hybrid integration. But, when you have a team of offsite workers or workers in a hybrid environment, a remote desktop CAL is necessary for users and devices to connect to a remote desktop session host. Client access licenses are not included in a Microsoft server software purchase (available in several package options from Trusted Tech Team). CALs must be purchased separately and can get complicated if you don't know what kind of CAL you need for your hybrid and remote server users. What kind of CAL is right for your hybrid work environment? Do you need a user CAL or a device CAL?
User CALs
User CALs are exactly what they sound like: they're assigned to one user within an active directory and allow that user to operate and access the server across multiple devices. These types of CALs can be over-allocated, which is a breach of remote desktop licensing terms and can get you into hot water with a SAM audit. It's your responsibility to make sure there are no overused CALs. In addition, these types of CALs cannot be tracked within a workgroup. Instead, they are tracked by the server, but, they are not enforced. Temporary device CALs are not available.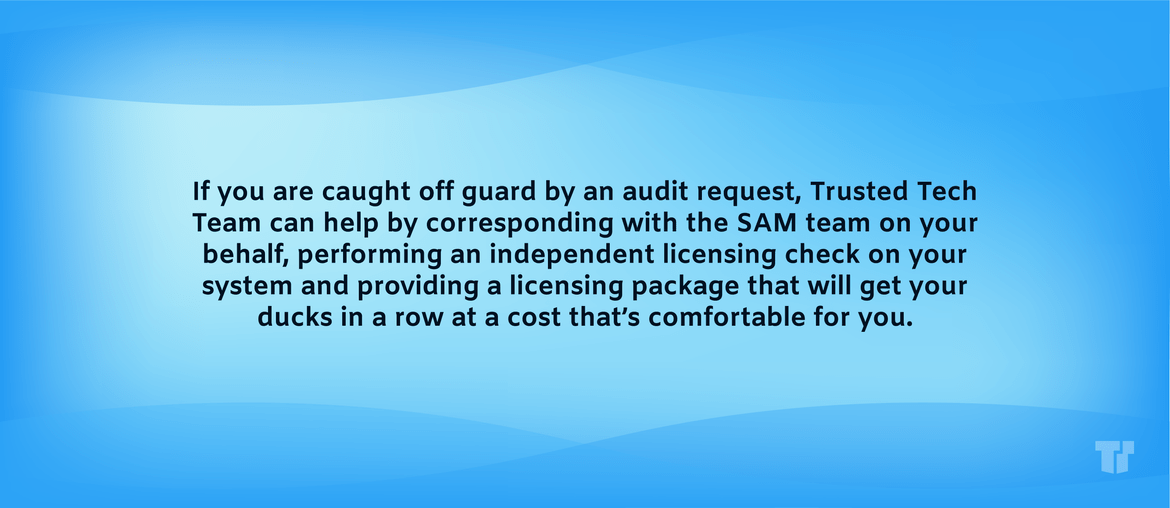 Device CALs
Device CALs are physically assigned to each device. These types of CALs can work for hybrid work environments if you're among the 58 percent of companies that have sent their remote workforce home with a company computer or other device. Device CALs are enforced and tracked by the license server, regardless of active directory membership. Unlike user CALs, device CALs cannot be over-allocated. Temporary device CALs are valid for 52 to 89 days.
It's important to note that you cannot use older CALs to access newer Windows servers. For example, you can't use a Server 2016 CAL with the Server 2019 iteration. A Windows Server 2012 R2 RDS license server can only host licenses up to Windows Server 2012 R2. However, you can use newer CALs to access older Windows Server versions.
---
Trusted Tech Team is an accredited Microsoft CSP Direct Bill Partner, carrying multiple Solutions Partner designations and the now-legacy Microsoft Gold Partner competency. Based in Irvine, California, we report trends affecting IT pros everywhere.
If your organization uses Microsoft 365 or Azure, you may be eligible to receive a complimentary savings report from a Trusted Tech Team Licensing Engineer. Click here to schedule a consultation with our team now to learn how much you can save today.
Subscribe to the Trusted Tech Team Blog
Get the latest posts delivered right to your inbox