5 Reasons to Upgrade to Windows 11
If you own a newer device running Windows 10, there's a chance, sometime in early October, you saw a notification about upgrading to Windows 11. But, before you make the jump, or find yourself having to backpedal, consider some of the significant improvements Windows 11 offers over its predecessor. In general, Windows 11 takes a major leap with its visual design while keeping much of the same functionality.
For the time being, Windows 11 is available as a free upgrade, provided you have a compatible device meeting certain requirements. Realize that after downloading it and trying it out, you have up to 10 days to revert to Windows 10, which Microsoft will support through 2025.
Making the Upgrade to Windows 11
To get started, make sure your PC has the requirements to accommodate Windows 11. Not all Windows 10 computers are suited for the change. Your device is compatible if:
It has at least an eighth-generation Intel Core or AMD Ryzen 2000 processor.
It currently runs Windows 10, version 2004 or more recent.
It has a 1GHz processor with two or more cores, a 64-bit processor or System on a Chip, plus 4GB of RAM and 64GB of storage.
It's equipped with UEFI Secure Boot firmware and Trusted Platform Module (TPM) 2.0.
It includes a DirectX 12-equipped graphics card with a WDDM 2.0 driver and a 720p display larger than nine inches diagonally, with 8 bits per color.
Why Upgrade?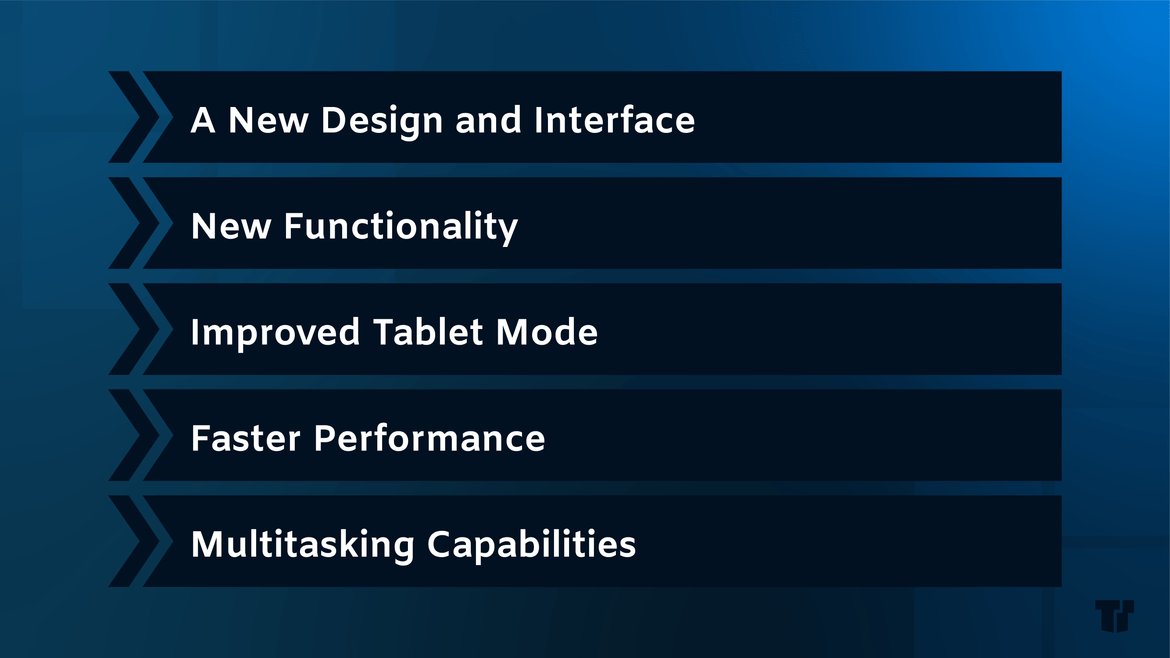 A New Design and Interface
From the first glance, you'll see Windows 11 has a whole new look. It's not just the visuals, however. Microsoft strived to improve how you navigate your device. The Start menu and Taskbar are now located toward the center of your screen, rather than the corner. The best part is that you have the option of assigning it back to its usual spot.
Expanding upon user experience, Windows 11 is friendlier for virtual desktop environments, and you'll find you can go back and forth between multiple devices with ease without having settings change. Windows 11 also gives you the option to customize each virtual desktop's app grouping and visuals.
From here, the Start menu behaves more intuitively: Larger icons are assigned to more familiar, regularly used applications. The Search bar, too, is in icon form. You'll also receive app recommendations based on what you've recently downloaded. These lists can be expanded and scrolled through, with the option to pin select apps. As a change, you'll find Windows 11 no longer supports Live Tiles, and Cortana isn't included by default — you'll have to download the app.
Going back to appearances, Windows 11 comes with six templated themes with different color and background options. Select from light and dark modes for another level of customization.
New Functionality
Microsoft appears to be striving for greater integration and fluidity across its products, and Windows 11 reflects this mindset. Unlike with the reviled Windows 8, Microsoft makes some upgrades regarding functionality, instead of a total overhaul.
Here's what's different:
You'll spot Microsoft Teams in the Taskbar, with the option to use it here and across both Windows and Mac devices.
You'll have the option of downloading Android Apps directly to Windows 11.
Widgets will also be available in the Taskbar.
There's no more Internet Explorer, OneNote, 3D viewer, Skype, or Paint 3D. Excluding IE, the apps will still exist, but you'll need to download them.
You'll find more gamer-specific features brought over from Xbox, including Auto HDR and DirectStorage.
There's no more Windows Timeline. Microsoft opted to replace this with Microsoft Edge's sync function.
Productivity features are more direct, with Focus for notifications easily accessible from the Taskbar.
Updates will also take a different schedule — annual, instead of every six months.
Even with these improvements, users who've downloaded Windows 11 have flagged a few bugs already:
AMD CPUs have been known to sharply and significantly decrease performance when you run games. The good news is that Microsoft and AMD responded, releasing updates to resolve this issue.
If you open up File Explorer in multiple locations, Windows 11 has been known to take up extra RAM without decreasing the amount used even when you close File Explorer.
Some users have also complained about a delay when attempting to open the context menu in File Explorer.
Microsoft is aware of these bugs and is working on resolving them as the case with prior Windows releases.
Improved Tablet Mode
As one of the more significant changes, Windows 11 improved the tablet experience, particularly touch functionality for switching between screens and opening and closing windows with the inclusion of voice commands this time around. You'll also notice more space between the icons, no more Start Menu, and greater responsiveness, including if you use a digital pen.
Faster Performance
At this point, you should expect this with any type of update. For Windows 11, you'll notice a more streamlined experience in regards to how memory is utilized, with app windows you already have open given priority in terms of power. This helps lessen delays, no matter the demands placed on the CPU.
Beyond this, you'll notice your device is quicker to respond from sleep mode, due to more power allocated toward RAM versus other aspects.
Multitasking Capabilities
Aside from a more seamless virtual desktop experience, Windows 11 adds Snap Groups and Snap Layouts for toggling between tasks.
Snap Layouts lets you group and tile windows in varying sizes and lets you save this combination to the Taskbar. Rather than adjust the size of each window, you just hover to select from a choice of layouts.
Added to this, Windows 11 considers the employee or individual on the go, who's likely going between an individual laptop or plugging it into a monitor. Windows 11 creates a more natural transition, ensuring you can find the windows you just minimized no matter how you're looking at the screen.
---
Trusted Tech Team is an accredited Microsoft CSP Direct Bill Partner, carrying multiple Solutions Partner designations and the now-legacy Microsoft Gold Partner competency. Based in Irvine, California, we report trends affecting IT pros everywhere.
If your organization uses Microsoft 365 or Azure, you may be eligible to receive a complimentary savings report from a Trusted Tech Team Licensing Engineer. Click here to schedule a consultation with our team now to learn how much you can save today.
Subscribe to the Trusted Tech Team Blog
Get the latest posts delivered right to your inbox