User CALs vs. Device CALs
In setting up a network in a business environment, the server needs to be equipped with certain pieces of software. Devices on that network — computers, more commonly — will need to be able to access the server.
To facilitate this process, your business will need to purchase a Client Access License, commonly known as a CAL. CALs are available in device-based forms — or Device CAL — or on a user basis — User CAL — considering how the server will be accessed and who will be accessing it.
However, understand that CALs aren't the same as a server software license. As you set up a network and consider its functionality, here's what you should keep in mind.
How Do CALs Work?
Generally speaking, if you intend to use Windows Server Standard or Datacenter and Windows Server software programs on your network, you will need to purchase a Windows Server CAL.
Within this broad picture, any network devices that will be accessing the server require a CAL. More specifically, every user or device that creates a connection with a Remote Desktop Session host will need a CAL. Once that device or user has a CAL, it will be able to access all of the software programs and capabilities on the server.
During this process, you will receive a server license after purchasing Windows Server Standard or Datacenter that lets you install the server operating system onto a single computer. Despite this, this license does not provide for every other device or user to connect to said computer to access the server's software. Instead, these devices or users need a CAL after a grace period of 120 days. This license lets that user or device log into a remote desktop session host server.
In considering this arrangement:
A CAL needs to reflect the latest version of the server software installed. An older CAL does not grant access to newer or upgraded server software. However, the latest CAL can access an earlier version of the server software.
A CAL must be installed onto a compatible server and assigned to specific users or devices.
CALs don't travel with users. Should an employee leave your company or a computer be retired, the CAL can be assigned to a new user or new device.
Pricing is based on your network: The fewer users or devices on the network, the fewer the CALs needed and the lower the cost. As a result, small businesses end up paying less for licensing than large corporations.
CALs are strictly for accessing software located on the server. Should a device or user simply be using the internet, a CAL is not needed for that user or device.
Types of CALs: User CALs vs. Device CALs
What is a User CAL?
Considering the licensing and pricing structure described above, a User CAL involves purchasing a license for every user accessing the server. This user may have access to multiple devices.
When is it used?
This arrangement is ideal for a company with employees who access your network no matter where they are or which device they are using. Generally, these businesses have more devices — for instance, a computer, phone, or tablet assigned to a single employee — than staff members. These employees may be full-time and work remotely or are regularly on the road, or your business tends to work with third-party contractors.
This model lets the user, regardless of which device they're on, connect to the remote desktop session host wherever they are. However, you can run the risk of having an over-used CAL, which goes against server licensing terms. To ensure compliance, it's a good idea to track the number of remote desktop sessions per user and compare this to the User CALs installed for all users accessing the server.
As a good rule of thumb, if you have 20 employees who will be accessing the server's services, purchase 20 CALs to account for each user.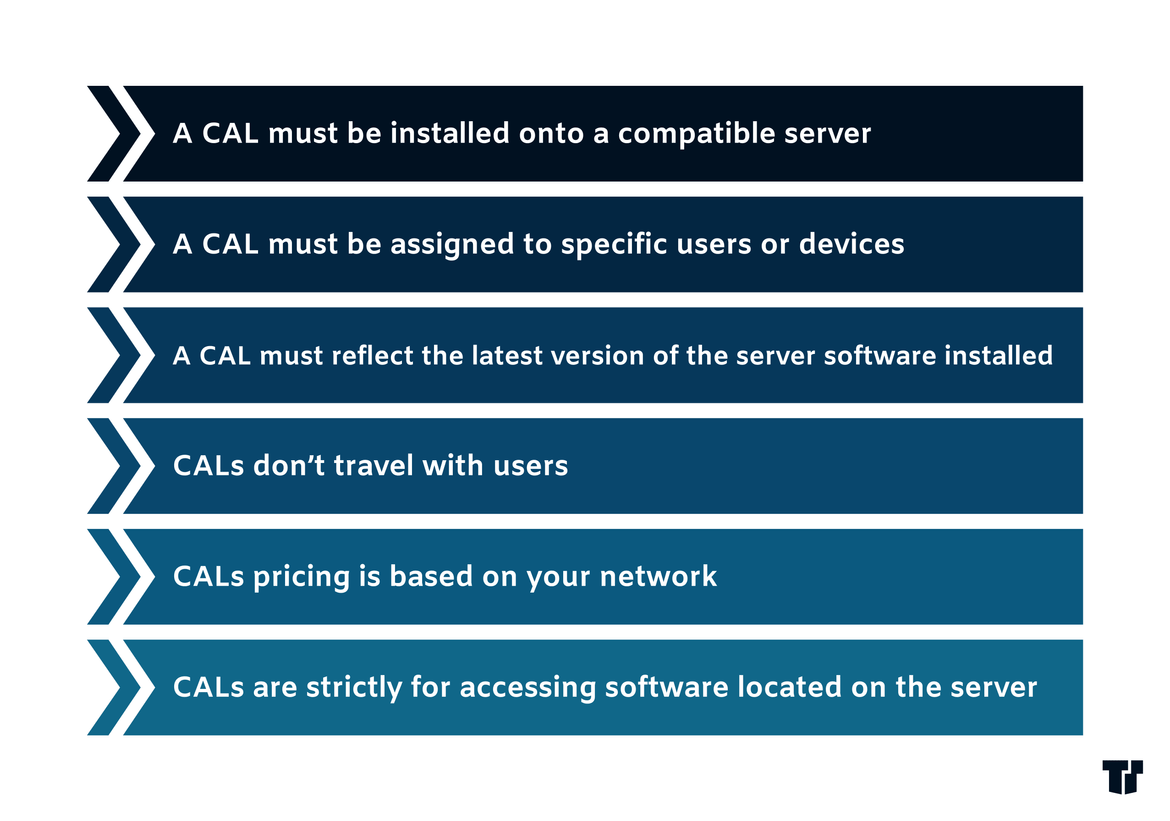 What is a Device CAL?
As the name implies, a Device CAL is licensed on a device basis. Generally, device CALs are ideal when multiple employees share a single device. In this arrangement, the device, no matter who is using it or when, connects to the server. When this occurs, the device receives a temporary license the first instance it connects to the remote desktop session host. For the next session, the device will be issued a permanent license.
When is it used?
Typically, Device CALs benefit businesses that have shift employees — for instance, in retail, call centers, or if you routinely go through a temporary or seasonal workforce. Equipment like a computer-powered timecard or login system used by multiple individuals throughout the day would also benefit from a Device CAL.
Keep in mind that CALs won't be the only licensing factor your business needs to consider for its network. A Management License or an External Connector license may be required for certain products.
---
Trusted Tech Team is an accredited Microsoft CSP Direct Bill Partner, carrying multiple Solutions Partner designations and the now-legacy Microsoft Gold Partner competency. Based in Irvine, California, we report trends affecting IT pros everywhere.
If your organization uses Microsoft 365 or Azure, you may be eligible to receive a complimentary savings report from a Trusted Tech Team Licensing Engineer. Click here to schedule a consultation with our team now to learn how much you can save today.
Subscribe to the Trusted Tech Team Blog
Get the latest posts delivered right to your inbox