Top New Office 2021 HB21 and HS21 Features
The brand-new Microsoft Office 2021 was released to consumers on October 5th, 2021. This release came hand-in-hand with the new and much-anticipated Windows 11, which provided a fresh PC interface with some exciting new features.
The new Office 2021 has been optimized to work with Windows 11, although it can still be used with Windows 10. These new releases are available in a one-time purchase licensing scenario that is highly desirable to many users in homes, schools, and businesses. This is different from subscription-based Office 365 or Microsoft 365.
Office 2021 Home and Student and Office 2021 Home and Business Updates
These one-time purchases are available in three suite options: Office Home & Student 2021 (HS21), Office Home & Business 2021 (HB21), and Office Professional 2021. This blog will focus on the top features within the home and business suites, as well as the home and student software options. For simplification reasons, we'll refer to these two suites as "HB21" and "HS21" throughout this article. Both options are ideal for small businesses, students, and home users on both PC and MacOS who want access to classic Office applications.
Office 2021 Home, Student, and Business Costs
Within the non-commercial HS21 one-time purchase (which retails at just under $150), you'll receive the classic 2021 versions of Excel, PowerPoint, and Word. It is Microsoft Teams-compatible. Support is provided free through Microsoft for the first 60 days. HB21 expands upon HS21 and is available for just under $250. It includes the Outlook business email service.
Office 2021's Compatibility with Windows 11
With both Windows 11 and Office 2021, users of HB21 and HS21 will notice the improved look and feel. The visuals are simplified, streamlined, and easier on the eye. Harsh edges are now rounded for a pleasing visual effect.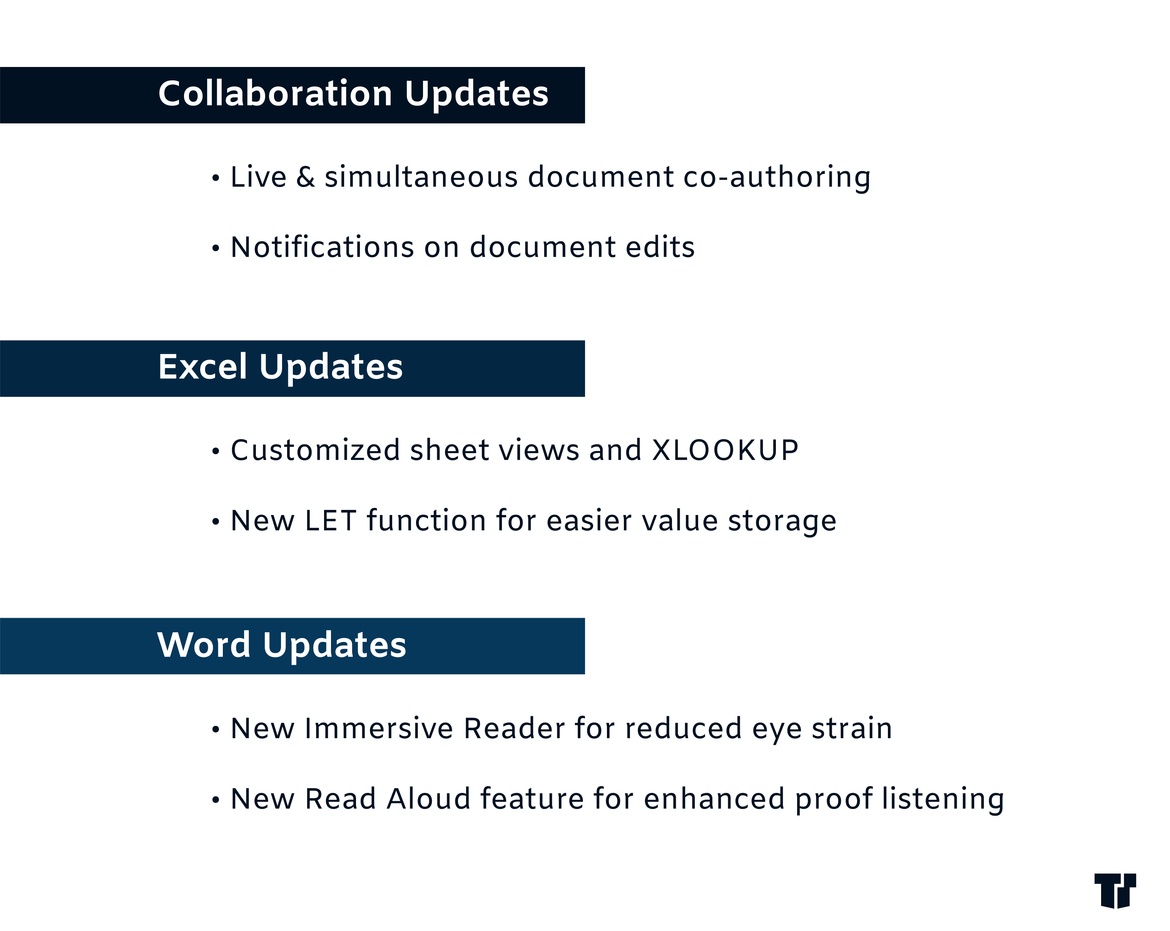 Better Collaboration
Many users are looking forward to the improved collaboration features within this Office 2021 update. This is important to accommodate the changing communication needs in both work and school where remote work is a must-have. Microsoft Teams is integrated within O21; Teams video calls and participation can be launched directly from MS Office. These collaboration improvements include the ability to co-author documents simultaneously, which is much like Google Docs. In PowerPoint and Excel, you'll also be able to see who is working with you and where they are in various documents. Notifications are sent when files and documents are updated within Office 2021.
The comments sections are also upgraded to allow for better collaboration and consistency between Excel and PowerPoint. Office 2021 has added the ability in Word, Excel, and PowerPoint to save changes automatically with file uploads to OneDrive, OneDrive for Business, or SharePoint Online. "Tell me" is a quicker, easier way to skip to the actions you want to perform within documents as well as to locate the features you want to use. All O21 applications now support the Scalable Vector Graphic (SVG) format.
Office 2021 Word Updates
New features within Word include Immersive Reader, which helps reduce eye strain by selecting a page color. Read Aloud improves upon Word's Immersive Reader and allows you "proof listen" with more natural-sounding voices.
Office 2021 Excel Updates
Excel users will appreciate many of the user-friendly changes and Excel 2021 updates within the new program, including customized sheet views and XLOOKUP (which allows you to find anything you need in a range or a table). Formulas also will return a dynamic array of values; new functions have been added, including Filter, Sort, SortBy, Unique, Sequence, and RandArray. A new LET function makes storing intermediate calculations, names, or values inside a formula easy by assigning names to calculation results. Also added to Excel 2021 is the XMATCH function and convenient Watch Windows.
---
Trusted Tech Team is an accredited Microsoft CSP Direct Bill Partner, carrying multiple Solutions Partner designations and the now-legacy Microsoft Gold Partner competency. Based in Irvine, California, we report trends affecting IT pros everywhere.
If your organization uses Microsoft 365 or Azure, you may be eligible to receive a complimentary savings report from a Trusted Tech Team Licensing Engineer. Click here to schedule a consultation with our team now to learn how much you can save today.
Subscribe to the Trusted Tech Team Blog
Get the latest posts delivered right to your inbox