Top Windows 11 Features for SME
Windows 11 is the much-anticipated upgrade to its successor, 2015's Windows 10. Released on October 5th, 2021, the operating system is available as a free download to current Windows 10 users. With all the buzz surrounding the release, what are the top new features of the Windows 11 update that will make a difference in the advanced user's everyday experience?
The Windows 11 upgrade is the most secure Microsoft operating system to date. Some of the top new Windows' features offer protections that have been added at both cloud and chip levels, improving Windows' overall security credentials. These include default malware prevention, encryption, and hardware-based isolation. Windows Hello for Business has also gone passwordless, which simplifies deployments for users.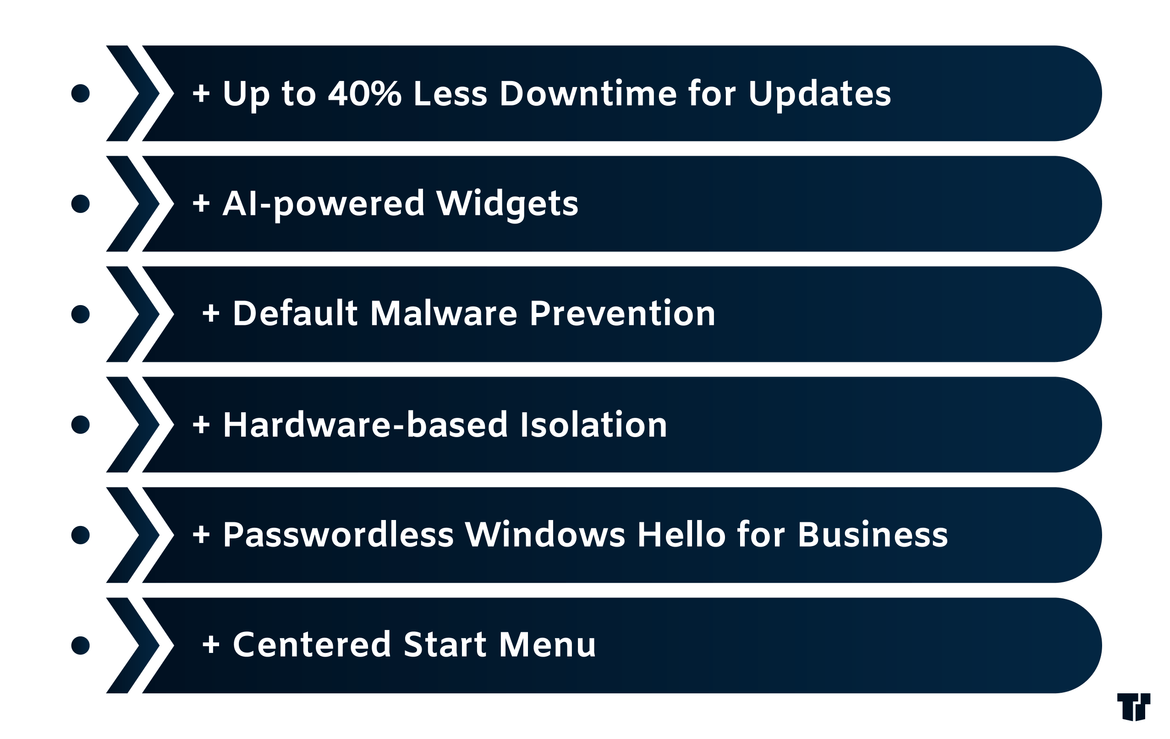 Fresh and Streamlined Windows 11 Features
Windows 11 puts its best foot forward with a fresher, more streamlined design, including the modern dark mode, and the refreshed Action Center. Possibly, the most practical change is the Start Menu, which has been moved for the first time since Windows 95. Its reassignment to the center of the screen (instead of on the left) makes it front and center for easy access. The Start Menu is designed to help you quickly access and organize recent files and applications by featuring "pinned" apps, which makes finding the programs and the files you need fast. Live Tiles have been discontinued - and the Task Bar now appears in the middle of the screen.
Better Collaboration and Connections
The new and improved platform also features some important upgrades that provide users with an overall enjoyable experience, including easy-to-access features that better allow users to multi-task with the new Snap Layouts, Desktops, and Snap Groups. The realities of collaboration in recent years have driven online applications and platforms to think outside the box in terms of communication. In one of the top new Windows 11 features, Microsoft Teams Chat has been added to the taskbar so users can instantly connect with personal contacts via text, voice, chat, or video. Also, the new system tray now shows a mute button clearly.
AI-Powered Widgets
The Windows 11 upgrade uses Microsoft Edge to include personalized feeds that have enhanced browser performance through the AI-powered Widgets. Easily access Widgets with a click for at-a-glance information, including news, weather, traffic, and more.
Updated Access to Android Apps
Future Windows 11 upgrades will include other anticipated features, such as easy downloadable access to the over 500,000 Android apps available in the Microsoft Store through Amazon's Appstore (instead of the Google Play Store). Currently, a third-party Android emulator, such as Bluestacks, is necessary. The future upgrade will allow users to access and run Android apps natively on their PCs.
Less Downtime for Updates
Updates have changed in Windows 11 as well. Namely, Microsoft has reduced the size of its updates, which will reduce the time needed to download and implement new firmware. Window 11's software updates are now 40% smaller.
---
Trusted Tech Team is an accredited Microsoft CSP Direct Bill Partner, carrying multiple Solutions Partner designations and the now-legacy Microsoft Gold Partner competency. Based in Irvine, California, we report trends affecting IT pros everywhere.
If your organization uses Microsoft 365 or Azure, you may be eligible to receive a complimentary savings report from a Trusted Tech Team Licensing Engineer. Click here to schedule a consultation with our team now to learn how much you can save today.
Subscribe to the Trusted Tech Team Blog
Get the latest posts delivered right to your inbox