Mobile Device Management: What Are The Best Product Options?
The implications of managing mobile devices for everything — from work productivity to entertainment — are constantly evolving.
Today's IT departments are addressing mobile device management (MDM) topics and scenarios such as "geofencing capabilities", "policy-based security", and "device layers." In the past decade, mobile communications have radically evolved and, if history is any indication, they will continue to do so. The ability to adapt, evolve and implement policies and software solutions that enable mobile transformation is not only essential, but a priority.
Product Considerations
Software companies are continually introducing software, hardware, and systems that allow their customers to focus on their businesses within the ever-changing climate of MDM (also known as enterprise mobility management (EMM)). To be relevant in today's mobile digital climate, MDM software must:
Function across multiple service providers.
Support essential operating systems and platforms.
Enable remote locking, configuration, wiping, and detection.
Integrate with current application, IT, and administrative systems.
Complement company-issued mobile devices and report device activity
In addition, MDM software must stem from forward-thinking concepts with respect to current, and projected threats and obstacles. In a nutshell, MDM products must integrate tech-savviness, ingenuity, and creativity.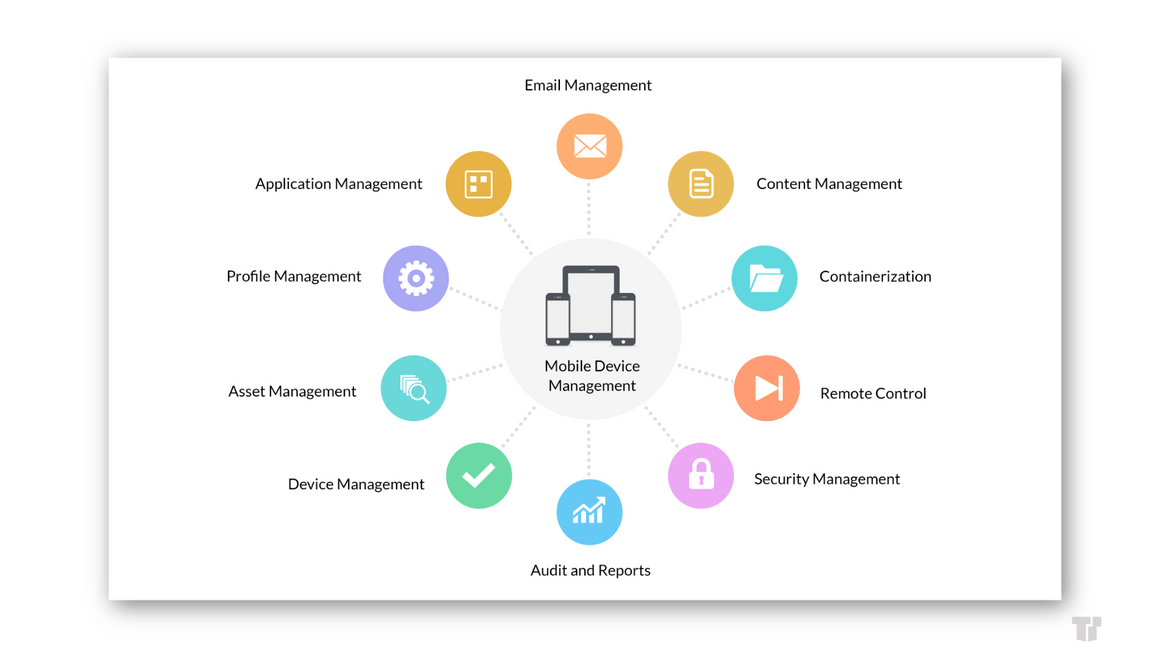 G2 Top-Rated MDM Products
When researching MDM software that might be right for your company, it is pertinent to align your business needs with the highlighted features of each product. Sources, like G2, can enhance your decision-making process through their aggregation of online product reviews. G2's most recent aggregation listed the following products in its "Top 10":
Jamf Pro
Rippling
Scalefusion
Fleetsmith
Jamf Now
Hexnode MDM
ManageEngine Mobile Device Manager Plus
Microsoft Enterprise Mobility
Addigy
IBM Security MaaS360
Security & Device Enrollment
Policy-based security and device enrollment are fairly-standard features of the MDM products listed above. Device enrollment, in particular, can be a tedious process; so many of the products streamline it through automated processes.
Several MDM products include free trials, for a limited time, which help you determine if they will satisfy your business needs. Varying in price, from a monthly (per-device usage) to a yearly cost, these products accommodate the range of budgetary allowances and restraints found amongst different companies.
PCMag Top-Rated MDM Products
PCMag.com states that enrollment, accessibility, data security, user-friendliness, and customizable dashboards displaying key data should be at the forefront of your MDM system. In a recent review roundup, the publication listed the following solutions in its "Top 8":
AppTec360 Mobility Management
Baramundi Management Suite
SOTI MobileControl
VMware AirWatch
Citrix XenMobile
Microsoft Intune
IBM MaaS360
---
Trusted Tech Team is an accredited Microsoft CSP Direct Bill Partner, carrying multiple Solutions Partner designations and the now-legacy Microsoft Gold Partner competency. Based in Irvine, California, we report trends affecting IT pros everywhere.
If your organization uses Microsoft 365 or Azure, you may be eligible to receive a complimentary savings report from a Trusted Tech Team Licensing Engineer. Click here to schedule a consultation with our team now to learn how much you can save today.
Subscribe to the Trusted Tech Team Blog
Get the latest posts delivered right to your inbox