Why SMBs are Investing in the Microsoft Power Platform
Connectivity has never been as important as it is in today's world.
In their attempts to adapt and sustain within today's business atmosphere, small and medium-sized businesses (SMBs) have had to find ways to stay competitive through their software, connectivity choices, and team structures.
This forecast is expected to remain the same in the foreseeable future: small companies are twice as likely to hire remote employees, and 52% of the global workforce logs in from home at least once per week.
Connectivity & Collaboration
Power Apps and Power Automate for Microsoft 365 (M365) help SMBs boost connectivity.
Since SMBs increasingly rely on connectivity and collaboration, they continue to depend on applications that support such actions. By creating apps and flows based on existing M365 data, Power Apps allows for the integration of pre-existing and external (non-M365) data.
Power Apps lets you create, run and share apps, run canvas apps within M365 and offline, connect to M365 data and cloud services via standard connectors, etc.
The result? You can optimize connectivity and analyses, and maximize current capabilities (with external data-crunching partners) to give your SMB a competitive advantage.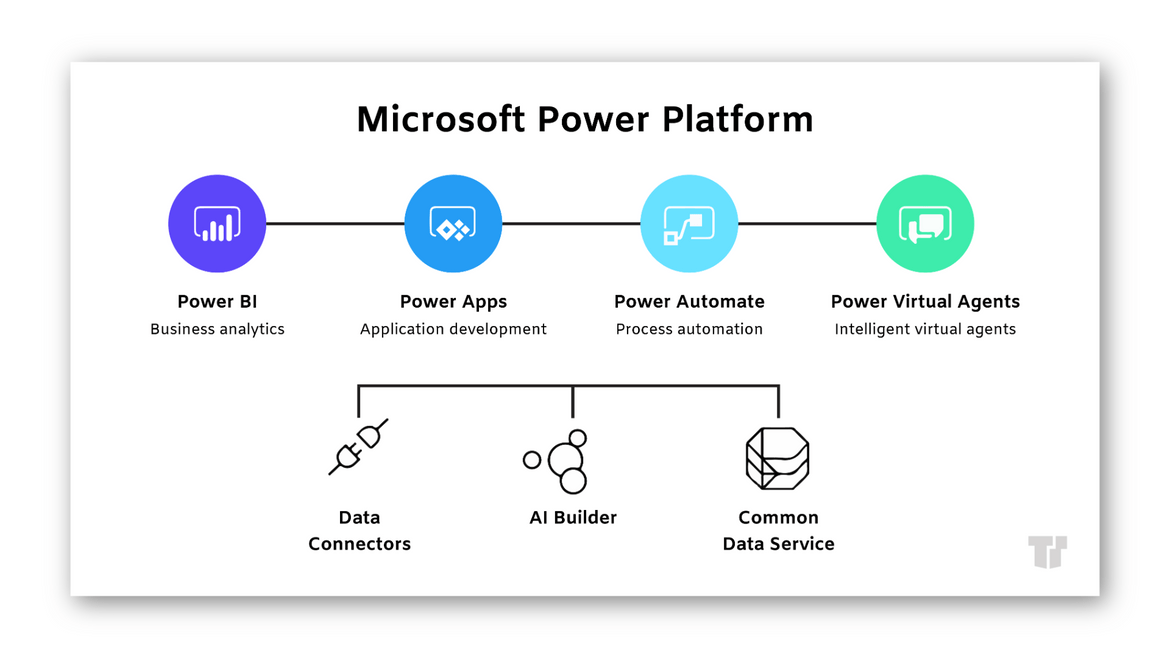 Power Platform
From standalone Power Apps and Power Automate to Power Virtual Agents, how do you know which one to choose? Can SMBs really afford these additional expenses? Here, at Trusted Tech Team, we think the question should be: Can SMBs NOT afford Power Apps?
Power Apps
The core attribute of a Power Apps license is "Run". Power Apps offers two "Run"-based pricing plans to accommodate your business needs: Run Single Apps and Run Unlimited Apps.
Run Single Apps (Per App Plan): is available on a per user, per month, and per app basis. Licensees can run up to two specific apps - Standard, Premium, and Custom connectors are included. One custom portal access is included for each user, as is access to on-premises resources via a data gateway and read access to Dynamics 365 restricted entities. The Run Single Apps plan includes 50 MB CDS DB capacity, 400 MB CDS file capacity, and 1000 Daily API Requests.
Run Unlimited Apps (Per User Plan): provides licensees with an unlimited number of apps. It includes Standard and Premium connectors, unlimited access to a single tenant portal, and on-premises resources, via a data gateway. You'll enjoy read access to Dynamics 365 restricted items, 250 MB CDS DB shared capacity, and 2 GB CDS shared file capacity.
Power Automate
Two variables determine pricing in Power Automate: creation and implementation. Power Automate allows individual users to create by running unlimited "flows" for themselves. It also allows the implementation of said "flows" to serve unlimited users. In Power Automate, select either a Per User Plan, Per User Plan w/attended RPA, Per Flow Plan, or Seeded Power Automate Plan (bundled w/Office 365 & Dynamics 365).
Power Virtual Agents
The newest Power Platform, Power Virtual Agents, enables the creation of AI-powered chatbot solutions via a guided, no-code graphical interface. This process is an interaction between a customer and the bot, which begins when an authored topic is triggered and referred to as a "billed session." The license is available in a single pricing model: 2000 session buckets per month. The cost per month is determined by whether or not the minimum amount is used per month.
---
Trusted Tech Team is an accredited Microsoft CSP Direct Bill Partner, carrying multiple Solutions Partner designations and the now-legacy Microsoft Gold Partner competency. Based in Irvine, California, we report trends affecting IT pros everywhere.
If your organization uses Microsoft 365 or Azure, you may be eligible to receive a complimentary savings report from a Trusted Tech Team Licensing Engineer. Click here to schedule a consultation with our team now to learn how much you can save today.
Subscribe to the Trusted Tech Team Blog
Get the latest posts delivered right to your inbox