Inside Veeam's Intelligent Future
(Veeam technology) is about acceleration, but it's also about adaptation. It's about accelerating our leadership by adapting to the needs of the modern digital business. And by that, I mean Cloud Data Management.

- Ratmir Timashev, Veeam co-founder
Intelligent Data
Veeam's global ecosystem includes 60,000 channel partners/exclusive resellers and over 350,000 customers. Their recent cloud data management (CDM) report surveyed 1,500+ IT decision makers (ITDMs).
The report found that 44% believe CDM is critical to their future success. Collectively, ITDMs plan to spend $40M+ on deployment technologies to advance cloud data-driven solutions. 73% have either deployed or intend to deploy artificial intelligence and machine learning (AI/ML) within the next year. 8% of ITDMs have already deployed big data and analytics or plan to do so within the next year. Upon deployment, most project improved operations within 7 months and significant financial gains within 9 months.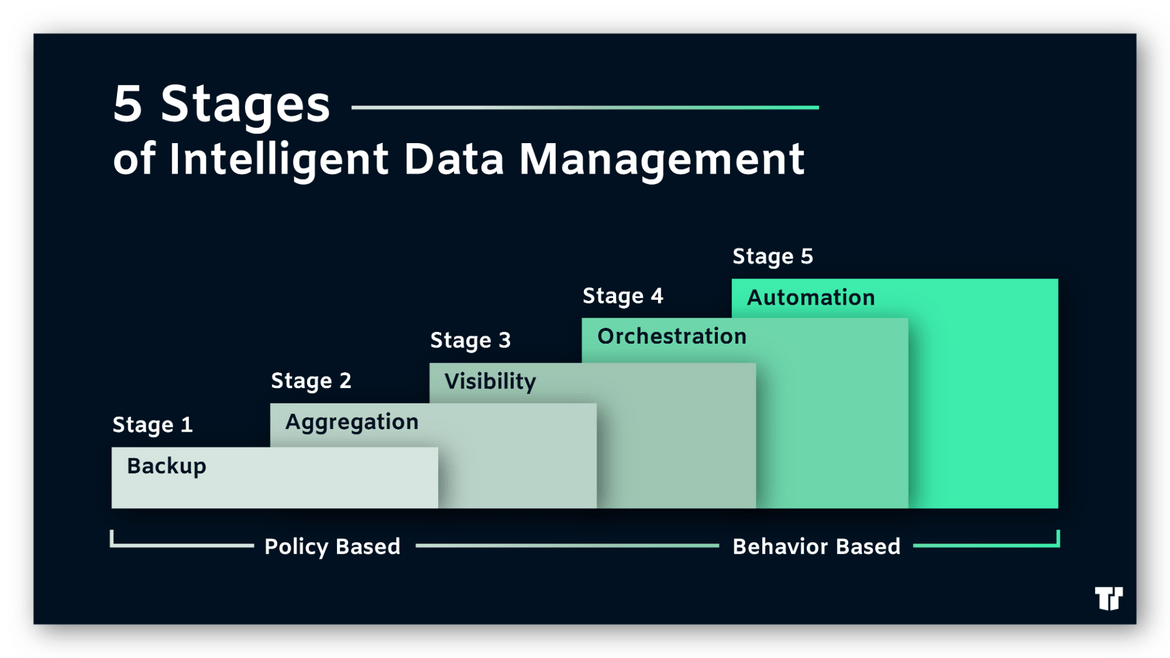 Intelligent Edge
The intelligent cloud will become the "great equalizer" amongst businesses of every size and type. It provides an intelligent edge for businesses to level the technological playing field and gain access to valuable digital resources.
According to the report, 52% of ITDMs believe company cultures are becoming more AI/ML and data-driven, while 59% think adaptive cultures must treat digital technology as a fellow "co-worker". However, most ITDMs consider employee adaptation to be the primary obstacle toward achieving an AI/ML and data-driven culture. 47% contend their company must practice a culture of lifelong learning to overcome this challenge.
Intelligent Transformation (IX)
IX occurs when the 4 Elements of Tech – Cloud, Mobile, AI/ML, and IoT/Edge – are successfully integrated. However, achieving IX is impossible without accurate data delivered in a consistent manner. Data accuracy is dependent upon data protection evolved from "reactive data" recovery to "proactive" data availability.
In effect, Veeam promotes virtual infrastructure (VI) and data protection as the "bookends" of IX. Therefore, it is pertinent that ITDMs procure complementary VI and data protection products (e.g., VMware & Veeam). Since 2.5 quintillion bytes (2500 petabyte/2.5 exabyte) of data is generated daily, strategic CDM is beyond necessary. With a projected market value of $15B by 2020, CDM is a futurist sector with an unlimited trajectory.
---
Trusted Tech Team: A Microsoft Gold Partner
To receive more information about Veeam products, contact Trusted Tech Team for a free consultation. Our Licensing Engineers will help you maximize your software subscriptions, and provide you the lowest possible costs available.
Subscribe to the Trusted Tech Team Blog
Get the latest posts delivered right to your inbox