The Most Popular Apps In Business Today, Starring Office 365
Apps, apps, and more apps! Okta, an identity access and management company based in San Francisco, has released the fifth version of their "Business @ work report".
Within their network of over 6,500+ integrations through cloud, mobile, and web apps, Okta can see what is used most. For example, they can see the most prevalent apps for security, productivity, and many others. The data is specific to their client base, but still provides great value and insight to the rest of us.
The report shows us that a lot of the popular apps are becoming more popular in business. Notably, Microsoft Office 365 has taken a leap of dominance in 2018. However, it is good to note that Google's G Suite has shown the highest level of growth, at 116% YoY. In recent years, cloud computing has been growing with tremendous force and these numbers reaffirm our thoughts. Although they are not growing at the same rate as G suite (55%), Office 365 still has a towering lead on the field.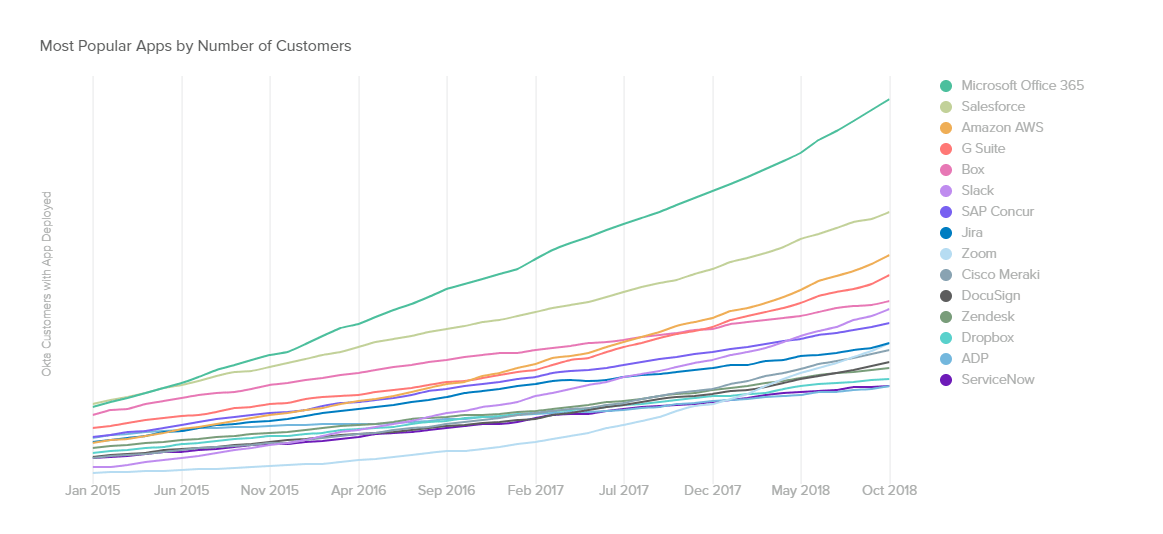 An important thing to note is, over the course of time, many apps will fall out of adoption. Apps such as GoDaddy, Twitter, GoToMeeting, and others once were in the top 15, but are no longer to found here.
What does this tell us?
As the way we do business changes, the need for specialized supporting applications will also change.
What we believe is that O365 dominance will only grow in the coming years. Office 365 has become more simple to deploy and manage for a lot of businesses, while still providing quintessential tools such as Word and Excel, among others.
The growth of cloud computing is something we all knew was coming, but a lot of us didn't like it. It is now here, and here to stay for the long haul!
Subscribe to the Trusted Tech Team Blog
Get the latest posts delivered right to your inbox