The Spill on Intel's 8th Generation Core Processors
It is a never-ending battle between the two semiconductor manufacturers (Intel vs. AMD), and Intel is hoping to even the battlefield with their newest release of processors boasting the nomenclature "Coffee Lake".
Intel is drifting away from the normalcy of what used to be their "tick-tock" model, and focusing on providing a mainstream solution for everyone from the average home user to the up and coming content creators.
Although many users will see the Coffee Lake revision as just that of the previous Kaby Lake (7th generation or 7th Gen) processors, Intel has a few tricks up their sleeves that help to differentiate this generation from each of its predecessors.
You want MORE?
Intel has heard its users' cry for expanding power.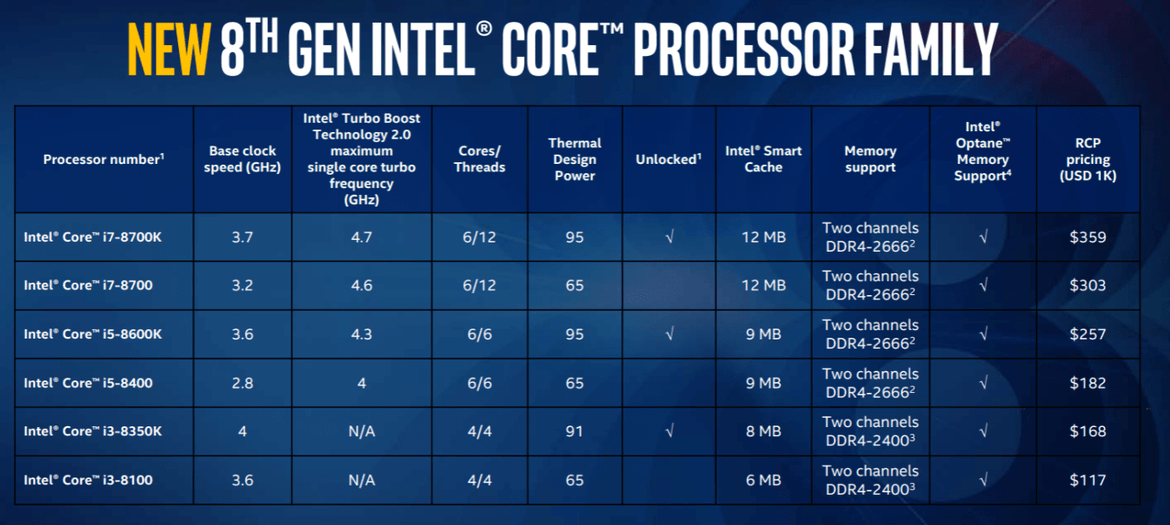 For the first time, we will see the implementation of additional physical cores to Intel's mainstream processor line. A major difference is that the i5 and i7 line will include 2 additional physical cores, increasing their total to 6 cores with the i7 sporting 12 logical threads; but don't worry, the i3 is seeing an upgrade as well!
Intel is ditching the hyperthreading aspect of the entry-level Core processor and is, instead, increasing its physical core-count to 4 - with an increased base clock of 4.00 GHz (unlocked "K" model). These updates will help users render and edit photos and videos much quicker, especially with the rise of 4K content.
Hyperthreading technology has been used, since its introduction in the early 2000's Pentium 4 line, by increasing the amount of logical (usable) cores a system can utilize. We will continue to see this in the 8th generation (8th Gen) Core processors, as it is a feature that is assumed to be used in the future. However, great power comes at a price…
Hot Hot Heat
You will see that most complaints regarding the 8th Gen processors will be about higher heat production.
Since 8th Gen processors have the same 14nm lithography and socket size (but not chipset) as the prior generation, it is not surprising that the increase in transistors (to accommodate the changes), results in higher exhaust temperatures.
Unlike prior mainstream CPUs, the 8th Gen chips do not come with a cooler. It is obviously recommended, by both Intel and system builders, to purchase a compatible cooler that is capable of handling such a requirement - a popular option being All-In-One water coolers (AIO).
Should I Upgrade?
All in all, it is a huge step to see core expansions come to fruition, and we hope to see more software take advantage of this type of power in the future. If you are in the market for a new PC or are looking to pursue system building, now may be the time to take advantage of the newest technology to guarantee you are well-equipped for the next generation of programs.
---
Trusted Tech Team is an accredited Microsoft CSP Direct Bill Partner, carrying multiple Solutions Partner designations and the now-legacy Microsoft Gold Partner competency. Based in Irvine, California, we report trends affecting IT pros everywhere.
If your organization uses Microsoft 365 or Azure, you may be eligible to receive a complimentary savings report from a Trusted Tech Team Licensing Engineer. Click here to schedule a consultation with our team now to learn how much you can save today.
Subscribe to the Trusted Tech Team Blog
Get the latest posts delivered right to your inbox