Transforming Content Management and Security With SharePoint and OneDrive
Microsoft released the latest AI innovations for SharePoint and OneDrive to help customers easily build captivating and engaging SharePoint sites and pages, along with a revamped OneDrive to enhance user experience. 
Whether it's webpage design, content administration, or enhancing security, here are the many ways you can take advantage of these innovations to streamline your operations and boost team collaboration and productivity.
SharePoint AI
Microsoft SharePoint, a web-based collaboration system, has introduced Copilot to elevate and simplify your content initiatives with more compelling features, design tools, templates, and more!
Copilot in SharePoint acts as your web design partner, taking existing documents and presentations and incorporating SharePoint's best web design visuals. With Copilot in SharePoint, you can build more compelling and engaging sites with the following:
Branding and theming
Typography and fonts
Grid and layout
Video and imagery 
Animation and motion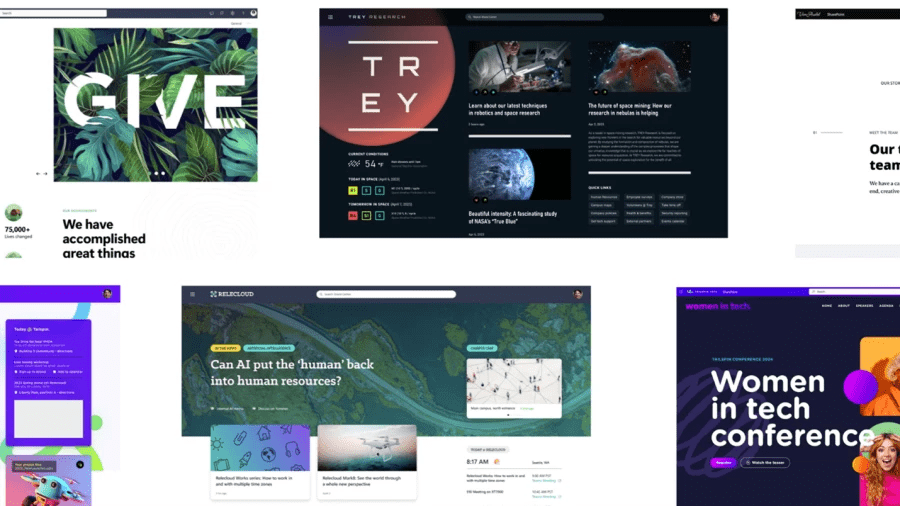 SharePoint also introduced the new brand center, letting you choose design elements representing your organization, products, and other parts of your company. You can use these designs on different sites, and SharePoint will ensure things stay on track with your branding rules. This way, you'll be confident that site owners follow your branding guidelines.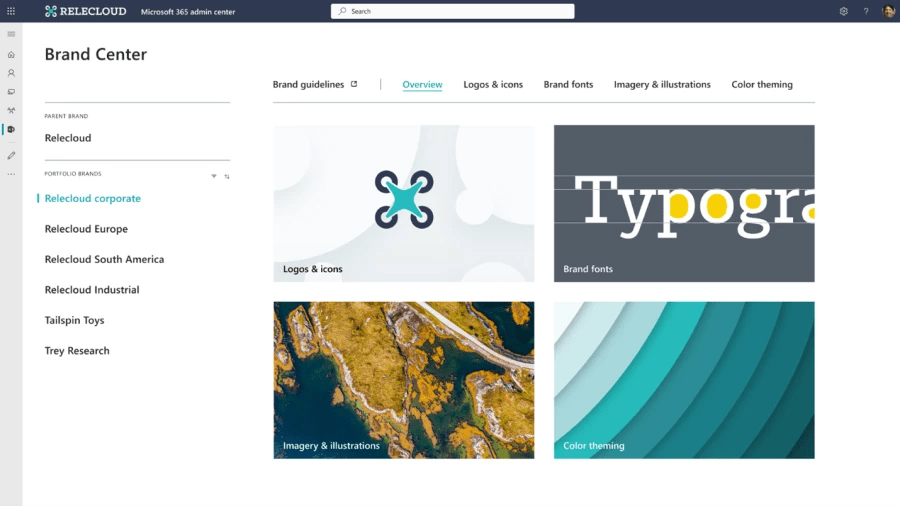 Microsoft Stream: Video Design in SharePoint
Microsoft Stream is a video-sharing platform designed for businesses to easily upload, share, and manage videos within their internal network. Stream allows users to store, view, and interact with videos, making it a valuable tool for training, presentations, announcements, and other forms of communication within a company. It integrates with other Microsoft applications like SharePoint, Teams, and OneDrive to provide a comprehensive video-sharing solution for businesses.
Stream's video page templates simplify producing professional video content for your intranet. The new video-focused page templates assist you with publishing professional content, ensuring that video content takes the stage. For example, you can highlight a recording of a webinar, press conference, or product demo and make it the hero element to ensure it's front and center when users visit the page.

Learn more about Stream's enhanced video features in Microsoft 365.
The New OneDrive
Microsoft OneDrive is a cloud-based storage service allowing you to store your files, documents, photos, and videos securely on the Internet on any device at any time.
The new OneDrive understands your work style and implements AI to help you find the correct file, pick up where you left off, and get you up to speed on what happened when you were away. 
Whether you access the Home section for recent and suggested files, explore files shared by others, or view content linked to your meetings, OneDrive adapts to you, making your experience more personalized and time-saving.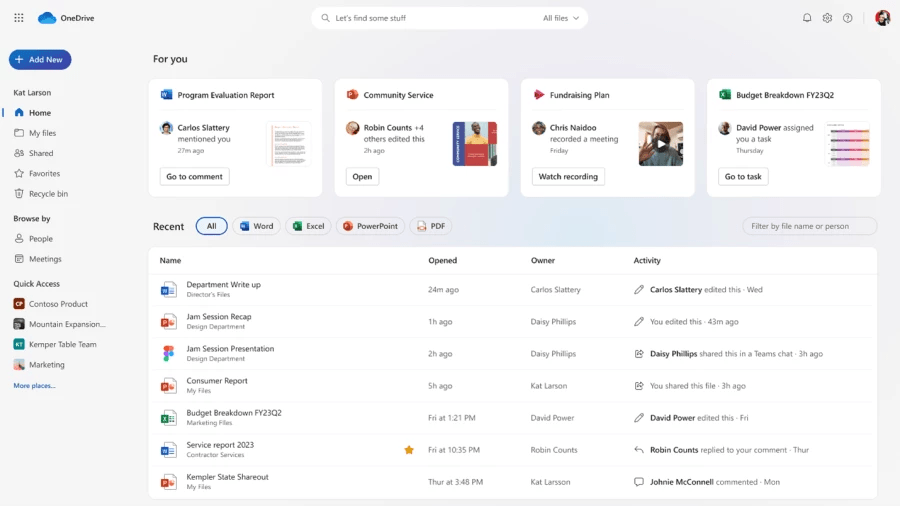 Track Data and Organize With Microsoft List
Microsoft Lists is a Microsoft 365 app that tracks information and manages your list to help you better organize assets, events, and more!
With updated forms for collecting information such as feedback, reporting issues, or planning events, you can create and share multiple forms for the same list (e.g., one for internal personnel and one for external members). Furthermore, all form responses will appear at once to help create a seamless experience.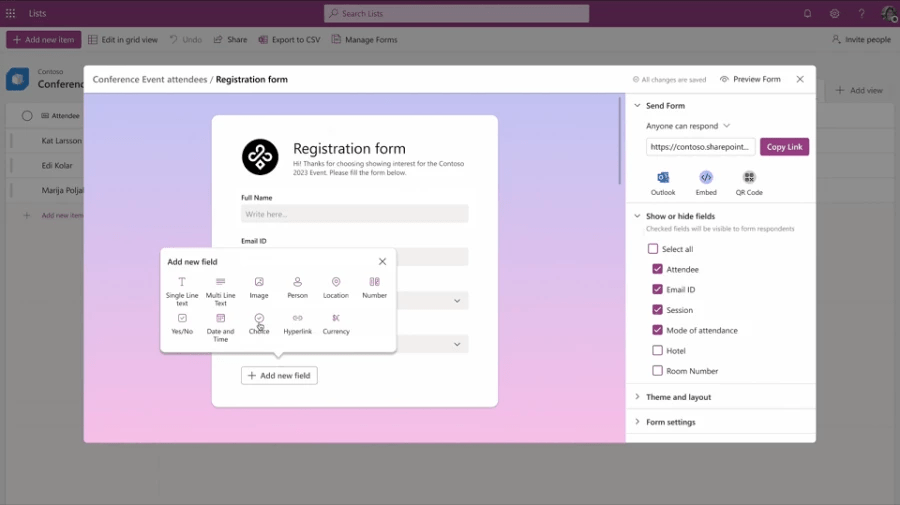 You can open Microsoft Lists in the browser, Microsoft Teams, and the web app. At the top of the page, newly implemented filters are applied to help you filter and clear items, group items, and create and switch views. To see individual collaboration, Lists allows you to see who is actively working inside the list - in real-time.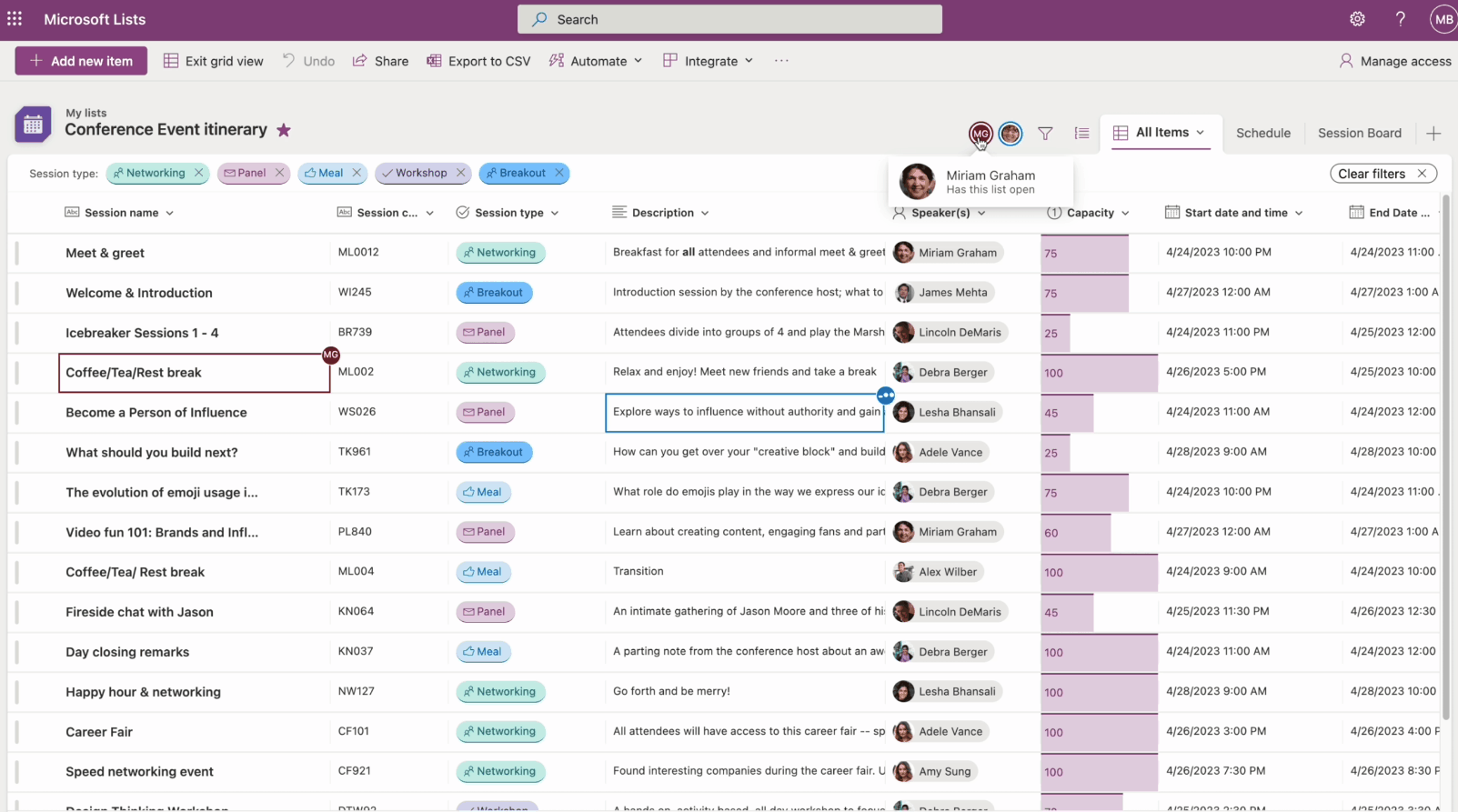 Soon, you'll be able to integrate Microsoft Power Automate flows into your personalized Microsoft Lists templates. With this feature, you can reduce setup efforts when initiating your lists. By encapsulating the consistent benefits of organized data, tailored perspectives, and automated workflows, you'll pave the way for readily deployable business solutions. These applications can be crafted effortlessly with a few simple clicks—leveraging your custom templates and those offered by Microsoft.
Administration and Security
Excessive content sharing is a recurring concern in numerous organizations. Despite good intentions, users frequently share content with a broader audience, inadvertently leading to unauthorized access. As hybrid work and external collaboration continue to exist in the business landscape, the risks of oversharing become profound. 
SharePoint data access governance insights is a tool that can identify overshared primary sites to help you promptly initiate remedial actions. In addition, the restricted access control policy for SharePoint sites will help you gain the ability to confine access to specific SharePoint sites - whether connected with Teams or Microsoft 365 Groups, existing members of the Microsoft 365 group, or a security/IT group.
To learn more and stay up-to-date on upcoming Microsoft 365 applications and features, make sure you subscribe to the Trusted Tech Team newsletter and join 25k+ IT Pros that we're helping stay ahead of the curve.
---
Trusted Tech Team is an accredited Microsoft CSP Direct Bill Partner, carrying multiple Solutions Partner designations and the now-legacy Microsoft Gold Partner competency. Based in Irvine, California, we report trends affecting IT pros everywhere.
If your organization uses Microsoft 365 or Azure, you may be eligible to receive a complimentary savings report from a Trusted Tech Team Licensing Engineer. Click here to schedule a consultation with our team now to learn how much you can save today.
Subscribe to the Trusted Tech Team Blog
Get the latest posts delivered right to your inbox