Replaced by AI: How IT Professionals Can Survive the Inevitable Market Shift
The rapid adoption of artificial intelligence (AI) has brought about significant changes in the job market, and the IT sector is no exception. As AI continues infiltrating businesses, demand for certain IT roles will diminish. To navigate this shifting landscape, IT professionals must understand how to adapt and become indispensable. Being proactive is key to not only withstand but flourish in the face of AI's rapid adoption.
Become Difficult to Replace
One key to surviving the AI revolution is to make yourself indispensable. While there are various ways to achieve this, here are two that you can start with:
Be a Super Problem Solver: Rather than just being proficient in a particular field, focus on becoming a problem solver who can use AI as a tool to find creative solutions. This ability will set you apart from AI, which is often limited to executing specific tasks. For instance, an IT project manager who notices inefficiencies in their team's workflow could leverage AI-driven automation tools to optimize processes. By identifying areas where AI can augment the team's capabilities and implementing these solutions, the project manager would demonstrate their value within the organization as an innovative problem solver.
Foster Emotional Intelligence: Strong interpersonal and communication skills will always be valued in the workforce. Identify areas of improvement and spend time sharpening your soft skills, then start implementing them in your daily interecations. Doing so builds strong relationships with your team members, enabling them to feel supported and motivated to perform at their best. Your emotional intelligence makes you an essential team player and leader, further securing your position in the company.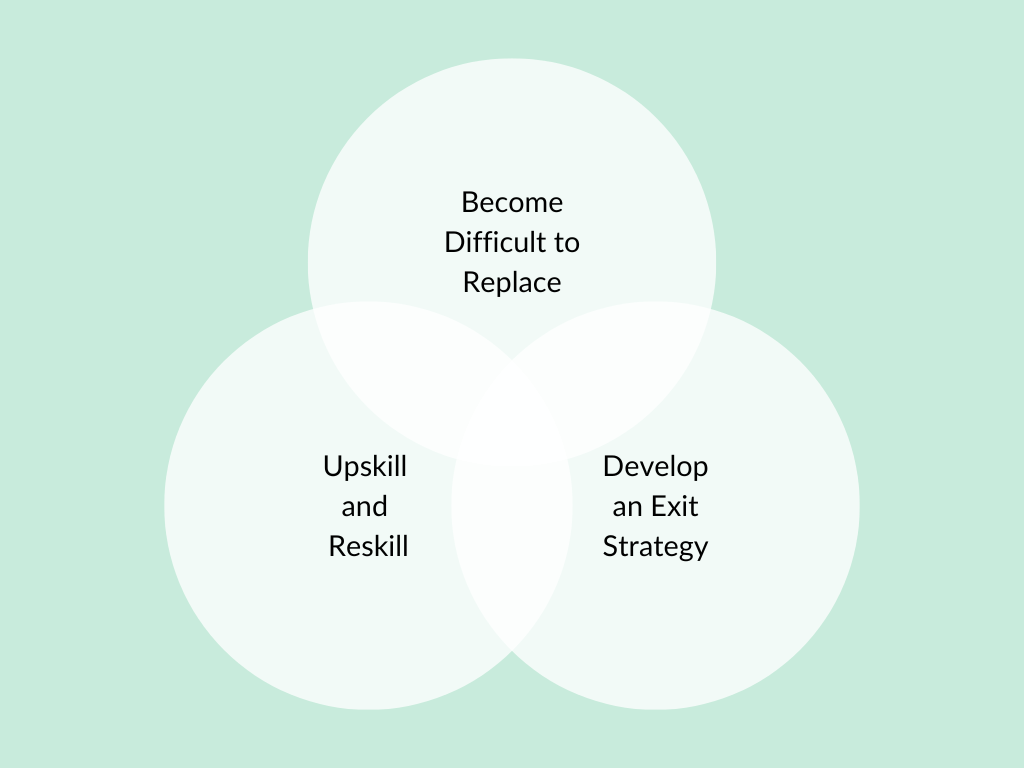 Upskill and Reskill
Continuously investing in your skillset is crucial to staying competitive in the AI-driven job market. Consider the following:
Develop a Diverse Skill Set: For example, if you are a data analyst at a mid-sized company, research the top AI-driven data analysis tools and invest in learning the necessary skills to operate them. You can learn Python and R programming to diversify your skills and become more capable of using AI to do the work that typically requires two people. By mastering these skills, you become an invaluable asset to your team, capable of efficiently and precisely delivering advanced data analytics tasks.

Furthermore, consider pursuing Relevant certifications and training to stay up-to-date with the latest industry trends in AI-related fields like machine learning, data science, or natural language processing.

Engage in Lifelong Learning: Embrace a growth mindset and be open to learning new technologies, tools, and programming languages. This will help you adapt and stay relevant in the ever-changing IT landscape.
Participate in Online Communities: Join forums, social media platforms, and webinars where IT professionals share knowledge, insights, and experiences. Networking with your peers can help you learn new skills and stay informed about the latest developments in AI.
Develop an Exit Strategy
If you find yourself in a role that is easily replaceable by AI, it's essential to act proactively and take the following steps:
Identify Transferable Skills: Assess your current skillset and identify transferable skills to other roles or industries. For example, project management, analytical thinking, and programming skills can be valuable in various sectors.
Leverage Your Domain Knowledge: Your experience and domain knowledge in a particular industry can be an asset. Combine your expertise with new skills to transition to roles like AI consultant, business analyst, or data scientist within the same sector.
Seek Out New Opportunities: Be open to exploring new career paths and industries that can benefit from your skills and experience. This may involve taking on freelance work, internships, or even volunteering to gain hands-on experience in a different field.
The AI wave brings a blend of obstacles and prospects for IT professionals. To navigate this ever-shifting terrain, solidify your position by constantly enhancing your skills and adapting to the evolving job market. The key is to stay proactive, embrace change, and be prepared to adapt.
---
Trusted Tech Team is an accredited Microsoft CSP Direct Bill Partner, carrying multiple Solutions Partner designations and the now-legacy Microsoft Gold Partner competency. Based in Irvine, California, we report trends affecting IT pros everywhere.
If your organization uses Microsoft 365 or Azure, you may be eligible to receive a complimentary savings report from a Trusted Tech Team Licensing Engineer. Click here to schedule a consultation with our team now to learn how much you can save today.
Subscribe to the Trusted Tech Team Blog
Get the latest posts delivered right to your inbox