M365 Backup: Top 5 Mistakes of IT Managers
Microsoft 365 continues to be a powerhouse in the productivity realm: As of November 2021, it boasted 50.2 million subscribers and generated more than 38 collaboration minutes in one day. M365 is officially Microsoft's fastest-growing platform. 
In recent years, demand for moving operations to a virtualized environment has skyrocketed. Additionally, remote and hybrid work environments now require a cost-efficient and streamlined way to collaborate, communicate, and produce better workflows.
Migrating to a cloud service like M365 is no small feat. IT professionals need to be aware of M365 potential mistakes that can put their content at risk. 
Mistake #1: Not Protecting All Cloud SaaS Services
Failing to backup all services is a more common M365 mistake than one might think, and it can happen for many reasons. When migrating data at different time-frames, newly-migrated data may be left unbacked. Furthermore, third-party solutions that only backup certain services within the virtual SaaS environment may introduce vulnerabilities. 
Mistake #2: Accidental Critical Data Deletions
It happens on average three to four times a year: An M365 user deletes critical data. Whether this is accidental or intentional, it can be devastating. End users cause 47% of all deletions, while employee errors account for 17% of total deletions. Accidental deletions happen when users mistakenly click on the wrong areas or think a file is no longer needed. Although there are some limited restore capabilities, such as in SharePoint Online, the Recycle Bin keeps the file for 93 days. After that, the data is permanently deleted from the cloud. IT administrators can minimize the risk of this scenario by putting a "no deletion" policy in place. Intentional deletions are very real. Up to 7% of deletions are malicious and performed by recently fired employees. Companies can protect themselves from malicious deletions by informing the M365 administrator immediately when an employee is let go.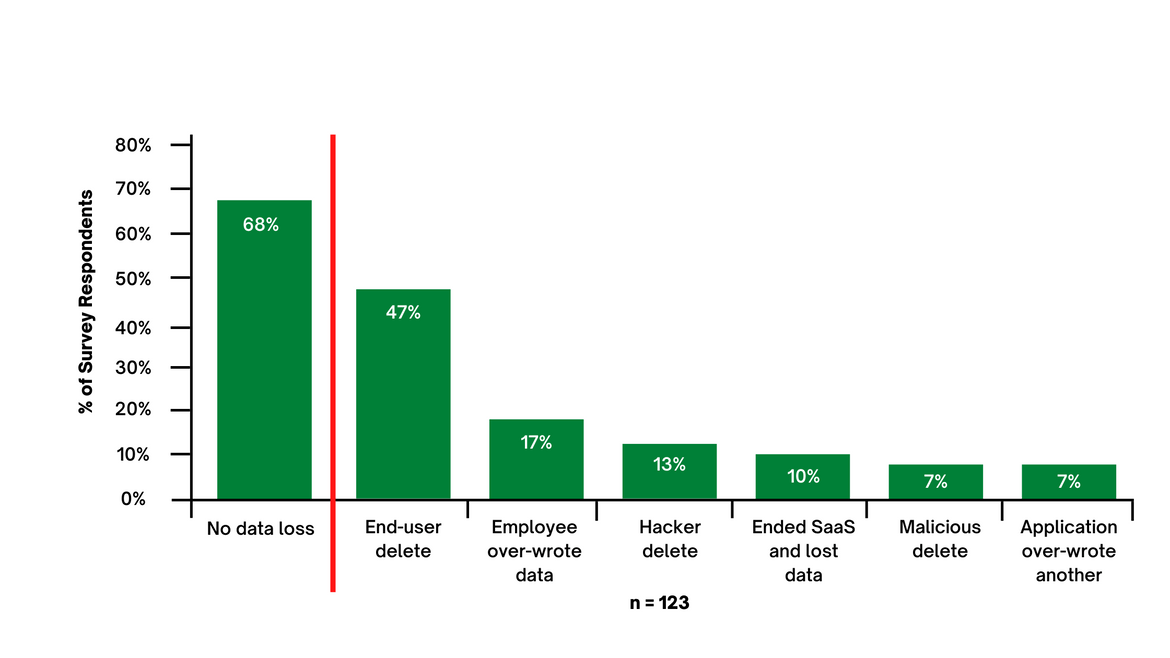 Mistake #3: Leaving Data Open to Malware, Phishing, and Ransomware
Although Microsoft prides itself on its multi-layered security measures, no program is 100% safe from attacks. Most attacks do not occur due to breaches in Microsoft's data centers. Rather, they're caused on the customer's end and can infiltrate the data through everyday internet and email use. IT professionals can minimize the risk of attacks in M365 by providing education for employees and reminding them of internet-use best practices. It is the customer's responsibility to protect the potential loss of data due to malware and ransomware, not Microsoft's.
Mistake #4: Overwrites and Data Migration Errors
Some of the most common 365 mistakes that result in data loss are data migration errors and overwrites, which can lead to massive amounts of data loss. Most often, they occur when moving data from older versions of SharePoint and Exchange to M365 — or from other SaaS services. Third-party migration tools can make these errors worse due to bugs, misconfigured settings, and vulnerabilities. If your company is eligible, Microsoft FastTrack may be a great way to help implement your M365 environment, and provide information, best practices, and education.
Mistake #5: "Going it Alone"
Your data is essential to a well-functioning business, especially in today's remote and hybrid work environments. Therefore, it is key to have a partner that will help you minimize backup mistakes and other M365 errors. Trusted Tech Team is a Microsoft Gold Partner - we can help you keep your data safe and intact. Give us a call to learn more about M365 and ways to mitigate backup errors that could be detrimental to your business. We also provide zero downtime migrations and top of the line US-based support.
---
Trusted Tech Team is an accredited Microsoft CSP Direct Bill Partner, carrying multiple Solutions Partner designations and the now-legacy Microsoft Gold Partner competency. Based in Irvine, California, we report trends affecting IT pros everywhere.
If your organization uses Microsoft 365 or Azure, you may be eligible to receive a complimentary savings report from a Trusted Tech Team Licensing Engineer. Click here to schedule a consultation with our team now to learn how much you can save today.
Subscribe to the Trusted Tech Team Blog
Get the latest posts delivered right to your inbox