How Microsoft Purview is Transforming the World of Data Governance
Using various software products to instill data management has long been considered an outdated method. This practice inarguably defeats the purpose of data management and overcomplicates an already complicated process. According to Microsoft, a recent survey showed that nearly 80% of decision-makers in America had to purchase multiple data protection and compliance products (often three or more) to meet their needs. The lack of a centralized location to register data sources resulted in many challenges, none of which were helpful for data governance optimization.
"Organizations have seen a massive increase in their digital footprint," wrote Alym Rayani, General Manager of Compliance and Privacy Marketing at Microsoft.
According to Rayani, this has led to "data fragmentation and growth across a multitude of applications, devices, and locations". "It's a big, digital world for any organization to try to manage," Rayani added.
The Evolution of Data Management and Governance
Digital data management has continued to evolve over the past several decades. Today, the introduction of cloud-computing services, like Amazon Web Services and Microsoft Azure, has intensified the data management evolution. Although content and data have moved to the cloud, the need for data management and governance continues to be an essential part of data infrastructure.
Introducing Microsoft Purview
Over the last year, there has been a fair amount of rebranding in the Microsoft universe. One of the newest launches is Microsoft Purview. Microsoft Purview combines the features of Azure Purview with advanced data governance from AI and Microsoft data, as well as risk management and compliance from Microsoft Security. The new Microsoft Purview will feature threat protection, privacy management improvements, endpoint management, cloud security, and identity and access management. It also allows users to manage and safeguard sensitive data in the cloud, in apps, and at endpoints — while managing risks and ensuring regulatory compliance.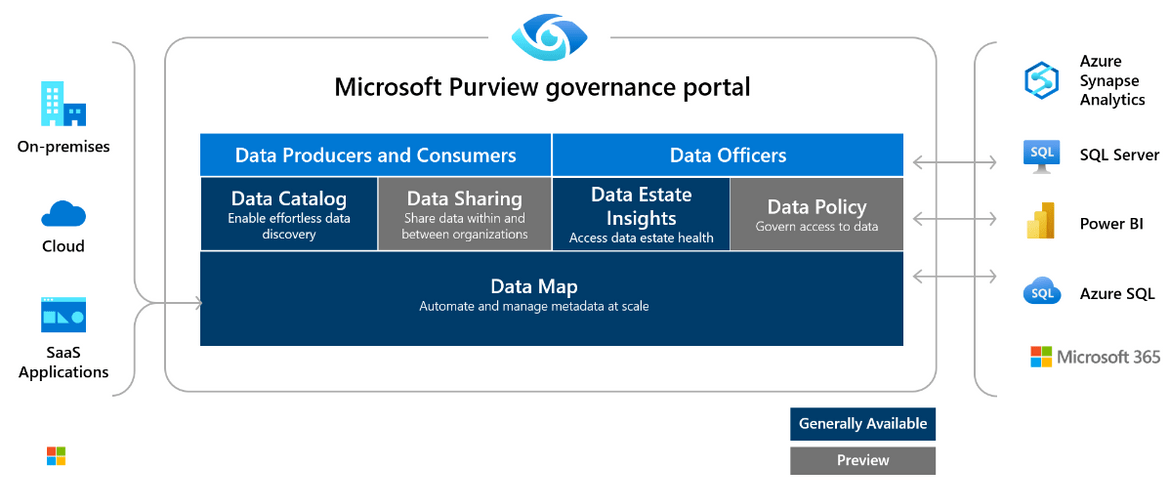 Purpose-Built Apps
In addition to the automated data scanning and classification, Microsoft Purview's purpose-built apps (Data Map, Data Catalog, and Data Estate Insights) create a conducive environment for access management and data discovery. Data Map graphs data assets and their relationships across the entire estate, allowing you to manage data access and discover data more effectively. Data Estate Insight provides an overview of the estate to recognize data types and locations. Finally, Data Catalog browses and searches data assets, finding trusted data sources.
Changing the Landscape of Data Management
Because of this revolutionary system, Microsoft Purview has effectively changed the landscape of data governance by providing a centralized location that simplifies your infrastructure. In addition to the improved classification and organization, Microsoft Purview's brings significant savings. This is because it eliminates the costs involved in maintaining personal systems and Excel-based solutions — you pay only for what you use.
---
Trusted Tech Team is an accredited Microsoft CSP Direct Bill Partner, carrying multiple Solutions Partner designations and the now-legacy Microsoft Gold Partner competency. Based in Irvine, California, we report trends affecting IT pros everywhere.
If your organization uses Microsoft 365 or Azure, you may be eligible to receive a complimentary savings report from a Trusted Tech Team Licensing Engineer. Click here to schedule a consultation with our team now to learn how much you can save today.
Subscribe to the Trusted Tech Team Blog
Get the latest posts delivered right to your inbox