All About the New Outlook
On Tuesday, May 17th, Microsoft announced a preview release of the new Outlook for Windows. This new version is centered around providing a consistent experience across all platforms, by using a unified codebase, giving you maximum efficiency and convenience. Think of having your email, calendar, and to-do lists all on one board.
What's The Juice?
Attaching Became Easier
Forgot the location of your document? We've all been there. Outlook will now allow you to find your documents more easily by mentioning them. Simply type @ + (name of the file) and you're good to go from there. Note that this feature only works when your files are stored in the cloud.
Less Friction… More Productivity
Your productivity now gets a boost with Microsoft Loop components, which allow you to share your ideas with your team while maintaining visibility of everyone else's progress and the apps they're using. Loop components remain in sync when copied/pasted across Outlook emails and Teams chats, making it easier for you to keep up with everyone.
Your Inbox as a to-do List
My Day is another great way to manage your workflow. If you are someone who uses their inbox as a to-do list, My Day now allows you to drag and drop email messages into your own to-do list, and add tasks to your calendar to revisit later.
Never Worry About Missing a Task With Intelligent Assistance
Sometimes, writing down a task simply doesn't cut it. This is where Outlook's intelligent assistance comes in – It can help send you automatic reminders about tasks that Outlook deems important. Prioritized tasks will be auto-pinned to the top of your inbox until you dismiss them. If your important tasks are in the form of email messages, you can pin them to the top of your inbox by clicking the "pin" icon.
Auto-Sweep to Keep Your Inbox Nice and Neat
Sweep is another great feature of the new Outlook. It allows you to move emails in bulk and apply rules to new incoming messages. If your inbox is growing more difficult to manage, this feature will come in handy.
Some Bugs and Gaps to Watch Out For
As is the case with any preview, the new Outlook for Windows does come with a few bugs and gaps. Some users reported that they couldn't see the Preview Toggle. To fix this, you must run Beta Channel builds. End customers can see what channels they're in with these instructions. Furthermore, Microsoft Accounts (Outlook.com) are not supported at this time. Lastly, if your organization did not add you to the Beta Channel, you will not see the preview toggle. Be sure to check with your IT administrator to be added.
Additionally, be aware of the following gaps: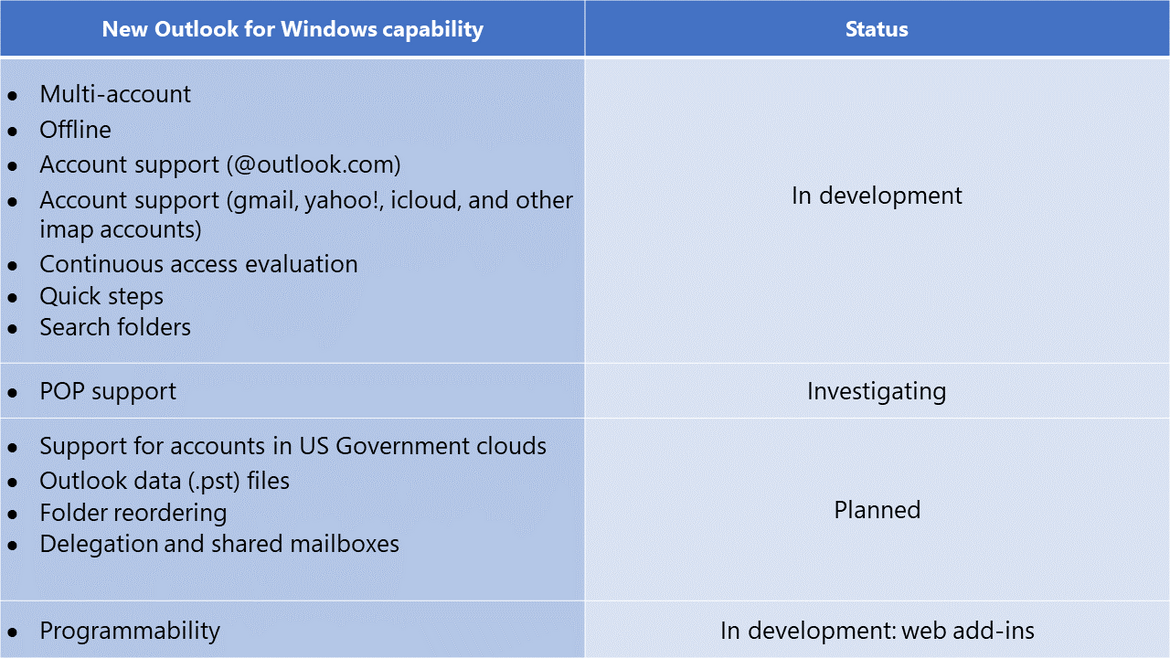 Availability
The new Outlook for Windows is available to Beta Channel users running Version 2205 (Build 15225.20000) or later.
The preview of the new Outlook for Windows is available for commercial and education customers in Beta Channel. Some features are not yet supported in the preview like support for Microsoft Accounts (Outlook.com), to learn more about this, please read this.
---
Trusted Tech Team is an accredited Microsoft CSP Direct Bill Partner, carrying multiple Solutions Partner designations and the now-legacy Microsoft Gold Partner competency. Based in Irvine, California, we report trends affecting IT pros everywhere.
If your organization uses Microsoft 365 or Azure, you may be eligible to receive a complimentary savings report from a Trusted Tech Team Licensing Engineer. Click here to schedule a consultation with our team now to learn how much you can save today.
Subscribe to the Trusted Tech Team Blog
Get the latest posts delivered right to your inbox