FreshBooks vs. QuickBooks: Which is Right for You?
Years ago, businesses were left to their own devices to figure out what they needed to do to handle their invoices and manage their finances. Needless to say, this was a harrowing task for most organizations — we don't need to tell you just how complicated that sort of thing can be.
QuickBooks and FreshBooks Programs
Accounting hasn't necessarily gotten easier, but today's software options can take the sting out of SMB accounting loopholes and can allow businesses to organize all of the information necessary to track expenses and manage accounts. Two of the most popular accounting software options today are Intuit QuickBooks and FreshBooks; both have very high customer ratings. Although both help with money management, they offer different features for different types of businesses.
QuickBooks
Intuit QuickBooks is one of the most popular options available for business accounting needs and is available at Trusted Tech Team in several versions: Intuit QuickBooks Desktop Premier Plus 2022 for Windows, Intuit QuickBooks Desktop Pro Plus 2022 for Windows, Intuit QuickBooks Desktop for Mac Plus, and Intuit QuickBooks 2022 for Mac OS. All of these versions allow for up to five users and come in both subscription and non-subscription packages.
QuickBooks is the top choice for companies that sell retail goods or products. QuickBooks offers inventory management and scalable options. Need collaboration? Business expense tracking? VAT tracking and multiple currency options? Payroll tax management? Professional summaries and reports? QuickBooks does it all. QuickBooks is known for its functionality and its user-friendly interface. QuickBooks is also a top choice for accountants and integrates better with Microsoft. For more information about Quickbooks, read our detailed QuickBooks Buyer's Guide.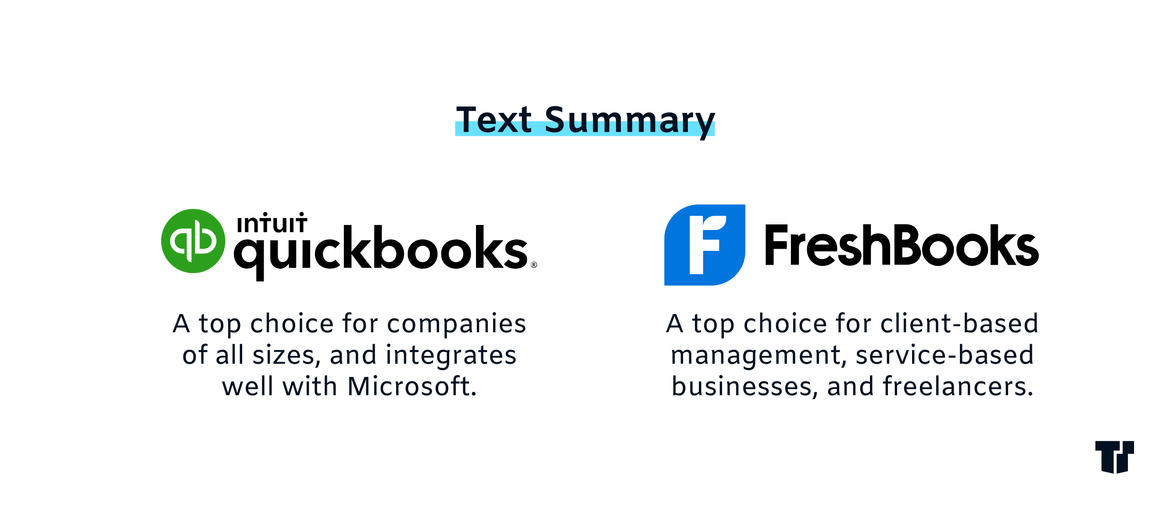 FreshBooks
FreshBooks is a top choice for client-based management, service-based businesses (lawyers, therapists, etc.), and freelance billing. This cloud-based accounting product has been on the market since 2003 and has customers in over 160 countries. It earned the Stevie Award in 2013 for its customer service and the 2013 IXDA Award for iPhone design. There are three subscription packages with FreshBooks based on the number of clients you service: Lite (starting at $15 per month for five billable clients), Plus (starting at $25 per month for 50 billable clients), and Premium (starting at $50 a month for 500 billable clients). It's widely known to be an approachable choice for those who are just starting out. It also has a mobile app that offers great functionality. The few downsides include limited reporting features and occasional bugs.
Contact Trusted Tech Team
Still having a tough time deciding whether QuickBooks or FreshBooks is right for you? We can help with our expert service and support. Contact us today so we can clarify the differences between FreshBooks and QuickBooks and help you make the most of the features you need to manage your business accounting. As a Microsoft Gold Partner, you can count on us to provide you with expert information and knowledge that will help drive your accounting solutions and get you set up with software best designed for your business.
Subscribe to the Trusted Tech Team Blog
Get the latest posts delivered right to your inbox