Secure What's Important with Veeam Backup for Azure
Trusted Tech Team recently announced that Veeam Backup for Microsoft Azure is now generally available. We initially provided a brief overview of its components and benefits, and now we will take a deeper dive!
Key Characteristics
Veeam Backup for Microsoft Azure, which is deployed as a backup appliance, offers users secure native backup for Azure virtual machines (VMs). Furthermore, Veeam has created a backup policy creation wizard to assess backup costs, ensuring the company's policy-based protection is as cost-effective as possible. Here's a concise rundown of Veeam Backup for Microsoft Azure's key characteristics:
Easy to Deploy & Setup from the Azure Marketplace
Veeam Backup for Microsoft Azure is simple to use (even for non-experts) and can be set up in almost no time at all.
Clients who aren't overfamiliar with Veeam or Azure should find Veeam Backup for Microsoft Azure quick and easy to deploy from the Azure Marketplace. Once you are connected to your Marketplace account, and the appliance is deployed, head to your dashboard. Therein you will be guided through the remainder of the setup process.
Detailed Policy-Based Azure VM Protection Controls
Workloads are protected via automatic policy-based scheduling through the policy creation wizard.
The file-level recovery options for protecting workloads can become exceedingly "granular" when using Veeam Backup for Microsoft Azure. Some of the service level agreement (SLA) options include, but are not limited to 1) the ability to selectively choose which items to protect, 2) the capacity to restore distinct files without having to go through full virtual machine restores, 3) complete file-level recoveries, 4) full restores to the original location, 5) full restores to a new location.
Agentless VV Backup & Protection
Veeam Backup for Microsoft Azure offers users the capability to utilize native Azure Virtual Machine (VM) snapshots for quicker backups and restores that are carried out more frequently. "Object Storage" backup protection options are also available with backups stored on Azure Blob. You can select one or both backup options depending on your cloud-based data recovery needs.
Effective Cost Management
Veeam's policy creation wizard has a built-in backup cost estimator that helps clients calculate the monthly costs of backups and snapshots. This rough estimation tool is extremely valuable when working in a cloud environment. The cost estimator will help you manage costs and keep your cloud data protection services in budget.
Veeam Backup & Replication (v.10) Console Integration
After you've set up your appliance, it can be seamlessly incorporated with Veeam Backup & Replication software; which suits all workloads with a comprehensive lineup of features. This easy-to-use console provides a secure, flexible, and fast integrated backup. In addition, it offers recovery and replication for your cloud backup, and for your management and migration workload requirements.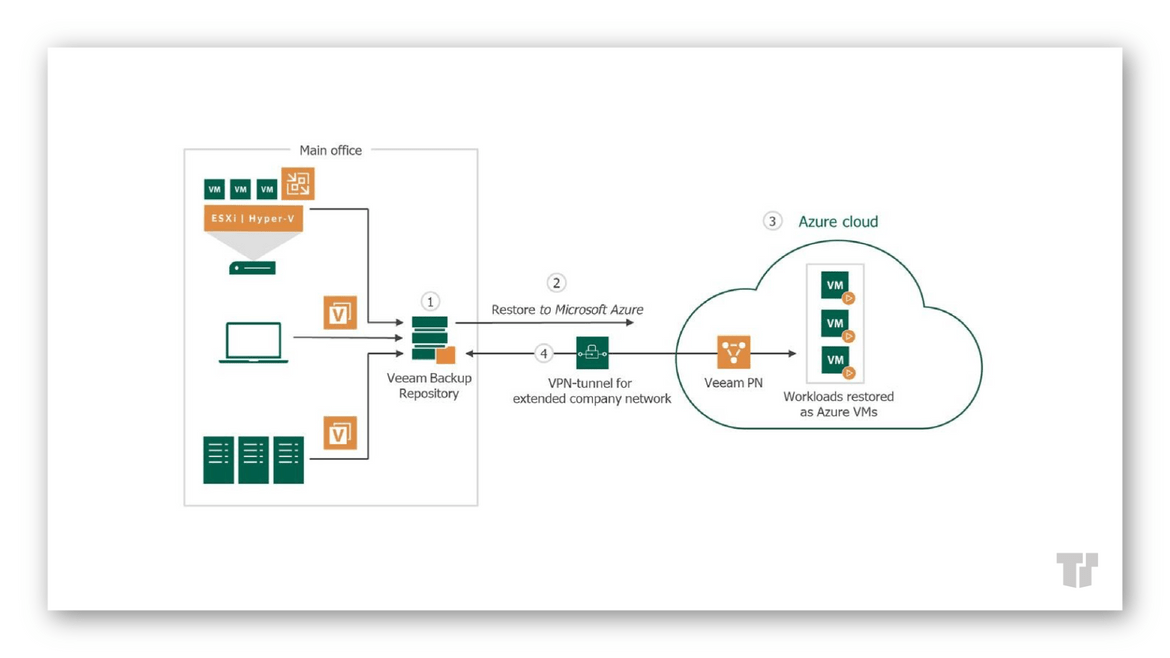 Licensing Options
If you only require backup protection for 10 cloud-based VMs or less, Veeam Backup for Microsoft Azure offers an unrestricted free version to help your small or startup business recover from cloud data loss. If you want to back up more than 10 Azure VMs, you'll have to purchase the flexible Veeam Universal Licenses (VUL) or the standalone cloud backup BYOL license.
---
Trusted Tech Team is an accredited Microsoft CSP Direct Bill Partner, carrying multiple Solutions Partner designations and the now-legacy Microsoft Gold Partner competency. Based in Irvine, California, we report trends affecting IT pros everywhere.
If your organization uses Microsoft 365 or Azure, you may be eligible to receive a complimentary savings report from a Trusted Tech Team Licensing Engineer. Click here to schedule a consultation with our team now to learn how much you can save today.
Subscribe to the Trusted Tech Team Blog
Get the latest posts delivered right to your inbox