U.S. Businesses Alter IT Buying Behavior in Preparation for a Possible Recession
The rumblings of a potential recession have been causing business decision-makers to reassess their IT spending for 2023. As they brace for the looming tough times, it is no surprise that CFOs and CIOs want to adjust their spending to minimize cost and maximize return. Fortunately, the nature of IT allows for cost-slashing with little impact on infrastructure. 
If there is one good thing about the pandemic, it would be that it pushed businesses to grow their digital infrastructure and invest more into connecting remote workers - turning legacy products into cloud ones. Although the cloud has been around for a while, adoption before the pandemic has been sluggish. This reality did not change until businesses developed a critical need for the cloud's technology and cost savings.
Cloud Solutions are at the Top of the Food Chain
Experts are optimistic that cloud adoption will stay healthy well into 2023. IDC analyst, Rick Villars, expects continued growth in spending on core IT infrastructure, business software, and professional services to be in the 5% to 6% range. "It would take a more severe economic downturn from what we're seeing for that to change," Villars stated in a TechCrunch interview. This optimism is understandable since cloud computing offers more elasticity and scalability than traditional on-premises systems  — two attributes that will likely be desirable for companies as they navigate cost-cutting measures. As traditional on-premises data centers remain in steady demand, the cloud offers a lucrative alternative with software spending projected to grow by 11.3% in 2023 (Gartner).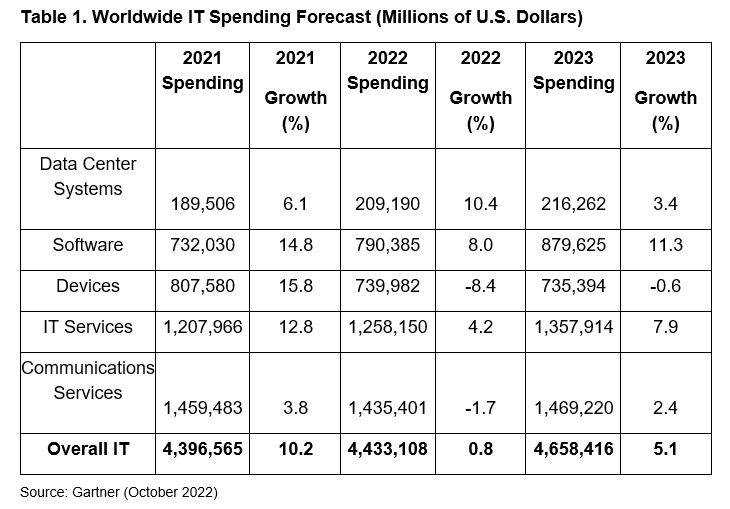 That said, some businesses are taking a conservative approach as they work to ensure that technology spending will help them hit profitability goals in the coming year. David Wagner from Avasant observed this shift away from rapid-fire pandemic transformations toward more diligent decision-making processes.
Best Cost-Cutting Measures for 2023
Saving measures that businesses can employ vary depending on business objectives and budgets. One increasingly popular method is to consolidate data centers or use cloud services for storage and backup needs. These are sensible approaches considering that there is no need for redundant systems or expensive applications when demand drops. Below are some additional cost-saving measures to help you buckle up for 2023. 
Targeting Unspent and Uncommitted Expenses

Evaluate your current outgoings and take stock of any contracts you may have that are ripe for negotiation or termination. Unused payments or prepaid amounts may become a source of financial stress, resulting in an unavoidable impact for those who have yet to commit. Identifying these areas could quickly make a stark difference when it comes to the bottom line.

Optimizing Remote Work Services

IT leaders can reduce costs without reducing the effectiveness of their teams during turbulent economic times by thinking shrewdly about how their IT teams, tools, and services are structured. 

One strategy would be to optimize remote work services. Many IT teams have spent the past two years figuring out how to support remote or distributed workforces - this is no longer applicable. Since pivoting to remote work was such a priority for businesses, it was easy for IT leaders to justify a lot of IT spending on tools and services that supported remote employees. But at this point, remote work practices are relatively well-established, and IT organizations no longer need to spare no expense in experimenting with solutions for remote workers. That means that now is a great time to look for ways to reduce the cost of IT services related to remote work.

Exploring New Cloud Services

Migrating workloads to different types of cloud services can significantly reduce cloud costs. Most cloud workloads are hosted on "bread and butter" services, but there are exceptions where a different type of service may be more cost-effective. There could be cloud services you are unaware of that can support your budget. For example, Desktop-as-a-Service (DaaS) can save you money on desktop deployment and support under certain circumstances. 

Microsoft 365 is another example of how the cloud can help save on server and storage costs, server licensing, and power consumption. You do not have to sacrifice quality when cutting IT spending — by choosing the right cloud vendor you can trim your IT spending and receive Premier Support.
There is no question that the tech industry will continue feeling the ripple effects of COVID-19 on top of a looming recession — especially when it comes to how businesses allocate budgets for technology procurement and usage. With many companies facing financial pressures from declining revenues, decision-makers must ensure that any technology investments offer maximum value for money while still allowing them access to critical data needed for decision-making during these uncertain times. 
Taking a measured approach can tremendously help businesses maximize their revenue while avoiding unnecessary spending on superfluous technology during times of economic turbulence.
---
Trusted Tech Team is an accredited Microsoft CSP Direct Bill Partner, carrying multiple Solutions Partner designations and the now-legacy Microsoft Gold Partner competency. Based in Irvine, California, we report trends affecting IT pros everywhere.
If your organization uses Microsoft 365 or Azure, you may be eligible to receive a complimentary savings report from a Trusted Tech Team Licensing Engineer. Click here to schedule a consultation with our team now to learn how much you can save today.
Subscribe to the Trusted Tech Team Blog
Get the latest posts delivered right to your inbox