Important Considerations when Migrating to Azure
Cloud modernization and migration to a cloud-computing model can be intimidating. After all, it is a multifaceted and substantial process that affects all aspects of a business, including processes, technology, and people. This is especially true for mission-critical enterprises. Still, more and more companies around the world are migrating to the cloud. Business is truly booming: the public cloud computing market is estimated to reach $482 billion in 2022.
A lot goes into the strategy, implementation, and ongoing maintenance of a large-scale Azure migration. The recommended method for a successful Azure migration is Microsoft's four-step plan — assessment, migration, optimization, and fine-tuning migrated resources for security and long-term management.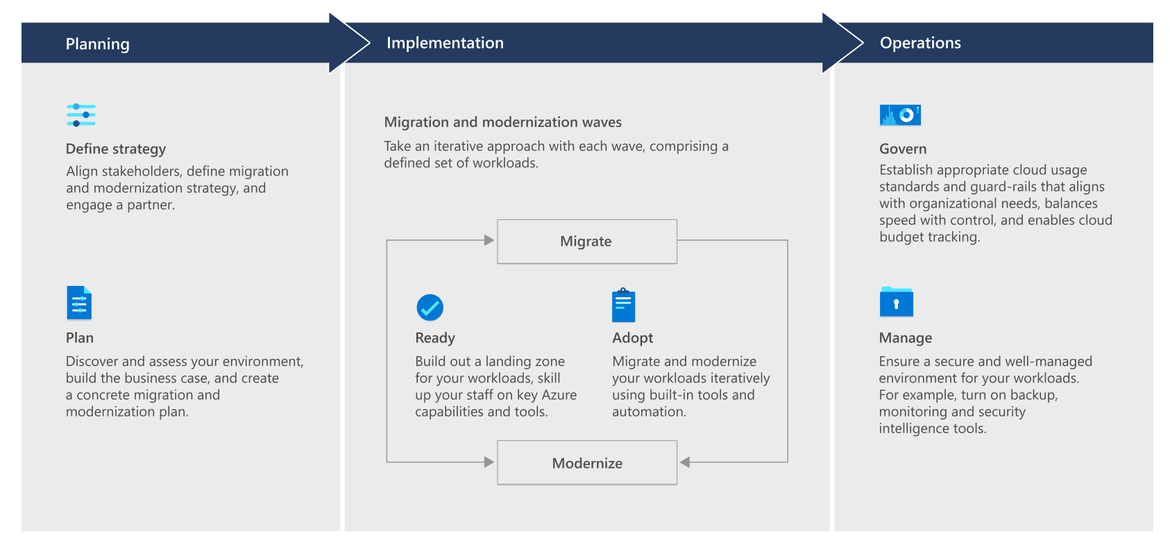 Strategize, Assess and Plan
Successful migration to Azure begins with an in-depth look at your data, infrastructure, and applications. It's also crucial to clarify your business' end goal for the transition. Consider storage needs, scalability concerns and networking requirements for your virtual desktops, servers, databases, and Web apps. Microsoft offers several tools, like the Azure Migrate Discovery and Assessment Tool, that will help you define your needs based on your current infrastructure setup.
Migration
When you're ready for migration, you'll use the output of the assessment stage to deploy your assets and workloads to Azure. At this stage, you must consider whether you want to run in traditional VMs or in containers with serverless functions. You'll also determine if any of your assets are suitable for M365 and if Azure's hybrid cloud solutions can be leveraged. Azure Migrate is the central hub to help you assess these factors. This central dashboard offers tools to implement and track your virtualization process throughout the entire migration journey.
Optimization
Azure migration is not a one-and-done operation. As you familiarize yourself with your new cloud environment, you'll need to get acquainted with the tools needed to control cloud costs, including the Azure pricing calculator, the Azure TCO calculator, and Azure Cost Management and Billing. In the optimization and promote phase, you'll use what you've learned from these tools to optimize costs and performance before your workload is released.
Microsoft Help
Microsoft Support is available throughout the entire Azure migration process. Through Azure's Help and Support portal, you can create a new support request. Engineer assistance is also available for in-depth technical guidance. For engineer assistance, select Help and Support in the Azure portal, then select Support Plans to review the available options.
---
Trusted Tech Team is an accredited Microsoft CSP Direct Bill Partner, carrying multiple Solutions Partner designations and the now-legacy Microsoft Gold Partner competency. Based in Irvine, California, we report trends affecting IT pros everywhere.
If your organization uses Microsoft 365 or Azure, you may be eligible to receive a complimentary savings report from a Trusted Tech Team Licensing Engineer. Click here to schedule a consultation with our team now to learn how much you can save today.
Subscribe to the Trusted Tech Team Blog
Get the latest posts delivered right to your inbox