Top 6 Best Practices for Data Security in Cloud Services
Embracing the cloud has revolutionized how businesses operate, allowing professionals to manage their data from anywhere, anytime. Yet, with great convenience comes the lurking shadows of risk. 
During the first quarter of 2023, over six million data records were exposed globally through data breaches (Statista). In this era of digital vulnerability, it's crucial to adopt the finest security practices to fortify your data fortress, safeguarding sensitive information but also the trust and privacy of your users.
Choose A Reliable Cloud Service Provider (CSP)
With so many different CSPs, how do you choose the right cloud provider? 
Look for providers that are compliant with relevant security standards. If you're looking for a Microsoft Partner, you can check if they're listed on Microsoft's website. Each partner should have a page listing their Solutions Partner designations, competencies, and more. 
To get started, check out Trusted Tech Team's Partner Page or read this Forbes article, "Choosing a Cloud Provider: Top Questions You Need To Ask," by our President, Julian Hamood.
Responsibilities Between You & Your Provider
Partnering with a cloud provider does not mean giving away all your responsibilities. It's important to note that you should be in control of your environment - not your provider. Typically, a cloud solutions provider is responsible for providing licensing, support, and optional professional services to help you set up and secure your infrastructure. On the other hand, customers are responsible for protecting the data in their environment.
The graphic below shows how the responsibilities of both parties shift as customers move their applications to the cloud.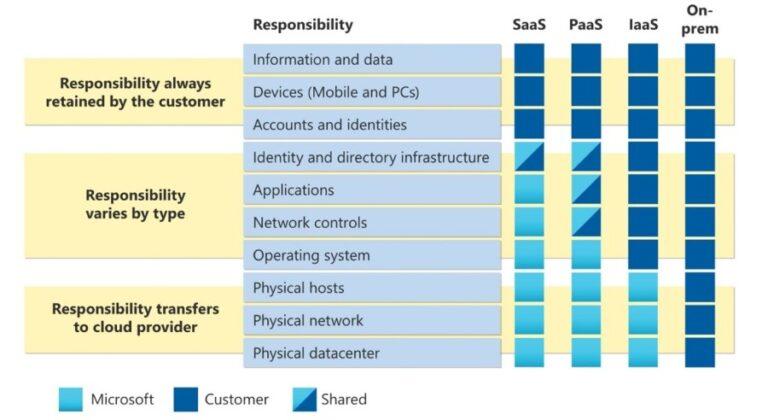 Nonetheless, ensuring the security of data, devices, and identities always remains the customer's responsibility.
The Future Is Passwordless
While passwords act as the initial defense against unauthorized entry, passwords can be stolen, exposed, or compromised. Strong authentication, such as multifactor authentication, can significantly lower the chance of unauthorized data access. Another effective safeguard is using other methods such as facial recognition, fingerprints, and mobile authentication apps. 
Microsoft offers various technologies, such as Windows Hello, Microsoft Authenticator, and FIDO2 Security keys. These approaches can significantly reduce the risk of password theft and cyber attacks.

Encryption Implementation
Encryption involves encoding data that only authorized users can access. Data in transit and data at rest encryptions can help protect sensitive data from breaches.
| Microsoft Cloud Features | Encryption for |
| --- | --- |
| Microsoft Azure Storage Service Encryption | Azure Managed Disks, blob storage, Azure queues, Azure files, and table storage |
| Azure Disk Encryption | Windows and Linux VMs |
| Transparent Data Encryption | Microsoft Azure SQL Database and Azure Data Warehouse |
Data Protection & Security
Did you know that 80% of corporate data fails to be used effectively? Known as "dark data," this information is collected, processed, and stored often for compliance reasons but rarely used for actionable insights and decision-making. 
To help users discover sensitive data and prevent data from being accessed and lost, organizations should consider various tools to help identify data and prevent malicious activities.
| Microsoft Tools | Features | Benefits |
| --- | --- | --- |
| Microsoft Purview Information Protection | Assists in scanning data stored within Microsoft 365 applications, including SharePoint Online, Exchange Online, and Teams, as well as in non-Microsoft Cloud apps, on-premises file shares, and SharePoint servers. | Identify sensitive data at rest and automatically apply sensitivity labels to identify data as highly confidential, confidential, or general to protect data. |
| Microsoft Purview Data Loss Prevention | Aids in averting data loss by detecting and stopping unsafe or improper sharing, transferring, or utilization of sensitive information across cloud platforms, applications, and endpoint devices. | With built-in protection, this solution eliminates the necessity for setting up and upkeeping expensive on-premises infrastructure or agents. |
| Microsoft Purview Insider Risk Management | Provides pre-built machine learning models designed to identify and counteract the most crucial data security threats concerning your information. Through Adaptive Protection, entities can automatically customize suitable data loss prevention measures according to a user's risk assessment. In doing so, businesses ensure that the most appropriate policy is enforced solely on high-risk users. In contrast, those with low risk can sustain their productivity. | Increased efficiency and empowerment for your security operations team, allowing them to accomplish more with fewer resources. |
Microsoft Defender for Cloud is a cloud-based application security platform that merges Cloud Security Posture Management abilities with an integrated data-sensitive security stance and Cloud Workload Protection Platform. Defender aids in thwarting, detecting, and addressing threats, offering enhanced oversight and command over the security of multi-cloud and on-premises resources, like Azure Storage, Azure SQL, and open-source databases.

Furthermore, Microsoft's AI-enriched cloud security information and event management, Microsoft Sentinel, can reveal intricate threats and automate responses. It serves as a central hub spanning multiple cloud environments, tracking attackers as they navigate different pathways.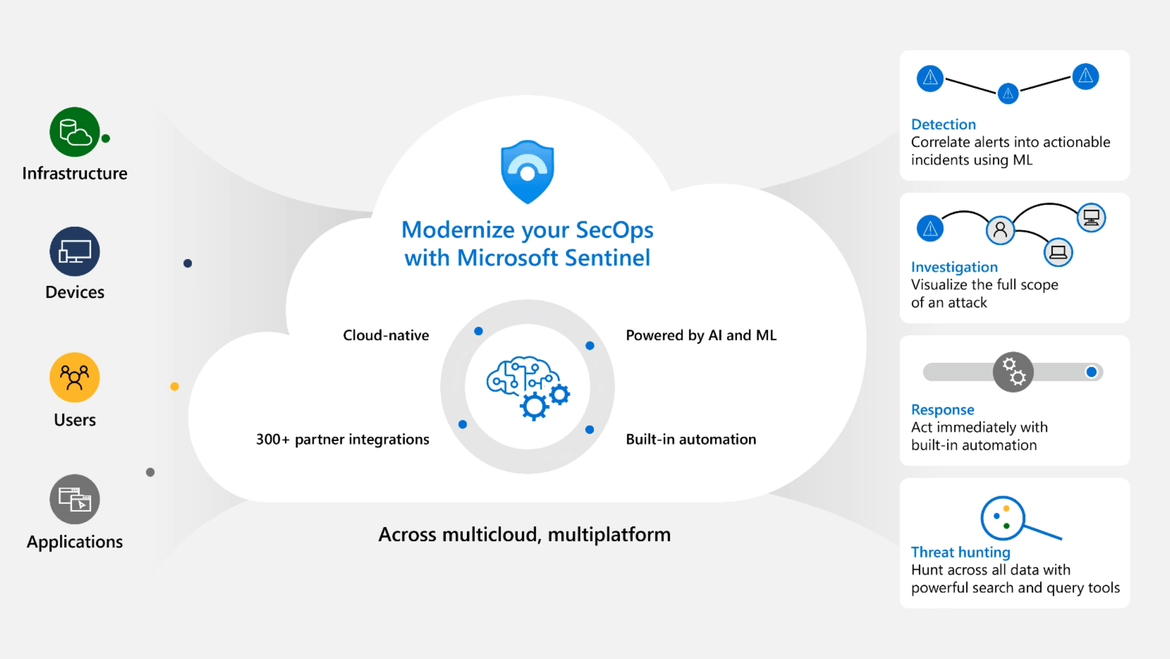 Additional Cloud Security Tips
We've covered the top six best practices for data security in cloud services. Here are some additional honorary mentions to consider:
Use secure APIs: Securing APIs should have strong authentication and encryption to prevent unauthorized entry into your cloud. 
Conduct security assessments regularly: Doing routine security assessments help you to see if your security measures are effective and identify security vulnerabilities. You can have these security assessments done internally or by third-party security experts. Contact Trusted Tech Team for more information.
Train your employees: Ensure that employees are aware of security risks associated with storing data in the cloud and are trained to identify suspicious activity. Training may include ongoing security awareness training and policies.
Implement Zero Trust principles: Zero Trust is a strategy designed to implement the following security measures:
Verification - always authenticate and authorize.
Limitations - User access limitations, data protection, etc.
Assume breach - reduce the potential impact of a security breach or attack by separating or dividing different parts of systems, networks, or data so they're not interconnected. For example, if one segment is compromised, the damage is contained, and the attacker can't easily move to another segment.
What's Next?
As cyber criminals continuously find ways to force an attack, organizations and security experts must constantly innovate procedures and best practices to ensure our protection. Trusted Tech Team offers cutting-edge cloud security solutions to protect your business by safeguarding your data and operations with advanced security measures. 
To learn more about our security solutions, contact one of our security experts today.
---
Trusted Tech Team is an accredited Microsoft CSP Direct Bill Partner, carrying multiple Solutions Partner designations and the now-legacy Microsoft Gold Partner competency. Based in Irvine, California, we report trends affecting IT pros everywhere.
If your organization uses Microsoft 365 or Azure, you may be eligible to receive a complimentary savings report from a Trusted Tech Team Licensing Engineer. Click here to schedule a consultation with our team now to learn how much you can save today.
Subscribe to the Trusted Tech Team Blog
Get the latest posts delivered right to your inbox